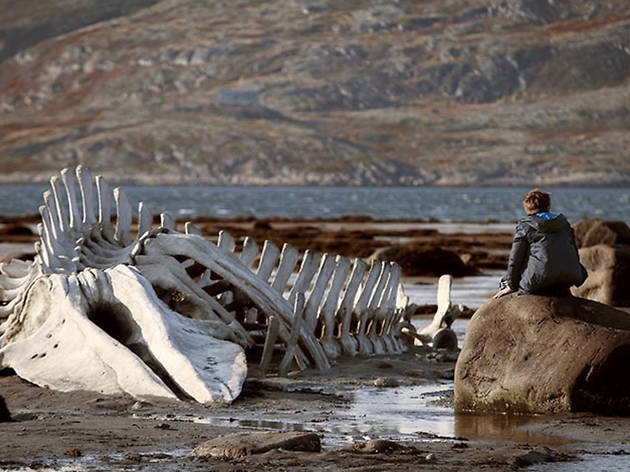 This is a whale of a movie, grotesque and a little bloated but impossible to ignore. Its power and its horrors sneak up on you. It's a contemporary Russian tale, set on the shores of the Barents Sea, about the unholy powers of the state and the church bearing down on one man, Kolia (Alexey Serebryakov) and his family, after he dares to challenge an attempt by the local mayor, Vadim (Roman Maydanov), to take his home from him. The film's title borrows from that of political philosopher Thomas Hobbes's greatest work and helps itself to his view that life would be 'nasty, brutish and short' without good government and an organised society. It's a tragedy with a hint of black comedy that moves at its own sometimes surprising pace and rhythm, and it lands a bruising punch on modern Russia.

'It's up to you if he becomes a man or an ape,' says Kolia's wife Lilya (Elena Lyadova) in the kitchen of their small town home as their unhappy stepson stomps about the house. You sense that Russian filmmaker Andrey Zvyagintsev ('Elena', 'The Banishment') is thinking the same thing in relation to an entire society and its leaders, and there's a funny scene when a small group go on a shooting and drinking trip and bring along framed photos of Russia's leaders from Lenin to Yeltsin to fire at. 'It's too early for the current ones; we need more historical perspective,' quips someone, although Putin's photo sits prominently on the wall of the mayor's office.

'Leviathan' begins with Kolia's friend, Dmitriy (Vladimir Vdovichenkov), arriving by train to help with an impending court case against the mayor. But you sense that something other than people alight at this railway platform: a malevolent spirit has also made the trip from Moscow to this fading backwater where rotting fishing boats sit within beautiful, harsh landscapes. Dmitriy tries to blackmail the mayor – but swiftly regrets it. Here even white knights come wearing dirty underwear, and soon Dmitriy doesn't seem like such a benign crusader and even Koila's friendly neighbours come carrying daggers. As his life rapidly starts to unravel, so Koila (played brilliantly by Serebryakov) hits the vodka even harder. There's undoubtedly a suicidal drinking game to be played while watching this strange, bleak, sad movie.

'Leviathan' is sweeping, curious and bold, told in widescreen with a sense of the epic applied to everyday lives. If it inspires doubts, it's that some of the targets are a little obvious and it carries some weight of self-importance, leaving little to the imagination. Like 'Elena' before it, this is a parable, but it's a grander affair unafraid to wander down some unusual paths with all the detail and density of a great novel. There's none of the surreality of Zvyagintsev's second film 'The Banishment' but it shares some of its grandiloquence. It lays on thick some of its ideas in the final act, but there's no doubting this is a significant, powerful film.
Release details
Cast and crew
Director:
Andrey Zviaguintsev
Screenwriter:
Andrey Zviaguintsev, Oleg Negin
Cast:
Vladimir Vdovichenkov
Elena Lyadova
Roman Madyanov
Aleksey Serebryakov

Average User Rating
4.5 / 5
Rating Breakdown
5 star:

1

4 star:

1

3 star:

0

2 star:

0

1 star:

0
Worthy doesn't always equal entertaining, but this contemporary Russian retelling of the story of Job manages to serve as both social commentary and an evening's entertainment. Having dared to challenge a local mayor seeking to take away his house, our blue-collar protagonist finds the full weight of both state and church bearing down on him and his family. While it's unlikely to be shown at the Kremlin anytime soon, for the rest of us it's a tough-edged little treat.
What a magnificent film! The best since The Tree of Life (also, coincidentally, referencing the Book of Job). Immerse yourself on a big screen. Requires constant concentration (lots of dialogue, including long legal judgements delivered at breakneck speed). Zvyagintsev has now made 4 features, every one a masterpiece. Only Tarkovsky and Malick can match that, in my view.