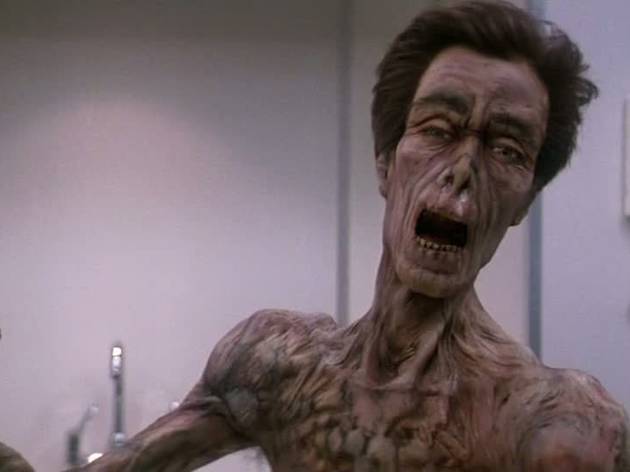 Space vampires! Zombie slaves! Excessive nudity! Brent Cross Shopping Centre! Yes, this loopy sci-fi-horror hybrid from 'Texas Chain Saw Massacre' director Tobe Hooper has all this, and so much more. The plot is idiotic – something to do with a 150-mile-long spaceship tucked away behind Halley's Comet – but the film is completely unmissable for a handful of brain-scrambling moments: Patrick Stewart ferociously snogs a dude, Mathilda May strolls down the Strand in the buff, and the climax involves the hero stabbing himself through the heart with a sword while having sex on the altar of a cathedral. 'Lifeforce' is a near-impossible film to review, at once indescribably awful and hugely, brilliantly entertaining.
Cast and crew
Director:
Tobe Hooper
Screenwriter:
Dan O'Bannon, Don Jakoby
Cast:
Steve Railsback
Peter Firth
Frank Finlay
Michael Gothard
Mathilda May
Patrick Stewart
Nicholas Ball

Average User Rating
3.8 / 5
Rating Breakdown
5 star:

0

4 star:

1

3 star:

0

2 star:

0

1 star:

0
Lifeforce is a highly entertaining sci fi movie that is great fun to watch but not to be taken serious for a microsecond. Sometimes categorized as Grade B films these kinds of movies are often underrated by so called critics who do not take in to consideration that not all movies are boring Academy Award candidates . Mathilda May is absolutely the most perfect woman I have ever seen. I love Sean Young but May has her beat which is nigh impossible. May is an 11 and Young is a 10 out of a 10 point system. Mathilda will you go out with me for a hamburger? Sean Young doesn't return my calls. Yeah right I won't hold my breath. Movies like this are why I watch movies. 3.5 stars out of 5.