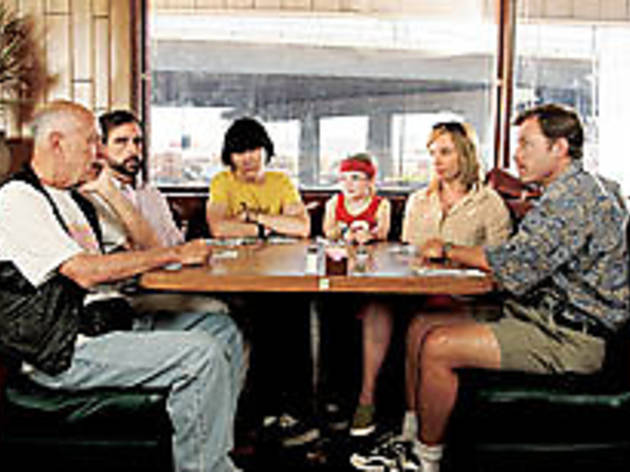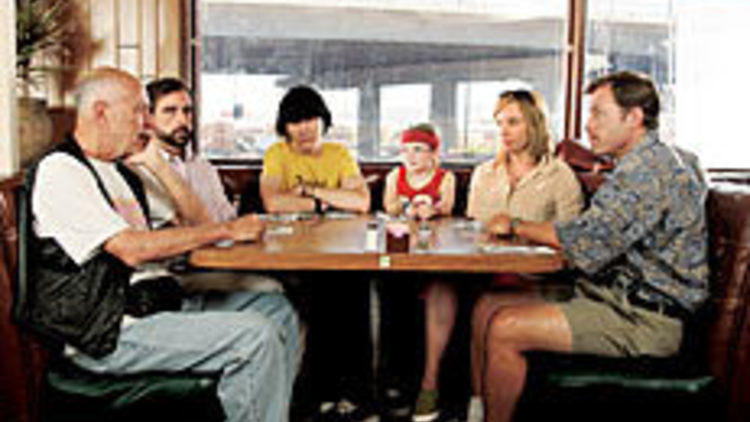 For a movie generated from the Amerindie algorithm of family dysfunction, road-trip catharsis and studied quirk, this dark-edged ensemble comedy often borders on the loveable – as if a long-division problem had somehow become self-aware and started pining for a heart, a brain and some nerve. The yellow brick freeway in 'Little Miss Sunshine' leads to a girls' beauty contest for Olive (Abigail Breslin), a cutie pie who's nonetheless not quite pageant material. Because they are characters in a movie and for no other reason, Olive's entire family must pile into a wheezing van to deliver her to the competition for the titular crown: Uncle Frank (Steve Carell) recently survived a suicide attempt, mum (Toni Collette) is loving but overextended, dad (Greg Kinnear) is an aspiring self-help guru and therefore a nightmare, brother Dwayne (Paul Dano) is a teenager and therefore mute and sulking, and grandpa (Alan Arkin) is a grandpa and therefore crusty and foul-mouthed. Fox Searchlight purchased Dayton and Faris's by-the-numbers feature debut at Sundance for the astronomical sum of $10.5 million, a price tag that seems all the more incongruous affixed to such a modest exploration of failures professional, physical, romantic, financial, mechanical and otherwise. The actors are uniformly fine, even affecting, so it's too bad that the jittery camerawork and editing chops up their performances so carelessly. And while the arrhythmic incoherence of the climactic stage routine would be merely appalling from most filmmakers, coming from a directing team that made their names in music videos, it's, shall we say, superfreaky. 
Release details
| | |
| --- | --- |
| Rated: | 15 |
| Release date: | Friday September 8 2006 |
| Duration: | 101 mins |
Cast and crew
Director:
Valerie Faris, Jonathan Dayton
Cast:
Alan Arkin
Greg Kinnear
Toni Collette
Steve Carell
Paul Dano

Rating Breakdown
5 star:

1

4 star:

0

3 star:

0

2 star:

0

1 star:

0
I thought this film was brilliant.Charming sweet,and really funny!
I thought this film was brilliant.Charming sweet,and really funny!
How far back in time will W's America revert in film-making? After watching this 'wannabe-politically-incorrect' comedy, I am definitly beginning to fear the worst. Although 'Little Miss Sunshine' aims at satire, it is completely overwhelmed by perfectly acceptable clichés for the US mainstream public of today. Take, for example, Uncle Frank: if you are gay, you can either end up bashed to death (as in 'Brokeback Mountain') or be a poor effeminate failure attempting suicide as in 'Little Miss Sunshine'; if you're rebellious, like brother Dwayne, you can take a wow of silence, but of course, your dream should be a correct one, that of becoming an air force pilot, and, of course, you definitely have to cry aloud that you fuck the entire world after discovering you can't. Of course, like the mother you should not smoke (THE crime in the US): notice that the husband blames her for that, but that nobody blames the grandfather for taking hard drugs every day: no surprise, since, as 'Traffic' has shown it brilliantly, the Americans have long ago lost their war on drugs: it has therefore become an acceptable vice. The only compassion might come from the fact, that, although Olive is fat, she is encouraged to go to the contest:: again, this is no surprise, since America having become the fattest nation on earth, you would offend about half of its 300 million citizens if you did not show this compassion. For what affects the final dance scene, it is totally ridiculous, with Olive being dressed almost like a prostitute. it is even bordering paedophilia, which does not seem to annoy the Academy Awards that much. To sum up, compared to 'American Beauty' of 1999, for what affects social satire and family dysfunction, 'Little Miss Sunshine' definitely feels like a 1949 maccarthyst- approved satire.