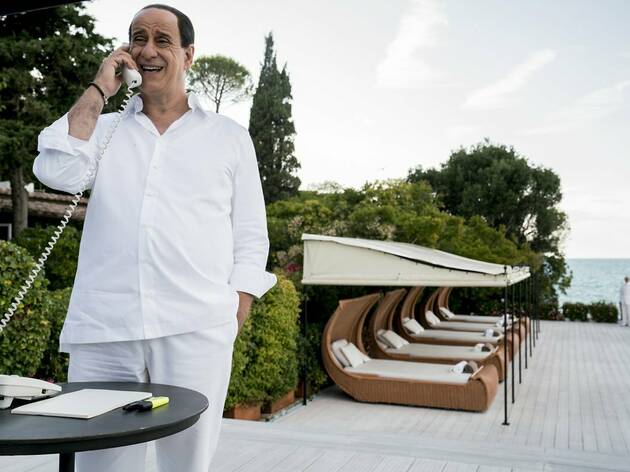 Time Out says
Gaudy, corporeal and just a little (okay, a lot) crass, Paolo Sorrentino's satirical biopic of Silvio Berlusconi cuts to the bone.
The first hour of Paulo Sorrentino's 'Loro' is a hedonist swirl of sex and drugs, followed by more sex and more drugs. Coke is snorted off prostitutes' bums, CGI ecstasy pills rain from the sky, while bikini-clad models and actresses dance until they collapse. It feels sensationalist, crass even. Then again, this is the story of ex-Italian PM Silvio Berlusconi – and how else do you depict a man infamous for his 'bunga bunga' parties?
From there, the film zeroes in on Berlusconi himself. Long-time Sorrentino compagno Toni Servillo ('The Great Beauty', 'Il Divo') pitches him somewhere between silly old letch in his Sardinian villa and merciless mob boss with Italy in his grip. Whatever he does, you can't look away from those smiling eyes, beaming from that DayGlo-orange face.
Some might take issue with how Sorrentino depicts this gaudy world, but as 'Wolf of Wall Street' showed, there's an art to portraying excess. Sorrentino, like Scorsese, has the skill to pull it off. Underneath its lurid carapace, Berlusconi's life is shown to be terrifying and sad. He and his minions have no interest in helping anyone, only in squeezing every last drop of life from their rapidly decaying bodies. Sure, it's easy to get lost in the surreal, Bacchanalian orgies, but at its heart 'Loro' is a fascinating exploration of what happens to a morally vacuous man as he grows old. Even one who was once the Papi of Italy.
Details
Release details
Rated:
18
Release date:
Friday April 19 2019
Duration:
150 mins
Cast and crew
Director:
Paolo Sorrentino
Screenwriter:
Umberto Contarello
Cast:
Toni Servillo
Elena Sofia Ricci

Rating Breakdown
5 star:

0

4 star:

0

3 star:

0

2 star:

0

1 star:

1
Having always found Berlusconi repugnant, I had high hopes of this movie, particularly as the current incumbent of the White House lives a broadly similar life.
Having seen a lot of movies in my time, this rates as one of the most boring. I'm not sure there was a storyline but, if I'm wrong, then it must have been wafer-thin and I missed it while other people were walking out mid-movie.
If you remove the glitz-n-glamour of people preparing for parties, or dancing at them, or snorting at them, then there's not much else going on.