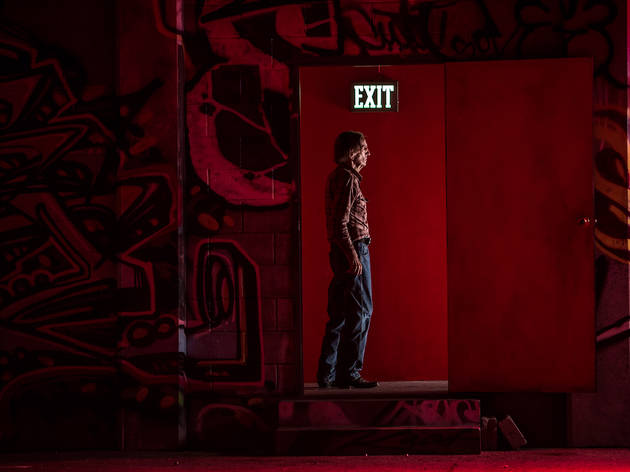 Time Out says
The effortless Harry Dean Stanton goes out with a quiet bang in this intense profile of a loner.
A movie that simply wouldn't work without the mystical, almost elemental presence of its leading man, Harry Dean Stanton (who recently died at age 91), 'Lucky' now feels like the last will and testament of a ghost. For decades, Stanton meandered on the periphery of his films like the loneliest cowboy, adding bone-deep earthiness to risky projects that needed his weight. He had a brief flourish in Wim Wenders's heartbreaking 'Paris, Texas' – a soulful performance that begins mute – but most remember him from 'Alien', 'Escape from New York' or as Molly Ringwald's dad in 'Pretty in Pink', beautifully etched supporting turns that pushed those universes toward a finer caliber of entertainment.
'Lucky' takes place in a tiny, unspecified speck of a Southwestern town, but its intimacy delivers it beyond time and place. Wiry and averse to small talk, Stanton's title character dominates the frame. A creature of routine, he buys his cartons of milk, does the crossword puzzle at the diner, has Bloody Marys at the local bar. Daringly, the spare screenplay (by Logan Sparks and Drago Sumonja) suggests that's enough for a plot, and thanks to Stanton's hollowed-out gaze, it is.
There's metaphysical depth here for those who want it: a couple of Greatest Generation anecdotes, a moving monologue about a missing tortoise (unleashed by David Lynch, of all people), pointed discussions about realism versus nothingness. But mainly we're reckoning with mortality in the softest, least pushy register. Actor-turned-director John Carroll Lynch gets out of the way of his star and lets him cast his spell one final time.
Details
Release details
Cast and crew
Director:
John Carroll Lynch
Screenwriter:
Logan Sparks, Drago Sumonja
Cast:
Harry Dean Stanton
David Lynch
Ron Livingston
Tom Skerritt

Average User Rating
4.5 / 5
Rating Breakdown
5 star:

1

4 star:

1

3 star:

0

2 star:

0

1 star:

0
This really was the last roundup for America's iconic screen cowboy, Harry Dean Stanton, being the final performance before his very recent passing on at the age of 91.

And what a way to go.
Stanton's "Lucky" lives in the ultimate one-horse town near the Mexican border in deepest California.
He's morose and curt but well liked by fellow townsfolk (a terrific selection of eccentrics and oddballs). His life is well-ordered — morning exercises, coffee, cigarettes, crossword, TV gameshows and evening Bloody Mary's with his cronies.
Lucky's world is turned inside out after a fall and, although his amiable doctor tells him he is unbelievably healthy for his age and unhealthy life-style, he starts to have visions of the dark void ahead.
Life continues as before with his assorted bunch of Jarmusch-like chums, among them a great cameo from David Lynch, mourning the disappearance of his pet and closest friend, Franklin D Roosevelt, his pet tortoise.
After a lifetime as a cinema enthusiast a handful of scenarios have stuck in my mind over the decades.
One of these comes from "Lucky" when Stanton is invited to the young son of a Mexican friend's birthday party. A Mariachi band serenades the guests and when Lucky gets up and sings "Volver volver" in very passable Spanish, the radiant joy from listeners, musicians and singer is incredible.
The movie is a great achievement from director John Carroll Lynch who paces the plot (it doesn't really have or need much of one) to perfection. He just lets Stanton have his head and that is more than enough,
If you like tender, independent works of art like this one, make every effort to go and see it in any form available.
The sadness of ageing in a small town red neck America.The emptiness of the landscape is a metaphor for the emotional and spiritual emptiness of the town's few residents.Repetition and decay slowly killing the soul of the masterful HDS...A small film without plot that relies on emotion and mood to get the message across.Not for everyone but for me a great film