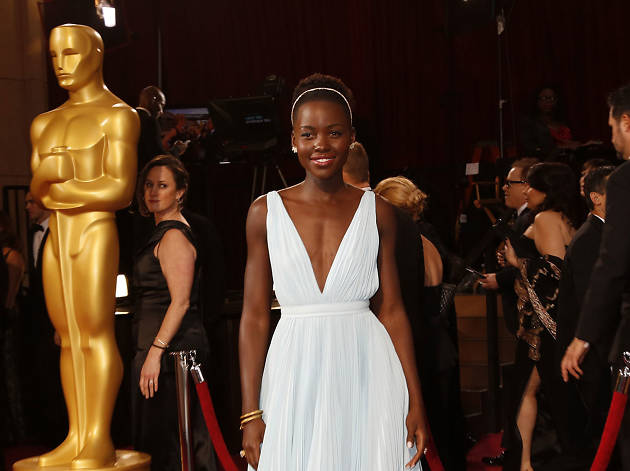 Lupita Nyong'o: 'If I'm having a Cinderella moment, why not enjoy the hell out of it?'
After winning an Oscar for '12 Years a Slave' Lupita Nyong'o became a megastar. We spoke to her ahead of her first major film role in three years
Hollywood actors love to make a fuss about how 'real' their backgrounds were: my parents split up! My boyfriend was a drug addict! I was raised a Scientologist! But Lupita Nyong'o is the real deal: the daughter of a prominent Kenyan opposition leader, she grew up in Nairobi never knowing if her dad would come home or be confined to prison without trial. After graduating from film school in the US, she returned to Africa to work as a production assistant on the likes of 'The Constant Gardener', whose star Ralph Fiennes urged her to get into acting. Flash forward nine years and she's picking up the Best Supporting Actress Oscar for her first serious role in '12 Years a Slave' and gearing up to play CGI character Maz Kanata in 'Star Wars: The Force Awakens'. Talk about a meteoric rise.
As a vocal supporter of the #OscarsSoWhite campaign – and as one of the few black women to actually win an Oscar – Nyong'o is central to the debate about diversity in cinema that's been raging in recent years. In that context, her new film 'Queen of Katwe' feels timely: it may have been produced by Walt Disney Pictures, but don't go expecting fairy princesses and talking frogs, or indeed any white stars to keep Middle American audiences happy. The film is based on the true story of Phiona Mutesi, a girl from the slums of Kampala, Uganda, who found her calling as a chess prodigy. It was shot entirely on location, and strikes a perfect balance between twinkly charm and real-world roughness.
'Queen of Katwe' is the first film you've shot in Africa. Did it make you reflect on your roots?
'I was so thrilled to be able to go back to East Africa and shoot a film with Mira Nair. I can't imagine anyone who could've made this film as authentically and lovingly as Mira did. I was an intern at her film company back in 2006, and their slogan is, "If we don't tell our stories, no one else will." And I really and truly believe that.'
The film's the story of an African chess prodigy and has no white characters. Were you surprised that Disney didn't want to, say, stick Leonardo DiCaprio in there to make it more 'palatable'?
'It's very refreshing. It's all thanks to Tendo Nagenda, who is of Ugandan descent and he's an executive at Disney. He saw the magic in this story, and you know Disney loves magic. It takes people like that – people in positions of power – who are unafraid of the global. Because the world is made up of all sorts of people. We share more than we differ. And this is an African film that demonstrates that.'
'The world is made up of all sorts of people. We share more than we differ.'
Is it true that to get into the role you spent hours cooking and cleaning for your on-screen kids?
'I was very nervous about playing a mother, because I'm not a mother. I kind of live for myself at the moment! But it was important for us to bond, to have chemistry and trust. Madina [Nalwanga], who plays Phiona, she's had a very similar life to the character: she sold maize on the streets as a little girl. So I asked her to take all of us, my entire on-screen family, down to the market. She bought ingredients and did all the haggling, then she taught me how to cook a typical Ugandan meal. That was a real icebreaker, we found our natural dynamics. And Madina was teaching me how to be a mother in the process.'
What was your childhood like? Your father was an opposition politician in Kenya.
'I grew up in a much more privileged household, but I did have relatives who lived in the slums and my parents were very keen on having us understand all layers of life. They wanted us to have perspective, to know that where you are now isn't where you may remain. You could go up or you could go down, so you have to be comfortable wherever you end up.'
Your father was in and out of prison when you were growing up. How did that affect you?
'I was old enough to know something was wrong, but young enough to be protected from it. My mother worked very hard to keep her cool and act like everything was okay. She protected us from the panic she must have been going through when she didn't know when he would come home. It didn't scar me the way it could have if I'd been aware how much was at stake.'
There's been a huge debate about diversity in the movies – or the lack of it – over the last few years, with the likes of the #OscarsSoWhite movement. How does 'Queen of Katwe' fit into that?
'It's so exciting to see people relating to the film, laughing and gasping and sniffling. I hope it'll be successful, as an example of how valuable it is when you're inclusive in your storytelling. But making this film is one move on a chessboard, and it takes many moves to win. The important thing is to keep the conversation going until diversity and inclusion is the norm.'
Your career is taking off alongside that debate. It must be an exciting place to be?
'I have been ridiculously fortunate. People were very nervous about "12 Years a Slave". It speaks of a time in history that's very difficult to face. And then it came out, and it transpired that the world was ready. Sometimes I think we underestimate where we are, and it takes visionaries to give us the things we didn't know we needed.'
You talked about having 'acute imposter syndrome' on the set of '12 Years a Slave'. Winning an Oscar must have helped.
'What's it called when you have a disease and it keeps recurring? I go through it with every role. I think winning an Oscar may in fact have made it worse. Now I've achieved this, what am I going to do next? What do I strive for? Then I remember that I didn't get into acting for the accolades, I got into it for the joy of telling stories.'
You're also in Marvel's 'Black Panther' next year. Go on, tell us all the details so we can put them on the internet.
'I haven't even seen the script! There's such high secrecy in the world of Marvel. Right now I'm training myself, getting physically prepared.'
Don't you know anything about your character?
'Of course, but I'm not telling you!'
Were you surprised when they asked you to be in 'Star Wars'?
'I auditioned the same week as the Oscars so I barely remember the process, I had other things I was dealing with. So when I got the call from JJ [Abrams] telling me he wanted me, I was excited but I wasn't fully aware of the phenomenon. Then I told my brother and he almost lost his mind. He was so overwhelmed that he went to bed in the middle of the day! Then I knew: This is a big deal.'
Was it fun filming in London?
'Ah… Well, it was cold, which was hard for me to deal with. But one of the things I enjoyed most was the food. Growing up in Kenya we had a lot of good Indian food and it's hard to live up to that, but London did.'
Where do you feel most at home?
'New York. Brooklyn. I moved there after I shot "12 Years a Slave". It feels like home, I've always loved Brooklyn. I miss grass, though. I want to be able to leave my house and lay down in the grass.'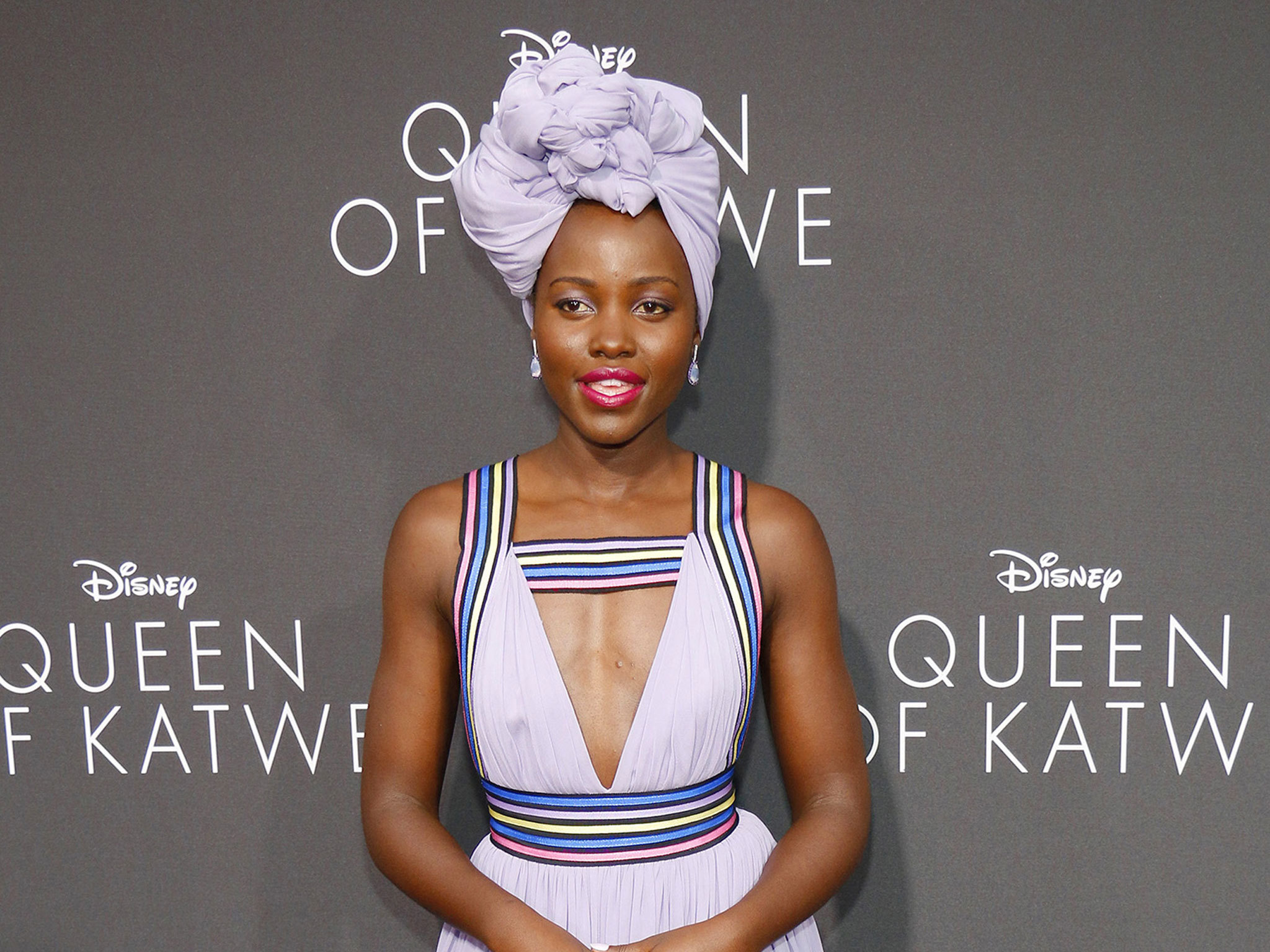 'I didn't get into acting for the accolades, I got into it for the joy of telling stories.'
How much do you enjoy the fame, the red carpets and all the dressing up?
'I love getting ready for the red carpet. But if I didn't have a stylist and a make-up artist and a hair stylist and all that, I would not get out of the house. It's like performance art, that's how I look at it. And I think: Well, if I'm going to have a Cinderella moment, why not enjoy the hell out of it? It's not as much fun once you're on the carpet and all the cameras are flashing. That's scary.'
Are you a fashion person?
'I wouldn't say that. I was always interested in style, my mother is very stylish. She'd paint her nails every Sunday evening and I'd watch her painstakingly filing and grooming. So I enjoy expressing myself through clothes, but trends are something I don't follow or study.'
Do you still manage to have a personal life?
'I've had to learn how to go out without being recognised. I love to take the subway in New York, I don't want to be separated from the pulse of the city, so I try very hard to have those moments where I'm just one in the crowd. Anonymity is very good for the soul.'
'Queen of Katwe' is in cinemas from Oct 21 and is also showing as part of the BFI London Film Festival, which runs Oct 5-16.
Read our review of 'Queen of Katwe'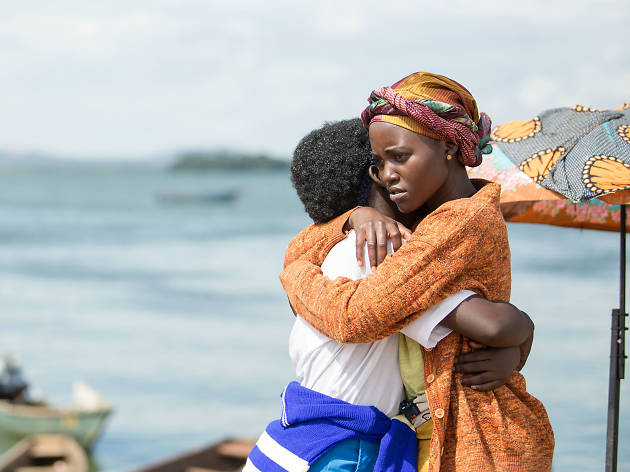 The irresistible message of Mira Nair's big-hearted Disney feelgood film 'Queen of Katwe' is that when kids grow up in poverty in developing countries, the world misses out on some of its best and brightest talents...
Support Time Out
We see you're using an ad-blocker. Ad revenue is Time Out's main source of income. The content you're reading is made by independent, expert local journalists.
Support Time Out directly today and help us champion the people and places which make the city tick. Cheers!
Donate now