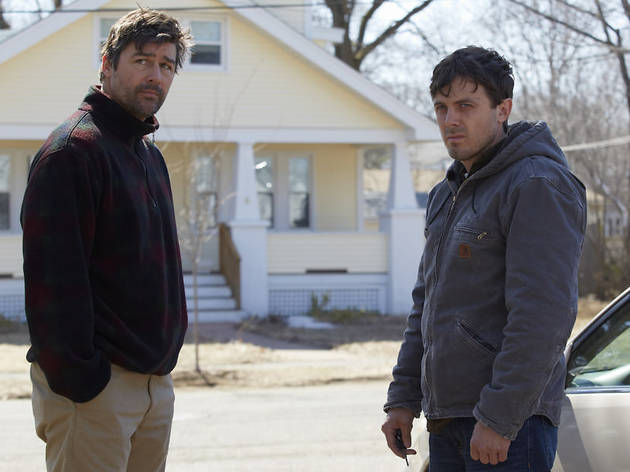 Time Out says
Actor Casey Affleck joins the ranks of giants in a tremendously moving portrait of grief from American writer-director Kenneth Lonergan
That's Manchester, Massachusetts, a small fishing community that's the setting for this devastating tale of buried trauma from American director and playwright Kenneth Lonergan ('You Can Count on Me'). Casey Affleck gives a complex, brooding central performance as Lee, a Boston handyman and caretaker – for all his quiet capability with a blocked toilet, you wouldn't want to cross him. Affleck burns the screen in the early scenes, building up a portrait of a solitary existence: this is a man who is long past giving a shit about anything.
Why? That remains a mystery – for now. While you sense that Lee is the kind of person who doesn't need more bad news, it arrives in the form of a call telling him that a heart attack has killed his older brother Joe (Kyle Chandler, superb in flashbacks). As Lee drives up to the wintry town of his youth to make funeral arrangements, we begin to see what makes him ache. Once in Manchester, he learns that he's been made the legal guardian of Joe's son, seen in happier days fishing off the back off the family's boat. Today, Patrick (Lucas Hedges) is a typical gobby teenager, juggling two girlfriends, a pissed-off hockey coach and a rock band.
But Lonergan's film isn't about rebounding as much as coping. That's what makes 'Manchester by the Sea' so dark and courageous; it says that, for some people, there won't be any moving on from grief. These sad people will walk into another day, perhaps with more openness and a nephew to bear the burden. For that honesty alone, almost unbearable yet expressed with rare poise, this movie is a profound, meaningful gift
Details
Release details
Release date:
Friday January 13 2017
Duration:
135 mins
Cast and crew
Director:
Kenneth Lonergan
Screenwriter:
Kenneth Lonergan
Cast:
Michelle Williams
Casey Affleck
Kyle Chandler
Gretchen Mol
Lucas Hedges

Average User Rating
4.6 / 5
Rating Breakdown
5 star:

13

4 star:

7

3 star:

1

2 star:

0

1 star:

0
A great film from Kenneth Lonergan, nominated in several categories for Academy Awards. And two well desrved Baftas given for original screenplay and best actor. What a pleasure to see high-quality, but not necessarily arthouse, cinema being recognised.
It is the third movie running that gives me great hope for the future of cinema – following "Paterson" and "Silence". What a triple treat!
One critic (a friend, no names) is being slightly unjust to refer to a "incredibly. painfully slow" start. I thought it was interesting that although we could see that Casey Affleck's character was clearly "damaged" it was clever not to give the game away too quickly and keep us wondering with little hints and nods. When we find out the true horror of his personal tragedy it is all the more overwhelming.
The sense of a small town community supporting its own was movingly conveyed and family dynamics were will well painted too.
Like Affleck's moody and blank-eyed persona, Lucas Hedges' does a superb job of keeping us reasonably sympathetic towards a teenage "I hate you all" girl chaser. A less skilful performance could have easily alienated us.
As with the other two movies mentioned a real treat to watch, unlike, in my view, the latest amazingly overrated "La La Land". Just can't believe the adulation for an average but hardly award-worthy work.
Every part in this excellent movie is played perfectly, all the main characters are developed to perfection. The pace is exactly right and the ending couldn't be bettered. Casey Affleck absolutely must win an Oscar for what he does with the lead role. When I saw this movie the entire audience sat right through the credits, we were all drained.
Hard to add much to what's already been said. Casey Affleck is just wonderful as the damaged younger brother who is forced to deal with the past when his older brother dies. Casey's face captures perfectly the bitter vulnerability of the role. The little details of everyday life are beautifully captured and the theme of a life being frozen by grief and depression is played out intricately as we wait to see if a thaw will come. It's grim viewing at times but also funny and uplifting. Casey is sure to win an Oscar and well deserved. Go see.
Smouldering look at everyday bad-luck life in real America. Beautifully shot and acted, this film ignores the beauty of place to look at the multiple challenges faced by one man who faces shit in the workplace as well as his family life. Rewarding if bleak - and so much more my sort of film than La La Land. I think the two will battle it out for honours.
A really fine film. Death, we can't control it (mostly) and its consequences. The grieving is observed very closely with with all the shades of grey. There is no sentimentality and this finely acted film is underplayed emotionally and this is very powerful and haunting. The director allows the audience time to come to their own conclusions. Any film directed by this director should be seen. It is magnificent, despite its bleakness.
Slowly wins the day in this finely paced, minutely observed and winningly acted drama. Casey Affleck deserves all the plaudits for doing so much with so little. 4/5 stars. The first 30 mins are slow, but the writer/director is building things up for some emotional smacks so stick with it. For more from me: bit.ly/ManchesterSea