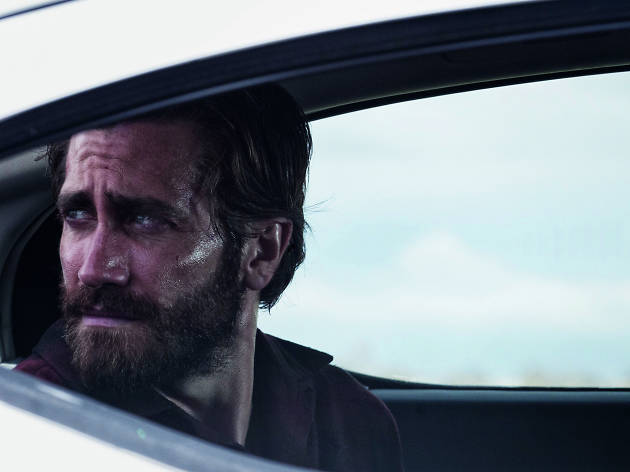 Time Out says
Jake Gyllenhaal plays a writer who creates a fictional world to torture his ex-wife Amy Adams in fashion designer Tom Ford's cynical thriller
A novelist gets his own back on his ex-wife in the way he knows best - via fiction - in Tom Ford's high-gloss psychological thriller set in the uber-rich LA art world. It's the fashion designer's second movie after his 2009 debut 'A Single Man', and this is a far more ambitious film, with its sprawling cast, various periods, layered storytelling and musings on life and art. But it's also far less endearing and coherent, and feels almost unbearably cruel and cynical.
Susan (Amy Adams) is a successful gallery manager who's no longer passionate about her work, living out a loveless marriage to Walker (Armie Hammer) in a stark modernist palace. She receives a novel called 'Nocturnal Animals' from her ex-husband, Edward (Jake Gyllenhaal). As she reads the book we see it play out, alongside scenes of Susan and Edward's life together, back when he was an aspiring writer. In the novel's story, Gyllenhaal plays Tony, a man on a road trip in Texas with his wife (Isla Fisher) and teen daughter (Ellie Bamber). They're attacked at night by three men, provoking the film's most confident sequence as Tony has to face up to what this tragic event says about his own masculinity and power.
'Nocturnal Animals' is blessed by remarkable photography by Seamus McGarvey ('Atonement'), who does exquisite work with barren rural vistas and soulless cityscapes. But Ford's script, adapted from the Austin Wright novel 'Tony and Susan', fails to get to grips with the psychological complexities suggested by the story, swerving oddly in its focus and tone. It leaves Susan behind for long stretches, while the Cormac McCarthy-esque story-within-a-story plays out without pushing deeply enough into Edward's motivations as an author or Susan's responses as a reader. Surely this section should feel like more of a Hitchcockian dream than it does? Certainly, Gyllenhaal looks adrift as the fictional Tony, resorting far too often to hysterics.
A stream of grotesque or slyly comic side players (including a welcome Michael Shannon as a coughing cop) offer distractions from the film's emotional core. Most poorly served is Susan, ostensibly the film's chief interest but ultimately the chief victim of its hollow claim that those who don't indulge or adore artists are somehow superficial and undeserving of compassion. Adams is certainly a haunting presence, and it's hard to fault her work. But it's tough to play a fully human character when the film viciously accuses that same character of being dead behind the eyes. For 'Nocturnal Animals', it's a criticism that's very close to home.
Details
Release details
Rated:
117
Release date:
Friday November 4 2016
Duration:
115 mins
Cast and crew
Director:
Tom Ford
Screenwriter:
Tom Ford
Cast:
Isla Fisher
Jake Gyllenhaal
Amy Adams

Average User Rating
3.8 / 5
Rating Breakdown
5 star:

9

4 star:

5

3 star:

0

2 star:

3

1 star:

2
It's not that often that audiences are given the gift of a truly unique psychological thriller as they are with this Tom Ford masterpiece. Gripping, haunting, beautiful, suspenseful, and perfectly executed— This is about as close as it gets to a modern-day Hitchcockian film. Without a doubt one of the best movies of the decade and the most underrated and overlooked movies of 2016.
This is a really scarey film because the attack scene and the emotional aftermath are so realistic. In general, the film looks fabulous and the soundtrack is great. I can't believe it has such a bad review from Time Out but maybe people don't like the subliminally anti-materialistic message of the film... or simply hope it ain't true!!
I was a HUGE fan of this film. I thought it was clever, beautiful and totally gripping. Definitely a must see in my opinion.
Pure garbage that makes you wonder what the main story actually is. The music is great but otherwise I wish I could get the 120 minutes back. And of course, Tom Ford had to sprinkle his bigotry, intolerance and hate throughout the movie. Dont waste your time and money on this crap.
Whilst 'A Single Man' was undoubtedly a more coherent film, still this much more ambitious project makes for a wonderful cinematic experience - visually provocative and impressive, with hints of Kubrick and David Lynch. The script is the one weak point I'm afraid - at times it teeters on being clunky and pretentious - but the story (with its allegory of what it means to kill another person and what it means to take revenge) is carried off beautifully and powerfully. The stand-out performance is Michael Shannon - as a nihilistic cop - he deserves an Oscar nomination for best supporting actor. The performance is visceral in every sense of the word. A sumptuous sensory experience at the cinema - what's not to like?
Nocturnal Animals
The premise is interesting and the cinematography, superb. Direction,
acting and production are very good, but the writer has some serious
mental issues.
At first, we see a glossy but empty art-house lifestyle of a rich L.A.
couple. But when we are shown the ex-husband's novel on the screen, we
immediately become trapped in a senseless and brutal crime against an
undeserving family. The film oozes perverse titillation and venom.
The main story flips from the past to the present and in and out of the
ex's novel, which becomes ever more unforgiving and bleak. There is no
redemption, little remorse, all hope is cruelly crushed in both real
and novelized lives.
I almost walked out of this abusive and violent assault on the senses
and emotions, but hung on to the end. I wish I had walked out.
Perverse and empty.
The only conclusion, for the author of this mess, is: Seek help.
Ugh.
I understand that different people have different opinions, but giving this film two stars seems mean-spirited. I'm no Time Out reviewer, but I thought this film was fucking great.
I voted with my feet in the time honoured manner and left a few minutes before the end. I reasoned that however brilliant the twist might be, if indeed the wooden script would have a twist at all, it was not worth wasting any more time on this piece of utter tosh. Even Amy Adams excellent acting could not salvage more than one star.
I really enjoyed this film. I thought the photography, the acting, the direction and the screenplay were very strong. The narrative oscillates between stories within stories but without complicating the narrative too much. Visually the film is stunning. The frames are beautifully composed and edited. The use of colour, music and a hint of melodrama makes a comparison to Almodóvar's latest films unavoidable. The film also makes a beautiful visual exploration of the human body, which I think is one of the things that separate the film from the original book from which it was adapted. The opening scene in particular, one of the strongest I've seen, explores the human body, criticises American culture and suggests how cold, heartless and monstrous the contemporary art scene is. I thoroughly enjoyed this film!