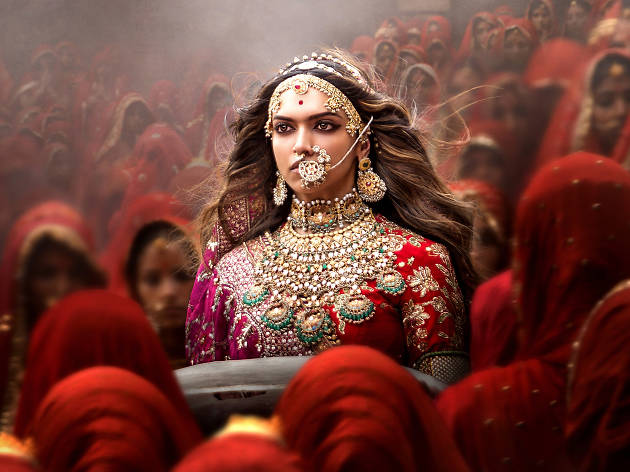 Filled to the brim with Hindu myths and legends, this Indian epic is both eye-popping and, at times, brain-bursting
Bollywood's most controversial release in years (its story allegedly 'disrespects' Hindu culture) is a straightforward opulent period drama. Based on the legend of Padmavati, a perhaps fictional thirteenth-century high-caste Indian Hindu 'Rajput' queen mentioned in the revered poem of the film's title, it follows the attempts of madcap Muslim conqueror Alauddin Khilji (Ranveer Singh) to seize control of the territory of King Ratan Singh (Shahid Kapoor) and capture Queen Padmavati (Deepika Padukone). Rather than subject herself to such a humiliating defeat, the feisty queen decides on a fiery plan of action to keep her honour intact.
Director Sanjay Leela Bhansali (who dedicates the entire confection to his late dog) presides over a lavish fantasy that ticks all the expected boxes: gorgeous leads, fabulous costumes, lavish dance sequences and lots of CGI. It does not disappoint in this respect: camp excess dominates every single frame with gay abandon. The ethereal Padukone exudes an effortless dignity that the often barely-clad Kapoor and Singh struggle to match. Protestors, who didn't wait to see the film to start firing off death threats to the superstar actress, will hopefully realise it was all a storm in a chai-cup. For everyone else, it's an enjoyable 'Game of Thrones'-stye epic given a Bollywood spin and some seductive (though frustratingly, only partially subtitled) songs.
Release details
Rated:
12A
Release date:
Friday January 26 2018
Duration:
164 mins
Cast and crew