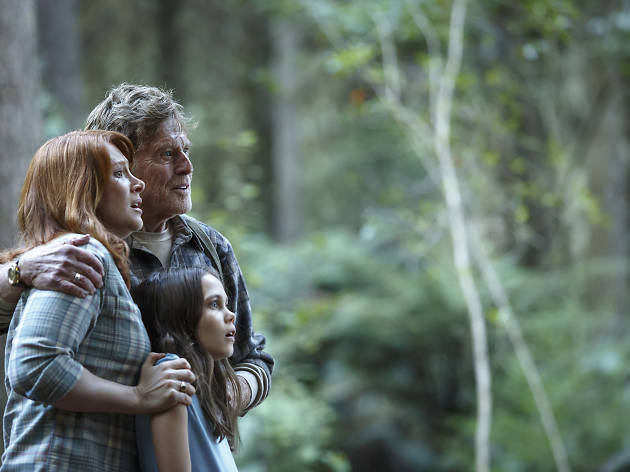 Time Out says
A remake of Disney's classic adventure story about a boy and his pet dragon
What to watch this summer if you're too scared to make it past episode two of 'Stranger Things'? The answer is Disney's 'Pete's Dragon', about an orphaned boy who lives in the forest with his pet dragon (it's remake of a 1977 film). With 'Pete's Dragon' you get the nostalgic Spielberg-y-ness of 'Stranger Things', minus the creepy kids with paranormal nosebleeds.

It begins with little Pete's mum and dad being killed in a car crash. Pete is unhurt, but is about to become boy-mince for wolves when he's rescued by a dragon. Skip ahead six years, and he's having the time of his life with his adorable mutt of a dragon – a great big lummoxy cuddle monster of green fur. Of course, it can't last, and Pete feels the call of civilisation when he meets a nice forest warden (Bryce Dallas Howard).

This being a kids film, there is a 'message' – about the destruction of nature. But the eco theme genuinely works with the film's wonder at nature. And great news for wusses: the scariest creature in this forest is a dragon more likely to chase his tail than breathe fire.
Details
Release details
Rated:
PG
Release date:
Friday August 12 2016
Duration:
102 mins
Cast and crew
Director:
David Lowery
Screenwriter:
Toby Halbrooks, David Lowery
Cast:
Bryce Dallas Howard
Karl Urban
Robert Redford
Oakes Fegley

Rating Breakdown
5 star:

1

4 star:

0

3 star:

1

2 star:

0

1 star:

0
This remake of Pete's Dragon for me was an emotional journey. It took me to a place of love, friendship and appreciation.
This film gave me an unexplainable emotion. I felt elated seeing how the story came together. At times I did feel teary with such captivating scenes in the forest.
There were parts where I couldn't hold my tears, just seeing the love that Pete (Oakes Fegley) and his pet dragon gave to one another, reminded me of the love that myself and my family have with our own pets.
This magical adaptation of the 1977 musical film is simply beautiful.
If I'm not mistaken I believe it was written by Malcolm Marmorstein.
It was a tragedy to have lost his parents in the beginning of the film, but many surprises await him in the forest. He practically was raised by this adorable, huggable, green dragon. Pete named him Elliot and if you watch the film, you'll know why.
I can also see how this can be a great learning curve for the younger viewers. It showcases references of deforestation and what the consequences will be of these actions.
Grace (Bryce Dallas Howard) is brilliant and she cares for Pete as if he was her own. I've loved her work and she hasn't let me down in Pete's Dragon.
The scenery looked absolutely stunning, the most tiniest details looked impeccable. Elliot's green fur, his bulging eyes, his large feet, and his glorious wings. All of this and more was created with such delicacy and it looked perfect.
It was impressive, engaging and exquisite.
There was a scene where Pete and Elliot hugged each other. That was it. It showed me how much they needed each other. During this part I couldn't look. It was a great deal of emotions.
A sad ending for some, but happy for others.
See it for yourself.
#TOTastemaker
Love MD.
This is purely a kids film.
It has a huge furry and sweet dragon that is basically a giant dog and a kid that could be tarzan as he was raised in the forest.
Its a magical storyline that will engage the little ones.