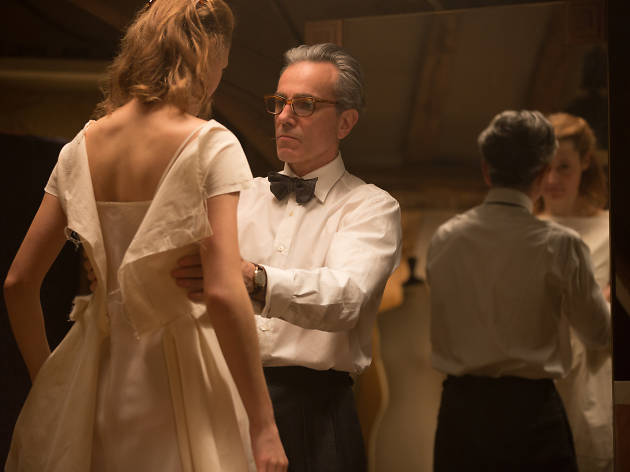 Deceptively hidden under layers of gorgeous surfaces, Paul Thomas Anderson's borderline-sick romance waltzes towards a riveting tale of obsession.
False gods strut through the movies of Paul Thomas Anderson: rapacious oilmen, well-endowed porn stars, inventors of new religions and spinners of old lies. 'Phantom Thread', the writer-director's ultra-fascinating bad romance (powered by an uncommonly sophisticated script by Anderson himself), gives us a real god – or at least one who's earned his perch.
Reynolds Woodcock (Daniel Day-Lewis, greying, fastidious, never unpersuasive) rules his private corner of London's 1950s haute fashion world. A dresser of wasp-waisted princesses, he pursues his craft in total concentration and near-complete silence. 'There's entirely too much movement at breakfast!' Woodcock shouts with terrifying severity, an Anderson hallmark. When his character woos a lowly waitress, Alma (Vicky Krieps, purposefully blank), onto his tailoring pedestal to be his new lust object, you cringe on her behalf.
What an absolute joy it is, then, to watch Alma slowly turn the tables on this insufferable creep. 'Phantom Thread' hides this development until it can no longer; its build-up is consumed with subtle flirtations, the thrill of driving fast in a sports car, the elegance of the clothes and the ritualisation of Woodcock turning bodies into consumable things. It's almost a little too square and prestigey for the maker of 'Inherent Vice', but then Jonny Greenwood's delicate piano score goes cello-heavy and the mood darkens into neediness – and worse.
Anderson's swing of the power pendulum represents his most fun piece of direction to date. Out come the daggerlike stares of Woodcock's possessive sister, Cyril (Mike Leigh regular Lesley Manville, owning every lip curl and bit of viciousness), and we get that hoariest of plot points: poison-mushroom soup. Forgive that one, because the film is after something incredibly rare that I won't spoil, a mutually assured destruction that kicks the attraction into overdrive.
Enough can't be said about 'Phantom Thread''s psychological gamesmanship, which morphs from the typical mode of obsessive artist and docile muse into co-conspiratorial glee, then ruinous loneliness and the bickering realities of wedlock. Ultimately, we're talking about a picture of a weird marriage, one spiked by perversely orchestrated hazards. Even though the tone here is impeccable as a Max Ophüls classic or high-period Bertolucci, you really have to go to something subversive like 'The War of the Roses' to get a hint of the comic blackness. It's sexy, silly and undeniably wonderful – like the best of affairs.
Release details
Rated:
15
Release date:
Friday February 2 2018
Duration:
130 mins
Cast and crew
Director:
Paul Thomas Anderson
Screenwriter:
Paul Thomas Anderson
Cast:
Daniel Day-Lewis
Lesley Manville
Vicky Krieps

Average User Rating
3.8 / 5
Rating Breakdown
5 star:

3

4 star:

1

3 star:

3

2 star:

1

1 star:

0
A piece of pure cinematic poetry / allegory that is a delight to watch. The humour of the writing and the main performances is wonderful, and the ambiguity of it all is tantalising...set against the backdrop of a 60-piece orchestral score by Radiohead's own Jonny Greenwood. Lavish, stylish and mysterious.
This was a bit of a disappointment for me.The film is just overloaded with sentimental and dramatic music (a sure sign of a weakness in the core of the film) The story line is intriguing for 90 minutes but the last 40 minutes descends into ludicrous and silly plot.The film runs out of puff and ultimately it left me empty.The writer makes the whole thing just too stilted and stiff.DD Lewis is good but perhaps trying too hard to extract something that isn't actually there in his part.The star performance is from Cyril (DDL long time assistant) she resonates cold tight lipped inscrutability...Lots of good buts but the loud music drowns out the acting.3 stars
Brilliant work! Even though I rarely would support a 5-star TO review I have to admit that this is as good a melodrama/love story as I have seen. It draws comparisons with the finest of 1940's soporific fare. Accolades go to the central trio of the cast and the beautiful score by Jonny Greenwood. An example of musical continuum that does not grate. Personally, I loathe the industry in question but when PT Anderson continues to produce works like this, I'm not complaining!
We fought our way through the half-term scrum in our local shopping centre to see this movie which had been mysteriously pulled for the week after a Tuesday afternoon showing. Most unusual in multiplexes in my experience.
I can't join the general enthusiasm.
Although Daniel Day-Lewis is undoubtedly a fine actor, here in his role as a British 1950s successful couturier, smarming and schmoozing his way to High Society moulah, he often resembles Christopher Lee - about to sink his fangs into the next available female neck.
That, and his tendency to resort to Olivier-like mannerisms reminiscent of Archie Rice in "The Entertainer" were also irritating.
If Day-Lewis wins any awards over Gary Oldman's magnificent portrayal of Winston in 'Finest Hour', mourning garb will be donned in this household.
On the other hand, the musical score was superb as was Lesley Manville's portrayal as the arch-poser's sister.
It looked great too but much of the plot was preposterous.
No thank-you.