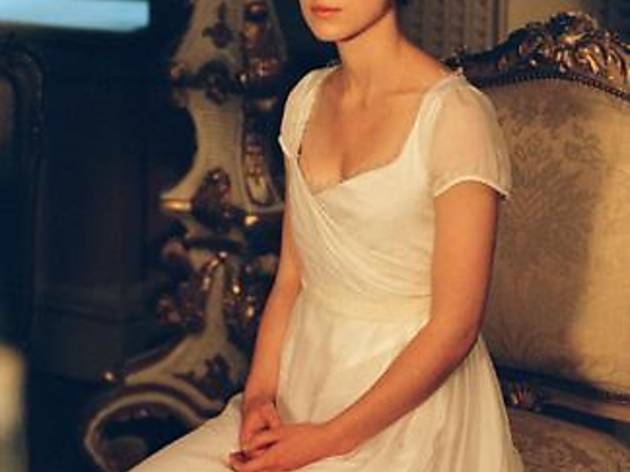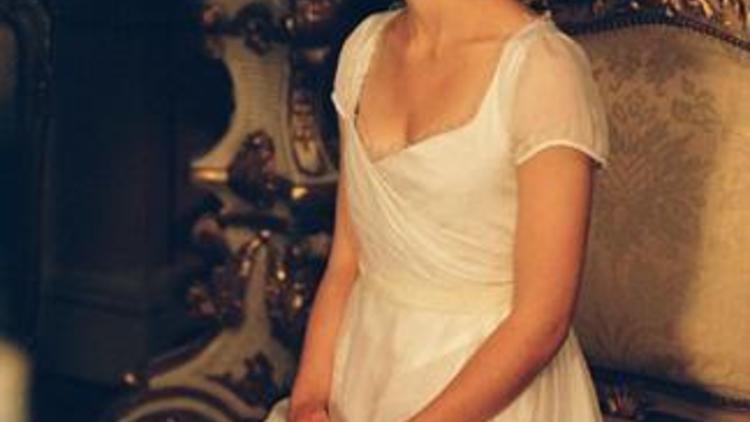 Famously, film and TV adaptations of Jane Austen's novels used often to be guilty of staid, lazy, Sunday-afternoonish reverence. Recent efforts have waxed  loud about making her 'sexy' or 'modern'; this takes that tack to her best loved book, offering both appropriately youthful stars and a purportedly 'realist' portrayal of Regency England as gritty and grungy rather than rosily picturesque.It's not an unintelligent attempt, with Wright (following TV acclaim with this feature debut) and writer Deborah Moggach alert to demands for naturalism: early scenes of the Bennets preparing for and attending a boisterous ball are so pacy, buzzy and giggly, you wonder whether Austen's meticulous narrative structure's been jettisoned. It hasn't. Sadly, however, her brilliant sense of irony has; romantic melodrama's played up at the expense of her razor-sharp wit, so humour is largely confined to Brenda Blethyn (broad) and Donald Sutherland (muted) as the Bennet parents and Tom Hollander, in perhaps the only turn to hit just the right note, as Mr Collins.Keira Knightley doesn't really convey Lizzie's strength, let alone her complexity, while Darcy's shift from surliness to love is too sudden for Matthew MacFadyen to convince. Family and friends are too sketchy (though Judi Dench leaves her mark as Lady de Bourg), just as England conveniently comprises famed statelies (Burghley, Chatsworth) and a cliff in the Peak District that gives Keira a 'Titanic' shot. Meanwhile, history and Austen's philosophical concerns are pushed into the background by further rhetorical flourishes like Darcy's misty-meadow stride, with rising music, towards a new-day kiss. A realist Austen? Not exactly.
Release details
Rated:
U
Release date:
Friday September 16 2005
Duration:
125 mins
Cast and crew
Director:
Joe Wright
Screenwriter:
Deborah Moggach
Cast:
Keira Knightley
Matthew Macfadyen
Brenda Blethyn
Donald Sutherland
Rosamund Pike
Jena Malone
Carey Mulligan
Talulah Riley
Judi Dench
Simon Woods
Kelly Reilly
Claudie Blakley
Rupert Friend
Tom Hollander
Penelope Wilton
Peter Wright

Average User Rating
2.5 / 5
Rating Breakdown
5 star:

0

4 star:

0

3 star:

2

2 star:

0

1 star:

0
It is an excellent review. The film presents a simplified, Hollywoodish Jane Austin. In the final scene Lizzie is sitting cross-legged ??? Is that time and day no lady however free minded would conceive of that. In the scene where MR. Darcy proposes, he is not wearing a tie??? The mother of the bride and the sisters are wearing nightclothes??? That would not be possible in that time and age. Most importantly the impression of the slower pace of life and emotional restraint, so beautifully wrapped all around the 1995 BBC series with Collin Firth is non-existent. The soundtrack ins the best part of this film.
The Time Out review correctly identifies the problems of infusing a ` modern` sensibility into a naturalistic regency setting. However, to suggest that Keira Knightley's performance lacks strength and complexity is to do a major injustice to this accomplished actress. Keira Knightley 's performance is subtle and convincing, despite the anachronisms of the screenplay with its ill-judged forays into modernism.