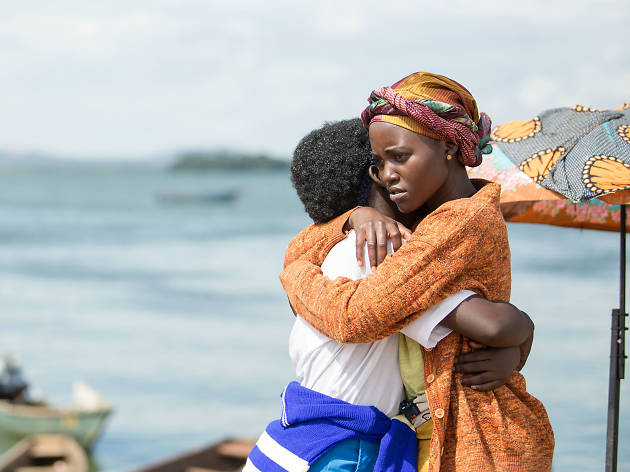 The young cast light up Mira Nair's uplifting, sympathetic story of a Ugandan chess champion born into poverty
The irresistible message of Mira Nair's big-hearted Disney feelgood film 'Queen of Katwe' is that when kids grow up in poverty in developing countries, the world misses out on some of its best and brightest talents. Set in one of Uganda's poorest slums, Katwe (pronounced Kah-tway), this English-language film is based on the story of real-life chess prodigy Phiona Mutesi, who overcame two impossible hurdles – being poor and being a girl – to become a teenage champion.
We meet Phiona (Madina Nalwanga) aged nine selling corn from a bowl on her head to help her mum (Lupita Nyong'o), a widow raising five kids on her own. What lures Phiona into a chess club for slum children run by a volunteer ('Selma' actor David Oyelowo) is a free cup of porridge. She can't read or write, but she's transfixed by the pieces on wooden boards painted with black and white squares. It's impossible to watch the young cast that Nair ('Monsoon Wedding') has assembled without a big smile creeping on to your face. Wisecracking and charismatic, they light up the screen with their natural and full-of-life performances.
If the uplifting underdog story of Phiona Mutesi didn't exist, Disney might have invented it. There are no surprises here. What you expect to happen, happens (and you wonder why the filmmakers chose not to mention that Phiona's dad died from Aids?). When the kids travel to a tournament at a fancy boarding school, the rich kids sneer at them. One little shit wipes his hand on the tablecloth after a handshake with Phiona. When she gets her revenge, kicking his arse, Phiona doesn't believe it – or in herself. 'Did he let me win?' she asks her coach, wide-eyed.
This feels like a Disney-fication of Phiona's story, but its Uganda feels real. Nair knows the capital Kampala (she has a house in the city), and it shows. She captures the chaos and energy of big cities in developing nations – the rubbish piled on the streets, the humour, roads gridlocked with cars, people selling anything and everything to drivers stuck in traffic jams, entire families squeezed on to one motorbike. And what a change to see a positive African story on film, that speaks to the energy and ambition of young Africans.
If you're the person who watches weepies with a cynical curl of the lip, this isn't the film for you. Everyone else, prepare to have your heartstrings plucked. And Oscar-voters, don't overlook the film's young actors – they act beautifully and are utterly radiant.
Release details
| | |
| --- | --- |
| Rated: | PG |
| Release date: | Friday October 21 2016 |
| Duration: | 124 mins |
Cast and crew
Director:
Mira Nair
Screenwriter:
William Wheeler
Cast:
Lupita Nyong'o
David Oyelowo
Ntare Guma Mbaho Mwine

Rating Breakdown
5 star:

5

4 star:

0

3 star:

0

2 star:

0

1 star:

0
If you watch 1 film in the next few weeks, make it Queen of Katwe. You go on a rollercoaster of emotions from sad, to despair, to pride, to hope, to sheer joy. I laughed, I cried and I left with such a feeling of empowerment. I wish I was a teacher so I could show this film to my pupils to illustrate that anyone can succeed if they put their minds to it. As always Lupita Nyong'o was fantastic but the real star is the young actress, Madina Nalwanga, in her lead role as Phiona Mutesi. This is a must see.