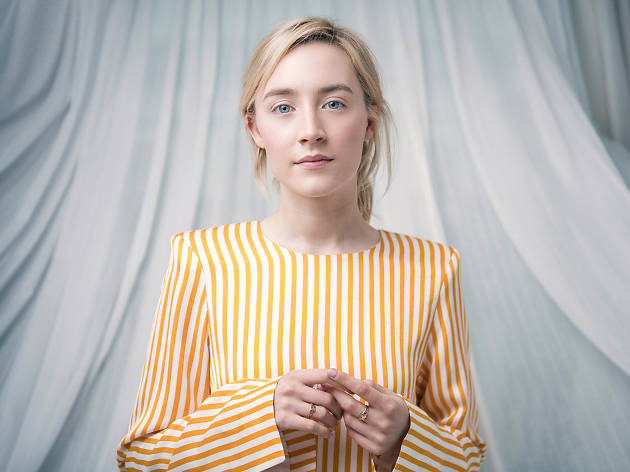 Saoirse Ronan on 'Lady Bird', Time's Up and winning a Golden Globe
The 'Lady Bird' actor tells Time Out about working with Greta Gerwig, nearly missing the start of the Oscars and her upcoming flick 'On Chesil Beach'
Saoirse Ronan is telling me about the time she took her mum to the Oscars and they nearly missed the opening speech. 'We had to leg it in!' she says, explaining that they had accidentally joined a queue of seat-fillers. 'We didn't know the layout or anything – you know, as well as Meryl Streep would.'
That was Ronan's second time at the Academy Awards, when she was nominated for 'Brooklyn'. While some actors might spend their whole career waiting for an Oscar nomination, Ronan clocked up her first at the age of 13, for playing a meddling wannabe writer alongside James McAvoy and Keira Knightley in the film adaptation of Ian McEwan's 'Atonement'. Now aged 24, she's come full circle, starring in 'On Chesil Beach': another McEwan adaptation, this time about a newlywed couple grappling with repressed sexuality in 1960s Britain. Ronan's anything but typecast, though. In the intervening years she's appeared in Wes Anderson's 'The Grand Budapest Hotel', played a teen assassin in 'Hanna' and starred in Greta Gerwig's much-acclaimed 'Lady Bird' (for which she got her third Oscar nom). She's even taken the plunge and moved from the big screen to the stage, performing in 'The Crucible' on Broadway.
Born in the Bronx to Irish parents, Ronan moved back to Ireland with her family when she was three years old. She made her screen debut on Irish TV in 2003 and basically hasn't stopped since. When I speak to her on the phone she's in Ireland, just back from the US. 'I've got this new talent of beating jetlag,' she tells me. Still, she warns me that she 'might be a bit slow.' If this is her on a slow day, I can't imagine what she's like when she's not jetlagged. She's witty, articulate and full of energy. With two more films headed for release this year – 'Mary Queen of Scots' with Margot Robbie, and a film adaptation of Anton Chekhov's 'The Seagull', it can only be a matter of time before she takes home one of those golden statuettes.
In 'On Chesil Beach', you play Florence, a newlywed whose relationship falls apart because of her fears over sexual intimacy. Was it frustrating that your character couldn't speak up for herself?
'It was a sign of the times that they just couldn't communicate. I felt impatient for them because the story is set in 1962 – right before young people felt this liberation that they hadn't ever felt. They were on the cusp of that.'
Obviously things have moved on, but do you think people will still relate to the situation?
'Yes, even now there's a huge pressure on women to be a certain thing but there's pressure on men too, in terms of masculinity. He [Edward, her husband] doesn't know what he's doing either.'
'On Chesil Beach' is a kind of coming-of-age movie – what's your favourite?
'"Dirty Dancing". I absolutely love it. That film is obviously about her and Patrick Swayze's character but I always loved her relationship with her friend Penny. The films I loved when I was younger are ones that had a strong friendship at the centre of them. '
You could say the same about 'Lady Bird' – there's teenage romance but it's not just about that, is it?
'I think that's the point: romance is important but it's not everything. Female characters often have a narrative that centres on one aspect of their life. It's cool to see a film where it isn't everything. I loved that it shows how entertaining it is to watch a mother and daughter on screen. I do think that people were hungry for something like that.'
Lots of people saw their own mother-daughter relationship reflected in the film – did you?
'I remember watching the scene where they [Lady Bird and her mum] go and see all the open houses and pretend that they're going to buy them. That was something I used to do with my mam and dad – actually, we still do it now.'
You've already worked with loads of big names – have any of them been a mentor to you?
'I was a huge fan of Greta Gerwig before I worked with her on "Lady Bird". Meeting Greta and knowing that she knew who I was and wanted to talk to me about the script was so exciting. We Skyped before we met and we were so giggly, like two kids in high school. She's been very supportive since.'
What did you learn from her?
'She's everything I want to be as an actor and as a filmmaker. I could feel myself going from being like, "Maybe one day I'll direct", to looking at Greta and going, "I really want to do this." '
I heard that Greta gave you her high-school diary as inspiration for 'Lady Bird' – is that true?
'She didn't give me her diary, we stole it [laughs]. No, she didn't but she showed us all her high school photo albums. There was one photo when Greta was 15 and they had an Oscars night and she's in a full-on red gown, totally going for it.'
Were your teenage experiences similar?
'I went to school in Ireland but I was homeschooled when I got older. I wasn't in any sort of secondary school environment, so it's completely foreign to me. Watching stuff like "Sabrina the Teenage Witch" and "Saved by the Bell" when I was a kid definitely helped me picture what American school life was like [for 'Lady Bird']. Sabrina, Zack and Kelly had a major influence on me.'
You won a Golden Globe this year – were you expecting that?
'No, I wasn't prepared. I didn't write a speech because that would have made me more nervous. It's so quick when you go up there. I was terrified of going over and having the music played over me. Watching people like Fran McDormand be so eloquent is impressive because it's really hard to do.'
The Time's Up campaign has dominated recent awards ceremonies. What's it been like seeing women and men from the movie industry coming together like that?
'Most of the films I've been on have been incredibly nurturing and supportive places. I grew up in the industry, so it's sad to hear that other people didn't have those experiences. The fact there's an awareness of that now and people feel like they're able to stand up and say "This isn't okay" – whatever it is – is reassuring.'
Have you ever been star-struck?
'I remember meeting Kathy Burke at a dinner party and my whole face went red and I couldn't speak. I get really excited meeting people from the telly.'
What was it like working with Wes Anderson on 'The Grand Budapest Hotel'?
'There was so much attention to detail. I've never seen anything like it where someone's looking at each pair of socks that the actors are wearing to make sure that they're the right shade of green.'
When you hosted 'Saturday Night Live' you performed a hilarious song about how to pronounce your name. How did that come about?
'The writers came to me and said, "We want to do a song so we can teach people how to say your name." I was like, "Okay, great", thinking it would be easy. But it really wasn't! That was one of the highlights of my life so far, though. I'm a huge fan.'
Do people still pronounce your name wrong?
'It's helped. So many people come up to me and they're like, "Now whenever I'm stuck on how to pronounce your name I just go: 'It's sir-sha with an err…' " '
You play the title role in your upcoming film 'Mary Queen of Scots'. Good costumes?
'Oh, corsets every day. We had, like, four skirts to wear at a time so you couldn't sit on a chair, because you might crease the dress. We had to sit on these tiny little swivel stools. You'd lift up your skirt and just drop it down over the stool so you wouldn't even see it.'
Where do you like to hang out in London?
'I always go to London Cocktail Club on Shaftesbury Avenue with one of my friends – it was the first bar we ever went to together. I used to live in Highgate so I'd go to the Heath and the ponds over the summer. I love north London.'
What's next for you?
'I'm going to take most of the year off and travel, do a bit of writing and work with my friends on something small. We're all around the same age, which is unusual for me because I'd always been the young person working on my own.'
'On Chesil Beach' is in cinemas on Fri May 18.
Check out our interview with 'Lady Bird' director Greta Gerwig
Ten years ago Greta Gerwig co-directed an indie flick few people saw. But 'Lady Bird', her first solo effort, has got everyone in the industry talking. She tells us how her memories made it to the screen.