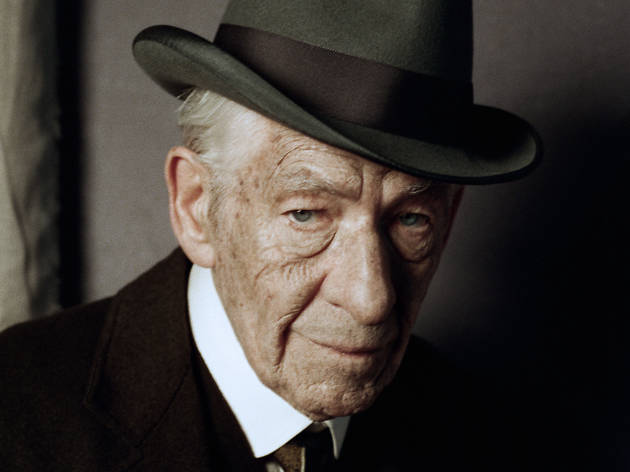 Sir Ian McKellen on bringing an aged Sherlock to the big screen for 'Mr Holmes'
One of our greatest actors, a champion of gay rights and an international megastar who still lives in Limehouse, Sir Ian McKellen talks to Time Out about stepping into Sherlock's shoes
His close friends call him 'Serena'. Meant as a campy play on 'Sir Ian', it's an oddly appropriate nickname for an actor who exudes an air of such immaculate serenity. Whether he's glad-handing 'X-Men' fans on the red carpet, defending gay rights in his role as co-founder of Stonewall or saving Middle Earth as Gandalf the Grey, Ian McKellen is the calm eye of whatever storm happens to be raging.
And he's just as laidback in person, spending a fair portion of our interview umm-ing, aah-ing and gazing wistfully out of the window – not in a senior-moment sort of way, but with the confident demeanour of a man who simply refuses to be hurried. But like any stage veteran, he does occasionally show his thespian streak: grabbing his back theatrically to evoke the aches of old age, or grinning slyly as he recounts a cheeky anecdote about working with Will Smith.
We're at the Langham Hotel in central London to discuss 'Mr Holmes', in which the 75-year-old McKellen dons ageing make-up to play a 90-year-old Sherlock Holmes, who's living in a quiet corner of post-WWII Sussex until an old case rears its head. It's an incredibly controlled performance, packed with pathos and subtlety: not as crowd-pleasing, perhaps, as Gandalf or Magneto, but every bit as memorable.
Have you always wanted to play Sherlock Holmes?
'I never thought I'd play him. Sometimes these things just happen. I never thought I'd play Hitler, but someone once asked me to and it was a jolly good script!'
The list of screen Holmeses past and present reads like a who's who of acting greats. Do you have a particular favourite?
'Well, Jeremy Brett proved that it was possible to play Sherlock Holmes as a living, believable human being. Eccentric, certainly, but a man with an inner life. As our story was going to be more about what the man was like rather than the puzzle he solves, it was Jeremy I thought of.'
There's a boy in the film who would be roughly the same age as you were in the mid-1940s… Did that add an emotional edge for you?
'It did! I remember VE Day, and all the flags going up. I remember the park across from our house in Blackburn, the image of the King and Queen in fireworks. I suppose an ageing Sherlock Holmes and a young Ian McKellen could have been contemporaries.'
How does it feel to play such an aged character? Sherlock in the film is pretty doddery…
'I am old. I've been a pensioner for over ten years. So I have intimations of incapacity. As an actor, I can call on that. I'm younger than Holmes in the film, and I feel younger. But it's not that difficult to know what I've got to look forward to.'
You seem to be setting a new standard for ageing gracefully. Any advice for the rest of us?
'Keep working, keep moving, keep exercising, keep thinking, keep enjoying yourself. Maybe you'll hold off the inevitable. You won't, of course. I don't think that I'm immortal, like I did when I was younger: "Die? Me?" Yes, darling, we're all going to die.'
Do you think it's helped your state of mind that you only became famous fairly late in life?
'My generation was brought up to think there was a "prime of life". When your relationships were settled, your finances were in order, you knew what it was to be you. Well, in my prime of life I became famous. It was surprising, but it's been very enjoyable. I get recognised, but not that often, and it's usually to say thank you. That's nice for any actor.'
Maybe it's because your most famous roles feature novelty headgear: people don't recognise you when you're not wearing it.
'Perhaps you're right! I was once coming back from Manchester on a train, it was absolutely packed and I found myself sitting next to two members of the "Coronation Street" cast. Everyone walking along to the loo was doing double-takes – instant recognition. Me? Nothing. When we got to Euston the crowds parted to let them through. And just as we got to the stairs, someone shouted out "'Ello, Peter!" He thought I was Peter O'Toole.'
There's a perception that you sprang from nowhere in the mid-'90s, but you'd been a fixture of stage and screen for years. Did you ever get resentful?
'I got some very good reviews back in 1969, when I was doing "Richard II" in the West End, and I used to get narked that people thought I'd come from nowhere, because I'd been acting for seven years. That was in 1969! But I'm awfully glad that my early theatre work wasn't recorded. I suspect it wouldn't do any longer.'
I've always wanted to ask – what's your memory of working with Will Smith on his first post-'Fresh Prince' film, 'Six Degrees of Separation', in which he played a gay hustler?
'He arrived for the read-through with a huge entourage – his family, his agent, his publicity person, his acting coach, his nanny! He was a charmer, and a good actor. But he did one silly thing: he refused to kiss another boy on-screen, even though it was there in the script. Which was why, at an early preview, I met him in public outside the cinema and gave him a great big kiss on the lips.'
In the wake of the Irish referendum, are you amazed by how far gay rights have progressed?
'It's good. Very good. I hope now that some other Catholic countries will have to examine their attitudes, and that Northern Ireland will be shamed into growing up too.'
How do you view the current climate for young British actors?
'I know it's extremely difficult for an acting student to get their first job. The lucky ones are those whose face is right, and maybe their accent is right, and they land a wonderful part and draw attention to themselves. Whereas I had to learn, and there were opportunities available to do so. But how's a young actor supposed to live in London today? They're all working in coffee bars.'
Speaking of coffee bars, how do you feel about seeing London ripped up and refurbished?
'This is a big city, it's always changing. There'll always be artistic life somewhere. It's not like Manhattan which, being an island, once all the students and artists are pushed out, they'll be gone for ever. London can go on expanding. Is that some comfort?'
Do you think of yourself as a Lancastrian or a Londoner?
'Both! I speak like a Northerner; I've got a lot of affection for the North. But since I left university in 1964, London has been my home. There's such a lot I like about it. It's a true capital city. Everything is here. Theatre, art, film… everything. When the mayor says it's the greatest city in the world I think: Well, yes. And it's got nothing to do with you!'
'Mr Holmes' is in cinemas from Jun 19
Read more on 'Mr Holmes'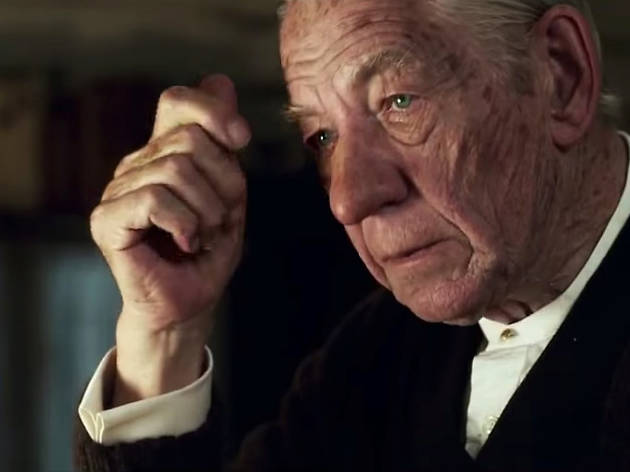 Sir Ian McKellen plays Sherlock Holmes, aged 93 and reflecting on his life as super sleuth.