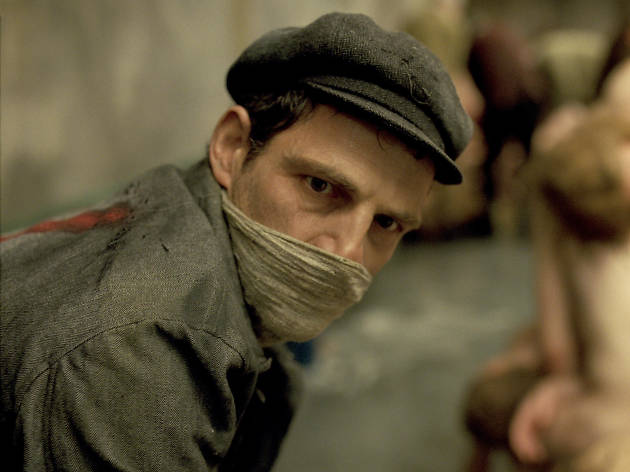 Both disturbing and dazzling, this debut features plunges us into the belly of the beast at Auschwitz
A one-time assistant to the director Béla Tarr, 38-year-old Hungarian filmmaker László Nemes has made a staggering feature debut with 'Son of Saul', an Auschwitz-set drama that's numbing, provocative and impossible to unsee. Set over 24 hours in 1944 and almost chaining itself to its lead character (so close does the camera stick to him) the film gives us Saul (Géza Röhrig), a member of the Sonderkommando – the unit of mostly Jewish prisoners forced to assist their captors with mass execution.
Wisely suggesting that there's nothing particularly special or heroic about Saul, whose blank expression suggests his soul has long since been crushed, Nemes's camera seems accidentally to find him as the film begins: Saul wanders from the distance into sharp focus (and into an almost-square, 1:33 ratio frame), like a moth to a flame. From there, Nemes launches into a frenetic journey around the camp, more interested in portraying a sense of acute horror and disturbing chaos via his stalking, up-close camerawork and haunting sound design, than in making the facts of his story clear. During the time we spend with Saul, as he works day and night, he becomes convinced that a dead child is his son and is determined to find a rabbi among the captives to help give this boy a proper burial.
Saul's doomed quest feels like a form of madness equal to the infinite number of other madnesses going on all around him. Whether the child belongs to Saul feels immaterial, in the same way that the details of an escape plot being hatched are muddied by the vision of hell set before us. It must be stressed: this is cinema at its most gruelling, dealing as it does with events that perhaps no images can ever convey, not least in the film's scenes set in and around the gas chambers and the ovens that dispose of human remains. But 'Son of Saul' always feels alive to such debate, and it thrusts you into the heart of the argument.
Partly, of course, any concentration-camp drama is a response to similar films that have come before. And it's impossible not to see 'Son of Saul' as a corrective to past stories that have imposed a neat order (or worse) on such incomprehensible events. Nemes does that too, of course, simply by making this film – but he does so in a way that makes us think of these events afresh. Partly that comes from how his story inhabits the moral minefield of the Sonderkommando, meaning that words such as 'victim' and 'perpetrator' start to shed their meaning and usefulness. He also does so by harnessing cinema at its most powerful, artful and stimulating and sticking pointedly close to the experience of one disturbed soul among thousands.
Release details
Release date:
Friday April 29 2016
Duration:
107 mins
Cast and crew
Director:
László Nemes
Screenwriter:
Clara Royer
Cast:
Géza Röhrig
Levente Molnár
Urs Rechn

Rating Breakdown
5 star:

3

4 star:

0

3 star:

0

2 star:

0

1 star:

0
Shot in an intense 1:33 ratio frame close-up to Saul's face, or the back of his head - the surroundings (thankfully) are often just out of focus, so we see mostly blurred images of the horror going on around the central character. Most striking are the words of the SS guards - there are no 'bodies' here, only 'pieces' (of rubbish) to be picked up and burned. Saul's crazy mission to give a proper burial to a young boy who may or may not be his son is heart and soul wrenching. Cinema doesn't get more powerful than this.