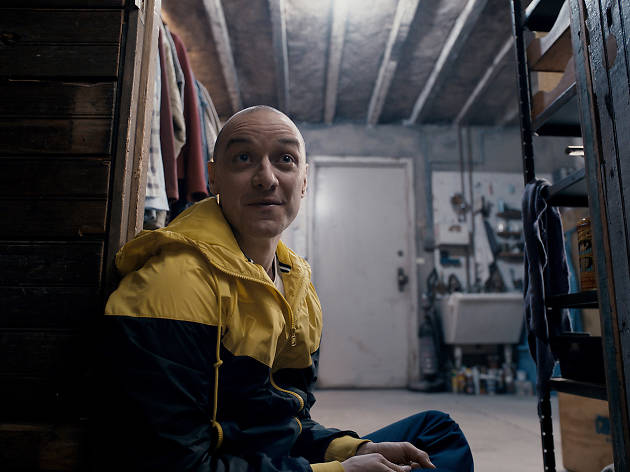 M Night Shyamalan returns with a freaky thriller about a kidnapper with multiple personalities
M Night Shyamalan still takes himself deadly seriously, as if none of the flops after 'The Sixth Sense' ever happened. His latest thriller is 'Split', one of those sombre, cello-scored dramas about a clever psychopath. James McAvoy (having too much actorly fun) is Kevin, who has 23 multiple personalities and – more worryingly – three high-school girls locked up in his cellar. The cool problem-solving skills of one of them, Casey (Anya Taylor-Joy ), will have you rooting for her.
'Split' trots out many of Shyamalan's pet moves, including his tendency to infuse genre nonsense with the trauma of child abuse. A lot of the film works better in flashback, as we learn what made young Casey so steely. Less successful are the endless therapy sessions between McAvoy's therapist (Betty Buckley) and his character's personalities, which include a camp fashion designer, a religious woman and a little boy (left). 'Split' doesn't build to a typical Shyamalan twist ending – or a proper ending at all. It leaves you hanging in a way that feels pretentious.
There's a tiny shiver of something in the final few seconds that doesn't exactly change what we've watched so much as say: I'm still M Night Shyamalan and I'm still crazy! Half the audience will gasp; the rest of you will roll your eyes. Split, indeed
Release details
Rated:
15
Release date:
Friday January 20 2017
Duration:
117 mins
Cast and crew
Director:
M. Night Shyamalan
Screenwriter:
M. Night Shyamalan
Cast:
James McAvoy
Haley Lu Richardson
Anya Taylor-Joy
Betty Buckley

Rating Breakdown
5 star:

0

4 star:

3

3 star:

2

2 star:

1

1 star:

1
God I hated this film! Contrived, poorly executed, not especially clever...1/5 stars. I feel I've either missed something vital or have been hoodwinked by Shyamalan. My advice - stay away! My review for more: http://bit.ly/splitmcavoy
Shayamalan is well known for causing a stir among critics, so every time he releases something new I watch it with an open mind, and I must confess, most of the what he does is genius. Split is no exception. Visually the film is very strong. Beautiful compositions, a very interesting exploration of the basement space and the cage, claustrophobic but truly personal and sincere, which is refreshing to see. The film's subject of the exploration of identity, through an incredible performance by James McAvoy, follows a man who has twenty-four different personalities. The twenty-forth being a strange Beast that is about to be unleashed. He has abducted three teenagers, with one of them (Anya Taylor-Joy) being a trained hunter taught by her loving father, who died when she was a kid and has since then been looked after by her paedophile, sexually abusing uncle. The 24th personality of the Beast is then a metaphor of the bestial uncle, and no matter whether she escapers or not, she will be hunted by a beast, be it a supernatural stranger or her own uncle. Shayamalan's self-referencing ending also gives another layer of interpretation to the film and explains the ending of his earlier film 'Unbreakable'. Overall, this film is very coherent, with a strong subject matter and carefully crafted visuals. Definitely worth watching.