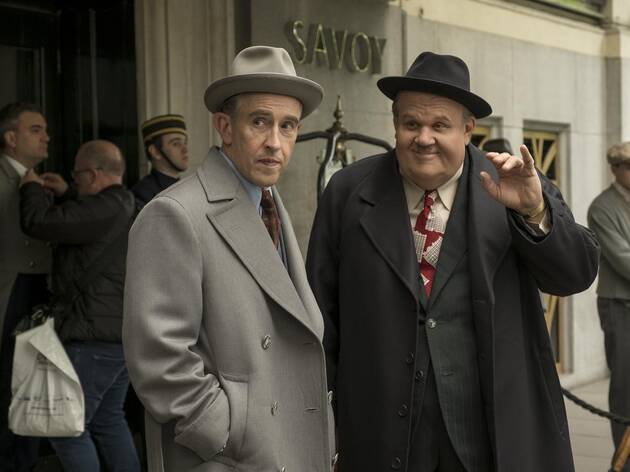 Starring John C Reilly and an inspired Steve Coogan, this biopic about the classic comedy double act Laurel and Hardy is a delight.
Not since Martin Scorsese followed up the Mob mayhem of 'Casino' with two hours of Buddhism in 'Kundun' has a director made such a pronounced movie-to-movie gear shift as Jon S. Baird does with his gentle follow-up to his 2013 Irvine Welsh adaptation, 'Filth'. Cocaine squalor gives way to 'Stan & Ollie', a wistful, heartfelt celebration of the friendship between comedy giants Stan Laurel (Steve Coogan) and Oliver Hardy (John C Reilly), which contains plenty of cosy movie-biz nostalgia and some mishaps with hats. It's a love song played in a minor key, and it leaves an unexpectedly lingering impression. It's also much more suitable for your nan, if you need an option.
Scripted by 'Philomena's Jeff Pope (working closely from a book by Laurel and Hardy historian AJ Marriot), the story charts the duo's final years as they embark on a grueling tour of British theaters while trying to get a new Robin Hood picture off the ground. It's 1953, and the world has long since moved on from their brand of slapstick to new talents like Abbot and Costello. The crowds are thin and their prospects look thinner. Imagine 'This Is Spinal Tap' with extra pratfalls.
The two leads are terrific: Reilly defies a slightly iffy fat suit to give us an avuncular but creaky Hardy, bemused by his friend's work ethic and obsessed with the finer things in life. Coogan, in particular, is a revelation as Laurel, dialing down the trademark head-scratching mannerisms and unpeeling layers of disappointment and melancholy as the funnyman grapples with their failing film project and past wounds. Both disappear entirely into their characters, nailing the pair's comic routines in a way that quietly speaks to a thousand hours of practice.
'Stan & Ollie' sprinkles in some of the pair's classic lines ('I'm never getting married again,' says Laurel. 'I'm just going to find a woman I don't like and buy her a house'), but it laudably doesn't get bogged down in too much that's familiar to a niche audience. There are also juicy supporting roles for Shirley Henderson and 'Midnight in Paris's Nina Arianda as the comedians' long-suffering wives, Lucille and Ida. The film may be called 'Stan & Ollie', but it's never more alive than when the four of them are onscreen.
Release details
Rated:
PG
Release date:
Friday January 11 2019
Duration:
98 mins
Cast and crew
Director:
Jon S Baird
Screenwriter:
Jeff Pope
Cast:
Stephanie Hyam
Steve Coogan
John C Reilly
Shirley Henderson
Nina Arianda

Average User Rating
3.5 / 5
Rating Breakdown
5 star:

0

4 star:

3

3 star:

0

2 star:

1

1 star:

0
As a life-long L-and-H enthusiast, I knew I would be irritated or enthusiastic.
Fortunately the latter prevailed in trumps and two perfectly weighted performances from Steve Coogan and John C Reilly were a joy to watch - no superficial mimicry from these two fine actors but genuine attempts to get inside the characters and their relationship over their careers.
The movie takes place in an early '50s tour of Britain when the pair are long past their golden age and are hoping to combine working the theatres and landing a feature film production based on Robin Hood.
Their friendship is fraying a little but even so wins through ultimately.
It must be said that the movie still succeeds despite some over-sentimentality and really major historical gaffes and If I was somewhat moist-eyed throughout it was due as much to sadness as to laughter at the final stage of their wonderful comic artistry.
As Ollie might have said. "In two words, super-lative."
Long-term relationships are often soured by betrayal and resentment - and this film cleverly portrays the betrayal and resentment in this famous on-screen relationship, but also the love that ultimately keeps any relationship together. It's poignant and melancholic but beautifully done, with wonderful performances from Coogan and Reilly and also from the other 'double act' of their wives. Slight, perhaps, but touching.
They were hardly friends. The two did not socialise together and met on film sets only.This was mainly due to Oliver being hauled up in American courts,more than once from alleged
Child sex scandels
Moving biopic. If you spend nearly 30 years together working....you do not have to dine together the rest of the time to prove the validity of your friendship. Especially from those who collect spurious data.
Understated, perfect performances on a subject that is a mild relief from the excesses of The Favourite. Two geniuses played by two brilliant performers.