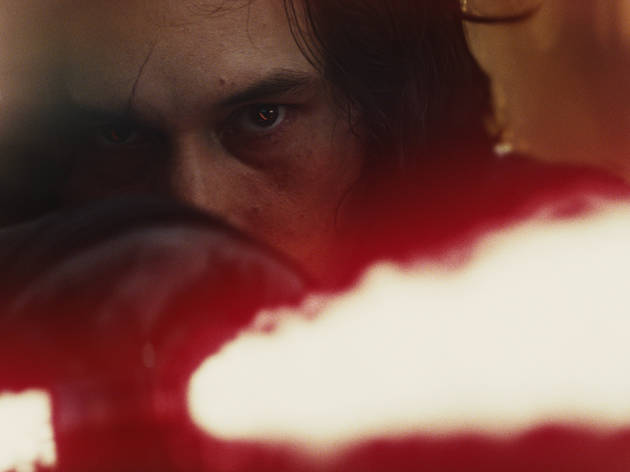 Time Out says
A triumph of comic irreverence and dramatic purpose, Episode VIII dazzles like the sci-fi saga hasn't in decades.
Rolling up with the kind of intergalactic swagger that gives us a cosmically infuriating phone prank within the first five minutes, 'Star Wars: The Last Jedi' is a work of supreme confidence: witty, wild and free to roam unexplored territory. If JJ Abrams's franchise-rebooting 'The Force Awakens' (2015) was the creation of a boy who lovingly dusted off old toys and put them through their expected poses, its superior sequel is made by a more inventive kid – maybe one with a sideline as his block's most inspired D&D Dungeon Master –who asks: Why can't a Rebel fleet be commanded by Laura Dern in a purple wig? Why can't we have planets of blood-red sand, herds of rampaging alien cattle or adorable puffin-esque porgs invading the cockpit of the Millennium Falcon like wannabe copilots?
That kid is writer-director Rian Johnson, previously a maker of such mind-colonising indies as 'Brick' and 'Looper'. Here, he's been given awesome licence to steer this beloved series into hyperspace. (His chapter should be studied by Hollywood execs tempted to entrust their billion-dollar properties to the humourless.) 'The Last Jedi' scrapes the psychologically dark edge of George Lucas's original middle chapter, 'The Empire Strikes Back', but carries that grandeur with ease. Centrally, Johnson creates a running head-to-head dialogue – almost a mystical form of FaceTime – between Rey (Daisy Ridley), rising warrior of the Resistance, and Kylo Ren (Adam Driver, as tortured as he was in Martin Scorsese's religious-themed 'Silence'), a furious Darth Vader in the making. Their running conversation hints at the inevitability of their meeting in the flesh; it even vibrates with a sexual charge. 'Star Wars' has long been a form of Wagnerian opera, but rarely has it treated space and time this pliably.
Along that sturdy throughline, Johnson peppers the plot with eye-widening sequences: titanic wedge-like destroyers exploding in action scenes of off-planetary warfare; swirling lightsaber duels; the sparky comic byplay between courageous Finn (John Boyega) and a new character, a no-bull mechanic named Rose (Kelly Marie Tran); and Rey's own experiences on a fog-shrouded island, home to none other than glum Luke Skywalker (Mark Hamill, rarely this magnetic). After taking his lightsaber and unceremoniously tossing it off a cliff – again, Johnson relishes confounding superfans – Luke slowly swings back into the spirit of things. The movie stokes the embers of radicalisation, even those cooled by personal tragedy: It's a blockbuster about getting back on your feet, flicking the dirt off your shoulder and heading into battle recharged.
That's an invigorating idea to smuggle into big-budget entertainment. For all of Johnson's skill in conjuring a universe of chatty droids (and crafty thieves played by Benicio del Toro, sure to be seen again), he understands that 'Star Wars' has always been a vessel that we, as audiences, fill with our own timely preoccupations. There's no denying the overwhelming emotional thrill of seeing Carrie Fisher – whose final performance shows no sign of digital trickery – inspire her team of fighters from all walks of life, all shapes and colors. 'We have everything we need,' we hear at the rebels' darkest hour. Johnson has taken that as his rallying cry and poured 40 years of imagineering into his own mould, emerging with an absolute winner. He'll have to show us that Jedi mind trick someday.
Details
Release details
Rated:
12A
Release date:
Friday December 15 2017
Duration:
152 mins
Cast and crew
Director:
Rian Johnson
Screenwriter:
Rian Johnson
Cast:
Oscar Isaac
Daisy Ridley
Mark Hamill
Adam Driver
John Boyega
Kelly Marie Tran
Carrie Fisher

Average User Rating
3.8 / 5
Rating Breakdown
5 star:

6

4 star:

3

3 star:

5

2 star:

1

1 star:

1
Really surprised by the mixed reviews. Am loving the Star Wars reboots & I found this latest instalment ticked all my boxes- nostalgia, witty one liners, cure creatures & thrilling fight scenes. It does what it says on the box & it was great to see Princess Leia & Luke Skywalker be given such prominent roles. So bittersweet to see the late great Carrie Fisher in her last outing as her iconic role. Popcorn movie perfection!
I enjoyed much of this - but it is far too long. Two and a half hours? The subplot where Finn and Rose go to a casino planet to find a code breaker is almost entirely pointless. The Rey / Kylo Ren dynamic is the dramatic heart of the movie but it is almost sidelined at times. With some skilled editing this film could have been much improved. Enjoyable but teetering on tedious.
Loved it! It feels a bit of a retelling of the original saga with different characters. In this new take women take center stage in different roles. In the original Leía was almost the only woman in the galaxy. Things have changed now and we have new role models in this overarching universe. There are some flaws like how Rey becomes such a powerful Jedi with no training unlike Luke or others before her who all needed to study the force. Rey seems to be above that. Luke character here is a bit controversial and difficult to understand at times. You'll see. Overall I enjoyed the directing, the cinematography and the pace and wanted more. Will have to wait.
Perhaps the most beautiful-looking SW film ever made. It is certainly (with Episodes IV & V) one of the best. An emotional, for those who care, rollercoaster!