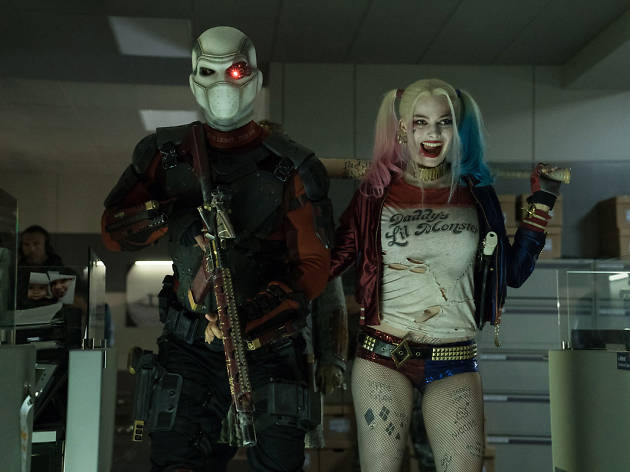 Never mind the Batmans: here's a rude antidote to dull superheroics and epic running times
The big fear about the punky, not-for-kids comic-book movie Suicide Squad was that it might be too try-hard: Hollywood awkwardly slumming it with the alt crowd. But this loony wise-cracking DC Comics story, directed with anti-glossy grit by David Ayer (End of Watch, Fury), plays like a twisted B-side to some of the slicker movies in the comics world.

"You want to put our national security in the hands of witches, gang-bangers and crocodiles?" asks one government official as ruthless high-up Amanda Waller (Viola Davis) – the baddest badass in a movie full of them – introduces her scheme. Law and order is crumbling after Batman v Superman, and Waller intends to assemble a ragtag band of sicko 'meta-humans' to fight evil.

One by one, the Squad is gathered. Will Smith is former gang member Deadshot; Margot Robbie is psychiatrist turned psychopath Harley Quinn; Adewale Akinnuoye-Agbaje is Killer Croc; and so on. Waller has a second trick up her sleeve: she controls Enchantress (Cara Delevingne), an archaeologist by day, possessed shape-shifter after hours.

This is Batman's world, and the chiselled guy (aka Ben Affleck) pops up but ends up looking like the square guy at a cool party. The soundtrack – Rolling Stones, The White Stripes, Eminem – says a lot about where this movie pitches itself: playfully fun in a Tarantino-lite sort of way. And it's not all ultra-violence: each member of the Squad secretly dreams of a family, a fitted kitchen and a garden. In the end, Suicide Squad ends up being less a celebration of bad behaviour and more a tribute to outsiders.

There are too many characters for the movie to handle: blink and you'll miss the Aussie guy with the boomerang. On the other hand, you might end up wishing for less of Delevingne, who winds up croaking like a chain-smoking granny. But what of Jared Leto's The Joker? We see little of him, but he still threatens to steal the film. Leto plays The Joker like a volatile over-privileged teenager, though his voice hints at some older influences (a bit of Brando, a dash of Pacino, a hint of Anthony Hopkins). His relationship with Margot Robbie also makes him a twistedly romantic villain (watch out for their big gushy moment in a vat of chemicals!). This is not The Joker's film, but must surely be a taste of things to come in sequels future.

In the end, the characters are more lasting than the story, which is a standard save-the-city-from-destruction yarn. But this crew is a riot, and their world is intriguing and even a little meaningful. What's more – and this is no small thing in a time of bloated blockbusters – Suicide Squad clocks in at just over two hours, swept into port on a swift wind of pace and style .
Release details
Release date:
Friday August 5 2016
Duration:
123 mins
Cast and crew
Director:
David Ayer
Screenwriter:
David Ayer
Cast:
Margot Robbie
Cara Delevingne
Scott Eastwood
Jared Leto
Will Smith
Ben Affleck

Average User Rating
2.6 / 5
Rating Breakdown
5 star:

1

4 star:

3

3 star:

6

2 star:

3

1 star:

4
Hey DC, are you trying to f**k this up on purpose? Seriously! What the hell is going on over there. "Suicide Squad" was your chance to redeem yourself from the last critical failures. This movie should have been the one that saved DC and get it back on it's feet, but I guess not. I wanted this to be good or at least surprise me. There are some pros and plenty of cons in this. So lets kick it off.
Will Smith and Viola Davis are easily the best parts of this movie. Smith brings the humanity to his character and Davis brings the fear. Will Smith is the only character in this group that has any characterization as we get to know more about his past. Will Smith is basically playing Will Smith, but he was still good as the character. To be honest, I thought Voila Davis was more of a real threat then the actual threat itself.
Margot Robbie was pretty good as Harley Quinn, but wasn't the show stealer as I thought she would be. She did a great job capturing the character and there was little peaks of humility as well. Her accent dose keep changing in a few scenes, but I can easily look pass that.
I was one of those people who was against Jared Leto new look as the Joker. I know he's trying a different take on the character, but with all the stupid tattoo's all over him with the word 'damaged' on his forehead and the gangster grill teeth just wasn't the Joker. But I give Leto this, it's a bold move to take on the character after Ledger's unforgettable performance. I was being a bit too harsh at the time and Leto is a very method actor, so what's there's nothing to complain with the casting (besides the new look). After seeing the movie, Leto doesn't do a bad job as the Joker. He doesn't have that much screen time and every time he's on it screen, he kinda chews up the scenery. He was enjoyable to watch and I will make a full judgment when we have a movie where he has more screen time. Coming to think of it, The Joker should have been the main villain of the movie and not Enchantress (I'll get to her in a minute). Oh and I can't be the only one who thinks he looks like some manic you'll see in a Purge movie.
Cara Delevingne not only gives the worst performance in the movie, but also the most laughable one as well. I mean, what is up with that hip moves and twirling her arms around? It's like the director gave up. Enchantress is right up there with Dr. Doom from "Fant4stic" as the worst villain in comic book movie. Enchantress is the basic villain who wants to shoot a giant blue lazier in the sky to destroy the world. Oh and please stop it with the blue lazier thing, it's in every comic book movie now and it's so stupid.
Here's my question: Why would you sent these crazy and dangerous people on a mission to stop Enchantress. Yeah I really hope that doesn't back fire at all. I mean sure, send a guy who calls himself Captain Boomerang who's an insane person that throws boomerangs that never comes back to him to save us from giant portals from other worlds. Is it because they are expendable? It would have made a lot more sense if Wonder Women or The Flash or just anyone with god like powers to go on this mission. This really is a suicide mission.
The rest of the Squad members were pretty forgettable and just didn't do anything. Katana was just kinda there. Slipknot is in it for a few minutes. Killer Croc just stands around going "mmmm" or "yeah", they didn't do anything with that character.
The third act was this gigantic action scene that takes place in the city and the scene itself was just a mess. It was so muddled together and the editing was so poor that it sadly did remind me of "Fant4stic" climax.
Some of the music choices didn't really fit well during a couple of scenes. It felt out of place and was only thrown at the last minute to make it a little light at heart. This is because of the heavy criticism for "Batman V Superman" for being too dark.
I think DC biggest problem is that they are literally rushing the movies out just to catch up with Marvel. Take your time DC. But of course, many will be angry that I said that and will go to terrifying lengths to defend it. Fan boys seem to choose to deny any flaws from these movies and praise it for it's non-existing efforts. I'm not a DC hater. I'm not a Marvel fan boy. I only want a freaking good movie, is that hard to ask for. Just because it tried something new doesn't always mean it will bring great results. Everyone has an opinion, that's a no-brainier. Agree or disagree, just please don't act like a cry baby when some has a different opinion to you.
Overall rating: "Suicide Squad" was a huge disappointment in a lackluster year for summer movies. The more I think about this, the more I hate it.
I did not know what to expect, but I was really looking forward to a better film than the last Batman Vs Superman which underwhelmed me.. I was not disappointed this time around. The characters, although many, are well developed specially Deadshot (Will Smith) and the great Margot Robbie. She stole the show in my opinion, as did Jared Letto in the few minutes he was on screen. Action was good but there are clearly misses with the story - it is a lot to jam in two hours- but as hero film goes this one is good.
I hope the review has nothing to do with the fact the film splashed out on a big advert (the front/back cover...)