The Ballad of Buster Scruggs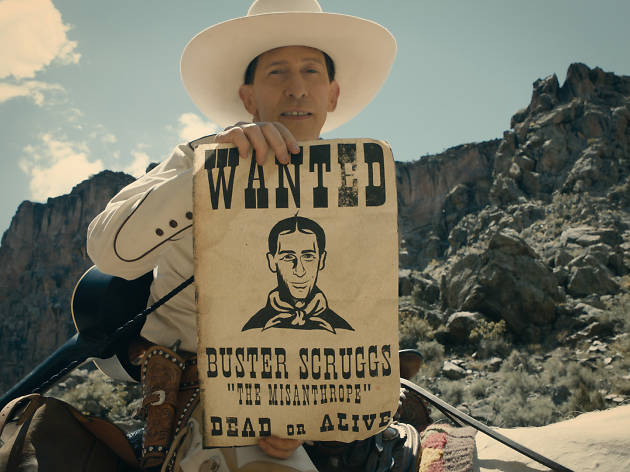 Time Out says
The Coens hit the trail with six darkly comic mini-Westerns, loaded with typically dazzling wordplay and an uneasy nod toward death.
Richly entertaining and blackly funny but told with sincerity and heart, the half-dozen western tales packed into 'The Ballad of Buster Scruggs' show the Coen brothers loading up their six-shooter and firing barely a dud. Inevitably, some of the stories satisfy more than others: The final yarn, a spooky Washington Irving-like doodad starring Brendan Gleeson as a bounty hunter aboard a doom-laden coach, ends things on an oddly low-key note. But at roughly 20 minutes each, they're mini-masterclasses in economy and style, given glorious sweep by cinematographer Bruno Delbonnel, who fills them with picture-postcard landscapes.
Boiled down by the Coens from the bones of a planned six-part Netflix show, this anthology of fables is set against dusty frontier towns, remote sun-dappled valleys and plodding wagon trains. Each is introduced from the pages of a book, 'The Ballad of Buster Scruggs and Other Tales of the American Frontier', a framing device that lends it the cosy intimacy of a fireside story. But if there's a thematic connection between them, it's the losing cards dealt to their characters: As with their 'True Grit' remake, Joel and Ethan find the Old West full of opportunities to explore the fickle hand of fate. Death comes in a myriad of ways in 'Scruggs': some shocking, some funny, a few melancholic but virtually none how you'd expect.
We're first introduced to Buster himself, Tim Blake Nelson's extravagantly self-regarding outlaw, aka 'The San Saba Songbird'. Hilariously, he's able to break into fully-formed ditties about men he's literally just shot. Nelson has a blast with the role, playing him like an unusually lethal member of the Three Amigos, complete with guitar and pristine white suit. It sets you up for an equally funny second chapter that has a dialled-down James Franco as an unlucky bank robber and a scene-stealing Stephen Root spouting frontier gibberish as the bank clerk standing between him and his loot.
From there, though, the tone shifts noticeably. The final four stories are more sober, still peppered with wit and weirdness (look out for a chicken that can do maths), but played much straighter. Coens-y, in other words, rather than outright Coenesque. In one story, an unrecognisable Tom Waits channels Walter Huston as a landscape-despoiling prospector. In another, Liam Neeson's impresario mines nothing but ghoulishness and cynicism as he hawks out the skills of Harry Melling's quadruple amputee to bored frontier folk. Only Zoe Kazan's resilient homesteader offers anything approaching innocence in a sweetly romantic yarn set on the Oregon Trail.
A little bundle of love letters to the Old West, 'Scruggs' also tips its hat to classic westerns. There's a nice nod to 'Once Upon a Time in the West', while Delbonnel captures the frontier with the same wonder and grandeur as 'How the West Was Won' (and that film had four cinematographers). Even if you're no fan of the genre, there's still plenty to enjoy in these bite-sized, bullet-riddled parables. In the era of long-form TV, the ever-contrary Coens have somehow made a heck of a case for the short-form movie. Six more, please.
Details
Release details
Cast and crew
Director:
Ethan Coen, Joel Coen
Screenwriter:
Ethan Coen, Joel Coen
Cast:
James Franco
Liam Neeson
Tim Blake Nelson
Tyne Daly

Average User Rating
4.5 / 5
Rating Breakdown
5 star:

1

4 star:

1

3 star:

0

2 star:

0

1 star:

0
The latest Coen Brothers movie was partly financed and distributed by Netflix so it was no big surprise that the Curzon group was only showing a measly two screenings a day at its cinema outlets.
One might have expected more for such an illustrious new movie but some might say that Netflix are seeking cinema award eligibility with maximum punter potential to pay for home streaming? Well, that's what Netflix do.
Anyhow whatever the background politics, this is another terrific film from the Coens, a black comedy in six chapters set in the American Wild West, full of blood, guts and death.
The Brothers have assembled another great cast including Tom Waits as a deranged gold prospector while Liam Neeson's theatrical impresario drives a wagon around remote mountain towns featuring a limbless actor reciting Shelley and Shakespeare to eager punters.
Even so, Tim Blake Nelson's singing outlaw, "Buster" of the title, steals the laurels in his hilarious portrayal right at the start.
The stunning cinematography featuring New Mexico and Colorado is reason enough to watch this work-of-art on a big movie screen but it's probably a Netflix TV streaming or nothing now. A crying shame but it shouldn't be missed in any format.