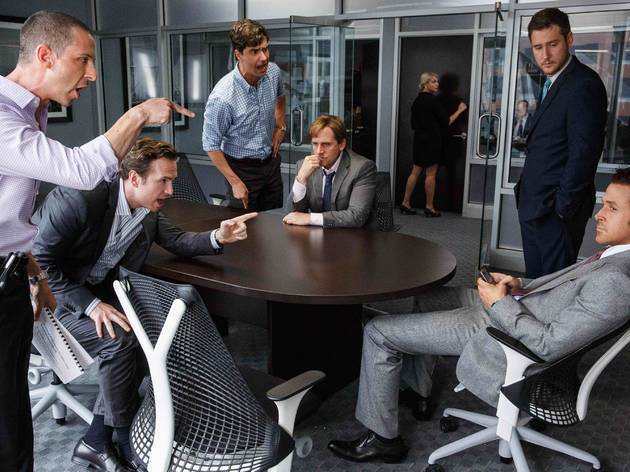 An all-star cast join 'Anchorman' director Adam McKay to revisit the roots of the credit crunch – and learn how some crafty souls got filthy rich
They're not exactly the Fellowship of the Ring. One guy, real-life ex-hedge fund manager Michael Burry (Christian Bale, with near-Aspergian intensity), blares heavy metal out of his office as he analyses the paperwork of thousands of failing home loans. Another guy, our narrator, Jared Vennett (Ryan Gosling, on fire), yells his colleagues out of the executive toilets. A third, investment consultant Mark Baum (Steve Carell), steals cabs from more patient New Yorkers as he hustles his way to high-pressure meetings.
And yet, in this subversive, riotous movie, these men are our heroes (of a sort). They are among the few who predicted the 2008 financial collapse in America years in advance. They're an extremely unpleasant bunch to build a movie around. As chronicled in Michael Lewis's 2010 bestseller (on which the script is based), they all made a killing betting against the banks, while billions in pensions and savings went up in smoke.
Still, it's impossible not to be swept up by their Cassandra-in-the-wilderness craziness. Almost half-heartedly, 'The Big Short' reminds us – via a beardy Brad Pitt playing an eco-conscious trader – that millions of lives will be ruined. Mostly, though, the movie's a sick thrill, a toast to the douchebags.
Director Adam McKay is the man behind movies like 'Anchorman'. More than any filmmaker who's taken on this subject to date, he sees the banking crisis as a shriek of ego, which it was. He brings on the smirking agents who sold multiple homes to strippers. Then he brings on the strippers and the crocodile that now lives in the abandoned swimming pool. McKay's zaniness has a precedent: like Stanley Kubrick's 'Dr Strangelove', 'The Big Short' is a gleeful tumble toward the apocalypse – except in this case, it actually happened. Some of the ideas here are fuzzy. But when a Hollywood comedy turns the crime of the century into a satisfying lark, you know a huge gamble has been won.
Release details
Rated:
15
Release date:
Friday January 22 2016
Duration:
130 mins
Cast and crew
Director:
Adam McKay
Screenwriter:
Adam McKay, Charles Randolph
Cast:
Brad Pitt
Finn Wittrock
Christian Bale
Steve Carell
Ryan Gosling
Marisa Tomei
John Magaro

Average User Rating
3.9 / 5
Rating Breakdown
5 star:

6

4 star:

16

3 star:

4

2 star:

1

1 star:

1
The only thing that grates about this film is the fact that these guys all made mega-bucks out of the financial collapse of 2008. Presenting them as (somewhat) heroes doesn't quite sit right, given that they profited hugely from this. Nonetheless, the acting from the all-star cast is superb. Steve Carrell in particular manages to shake off Michael Scott, and become an odd, unnervingly warming trader who refuses to go with the flow. Ryan Gosling is also great, and the film itself is interesting in the insights it delivers. The funniest moment is when they get Margot Robbie and Selena Gomez to explain the intricate details of these financial deals - made the whole cinema laugh!

This film does a great job of explaining the way the banking crash happened, and in an entertaining way. All the central characters are amoral in betting billions on 'shorts', bets that stocks would fall and ever-elaborate pyramid-selling & insurance schemes, and whether or not they have any moral qualms they still take their big payoff on what becomes the collapse of the whole capitalist world in a Faustian bargain. All of the lead actors play different bankers very well, driven in different ways to amass the same loadsamoney for themselves and their companies and to hell with the social consequences. A great portrayal of how the untrammelled American Dream in many of its facets heads pell-mell to social disaster. Who says that housing is safe as houses? (Got me worried now!) The directing is a cut above the ordinary and Adam McKay pulls some lovely and unexpected flourishes out of the bag. Well worth seeing!
Excellent exposé of the madness and downright criminality that created the financial crash of 2007-2008. The script scintillates, the acting is effervescent, and what a story...truth really is crazier than fiction. Well deserving of an Oscar for best adapted screenplay. And bravo to Brad Pitt for his determination to bring this story to our screens.
The one thing required to explain something in internationally understood format is a simplified concept that anyone from any country can understand. At least once the subtitles explained something as " ... like the something ... blah ...[some US reference] ... blah". And while you're trying to figure what that means, you've then lost the next point, meaning you're a little lost/behind. Hmmmm. However, the placing bets on bets explanation was superbly demonstrated, and very worrying that it was allowed to happen.

.
Funnily enough, the film gets better after about the 1hr 15mins mark, when the two guys who set up a hedging fund from a garage have been introduced into the story, along with retired banker (played by Pitt).
.
As a film, with humour, it works. Gosling, Pitt, and all, act well. I can't see it'll win award. It just wasn't simplified enough (though genuinely shocking at how corrupt the system is): It was boring in places. I thought Moody's, and Standard & Poor's rating agencies came out of it worst of all. Being prepared to rate a company highly because they might otherwise lose their fees to the competitors was shocking.
.

Personally, I preferred the 2010 "The Inside Job" - film/documentary - the graphics and explanations on that were suprior to The Big Short. 5/10 (or two stars).
I found this comedy about the financial crisis totally involving in the moment, and I learned something too about complicated financial instruments - but it leaves a strange taste in the mouth. Are they meant to be heroes, these guys, just because they're renegades and were able to predict the 2008 crash? They're still all in it for self-gain.
The star of this film is the hair. Christian Bale - strange haircut, Ryan Gosling - excellent dye job, Steve Carrell - floppy barnet, Brad Pitt - Just lots and lots of it. Go and see it for that if nothing else.
Its a film about a difficult and hard to understand subject but luckily they realise this and help you to understand enough to know how big a shit everyone actually is. Its a film without good guys and bad guys just dicks and opportunists so at times it is very hard to know if you are actually meant to be rooting for anyone.
Good to get the (sort-of) truth about the financial crash out there, but the film is incredibly pleased with itself in a uniquely American, grating sort of way. Good performances and lots of decent gags, but if this wins Best Picture it'd be a shocker - can't imagine anyone wanting to revisit it in 10 years.
Maybe I have never seen a movie about a more complicated subject, and been so entertained. Well made, well acted… but full of so much jargon that most people will get by on just the gist. The best bits by far are the 4th wall-breaking, to camera moments where various C list celebrities explain complicated banking terms, obviously where Adam McKay (director of Anchorman and The Other Guys) is flexing his comedy muscles. Go see it for the hair styles alone.
best movie i saw for ages educational and shocking too. great acting , great script, funny too