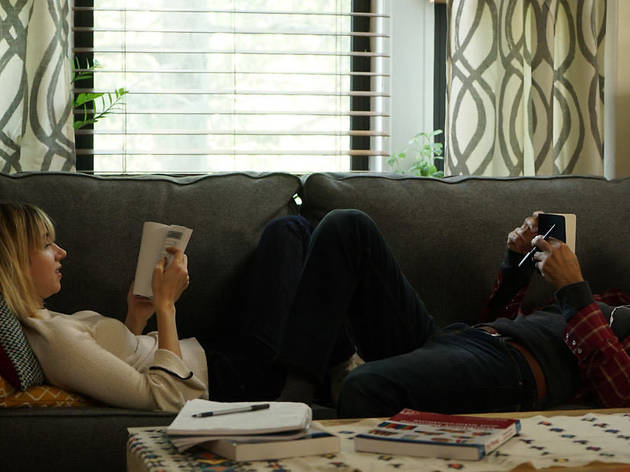 Time Out says
'Silicon Valley' actor Kumail Nanjiani breaks out with an autobiographical girlfriend-in-a-coma comedy that signals his arrival to the top
This dynamite, intimate romantic comedy sees Judd Apatow's winning formula of timid man geeks, far-more-mature girlfriends and their huggably awkward parents get a welcome infusion of cross-cultural tension – along with some scary medical realities.
Apatow is only the producer of 'The Big Sick', but the creative prime mover is actor-writer Kumail Nanjiani, better known as peevish computer coder Dinesh in 'Silicon Valley'. Developing an autobiographical script with his co-writer wife, the TV producer and podcaster Emily V Gordon, Nanjiani shapes the story of a Chicago stand-up comic's wobbly rise, a journey that's altered by love, illness and some much-needed late-on backbone.
Hoodie-clad, backpacked Kumail (Nanjiani, adding impressive emotional depth to his nerd persona) turns his Pakistani heritage into a source of laughs for comedy club crowds. He's got a dense one-man show involving charts about cricket, and his jokes often exploit racial anxieties. One night, Kumail's routine is interrupted by a smiling new fan, Emily (Zoe Kazan, owning her scenes), and a banter-crammed flirtation follows. But Kumail can't tell his fiercely attentive suburban parents (Anupam Kher and Zenobia Shroff, both excellent) about the white girl he's seeing. Instead, he stashes their photos of arranged-marriage candidates in a cigar box and rides out a courtship that he secretly thinks is doomed to fail.
'The Big Sick' already scores points on familiar rom-com territory, so when it suddenly morphs into a completely different film – a bracingly sophisticated one – you'll want to cry with happiness. Only weeks after their relationship hits the skids, Emily falls ill with an unexplained illness and Kumail is called to the hospital to authorise a medically induced coma. Now come Emily's scowling parents, who know all too well about their daughter's heartbreak, administered by this stranger who won't leave her bedside. Ray Romano and Holly Hunter are the film's secret weapons, both of them uncorking magnificently real performances flecked with resentment, nervousness and, ultimately, acceptance.
The film is saying something both obvious and wise: when you want someone, you often have to woo their parents. But more subtly, 'The Big Sick' implies that if the love is real, the wooing can happen even when you're lying unconscious on the brink of death. Director Michael Showalter does a beautiful job of relating Nanjiani and Romano's similar slump – you smile at what a perfect almost-father and son they already are. It ends up being so much more than a Judd Apatow film.
Details
Release details
Rated:
15
Release date:
Friday July 28 2017
Duration:
119 mins
Cast and crew
Director:
Michael Showalter
Screenwriter:
Kumail Nanjiani, Emily Gordon
Cast:
Kumail Nanjiani
Zoe Kazan
Holly Hunter
Ray Romano

Average User Rating
3.9 / 5
Rating Breakdown
5 star:

2

4 star:

12

3 star:

1

2 star:

1

1 star:

0
Such a charming film about the real life love story of comedian Kumail Nanjiani and his now wife Emily. They meet and then separate over family differences until she falls seriously ill. Emily's parents are fantastic as they bond with Kumail. It's a true story so we know it ends well but it's still a lovely rom-com
I went to see this one cold, wet Sunday with no expectations. It absolutely blew me away, I completely loved it. Yes it's a rom com but it takes an unexpected twist and had me on the edge of my seat, laughing out loud and sobbing, sometimes all at the same time. I didn't know it was a true story until the end and its probably just as well or I'd have been even more emotional.
Really down to earth film. Many of us will relate to the plot that can be both sweet and tragic, comic and sad, beautiful and tragic at the same time.
One to watch on a cosy autumn/winter night.
A thoroughly enjoyable film filled with light, shade and laugh out loud moments. A heart felt take on mixed culture relationships. Fantastic cast and a genuinely funny script. You root for the characters but they have a relatable flaws which always allows one to really invest in the story. You can feel the Apatow influence throughout. The perfect combination of chilled comedy & chick flick.
I really enjoyed this film and the fact that it is based on a true story makes it that much more effective. I did get frustrated with Kumail too early on and that did taint my enjoyment of the film but I loved the parents. And, well, occasionally we all have to love a happy ending!
A sweet funny rom com that will appeal to both men and women. It tells the story of a Muslim stand-up/uber driver whose family want him to have an arranged marriage and how he falls for a woman outside of his community. Based on a true story it has lots of twists that feel very true to life. I really enjoyed it.
The film is a Rom-Com,and that is the problem in that all Rom-Coms follows exactly the same storyline,and this film is no exception.The quirky initial meeting up,followed by the split,followed by a life threatening illness which brings it all back together for a happy ending.All the cliches are there.The film has many very mild gags and some very well observed gags.The acting is quite ordinary and lastly the second half of the film is suffused with too much sentiment.The middle part has an overlong hospital soap opera type script..It's okay,but nothing more than that..3stars
This was a great film for story telling. I had no idea it was based on Kumail's real life story. It had great pace (none of the scenes seemed unnecessary). It could have quite easily laboured on stereotypical ideas and concepts e.g. overdone the dislike of Emily's parents to Kumail, but it didn't. All the characters were well developed and multifaceted, even the minor ones. You warm to everyone, particularly Kumail, Beth and Terry. Kumail's family are hilarious particularly his brother. The film also highlights the desperateness of Asian singletons, often beautiful, successful and talented women, that visit Kumail and his family in hope to progress a relationship. This film was sweet without having to resort to the most obvious route to tell it's tale.
I really, really enjoyed this movie - funny, original and sincere - it has the feel of something like '500 Days of Summer' but is more steeped in reality. That's no surprise I suppose because it's based on the lead actor's (Kumail Nanjiani) real experience of meeting his wife (also co-writer of the film) and then unexpectedly her parents, when she falls into a coma.
The film never slips into any sentimentality and consciously reins itself in when it comes close. Both leads are really excellent and compelling but a surprise standout is Ray Romano (from Everybody Loves Raymond) playing an awkward father perfectly, in a really understated performance.
I'm sure I will see this film again many times over the years. It is brilliant.
Kumail Nanjiani plays himself in a "mixed race" romance. A refreshing original and funny film, without the over-the-top grossness of Hollywood's idea of comedy (the sort of thing that often includes an embarrassing role for Robert deNiro).
It is witty, fun,enjoyable, and I recommend it. It's also good to see Holly Hunter who plays another one of her quirky roles.
To simply call The Big Sick a rom-com is greatly under-selling this film. There is comedy throughout but more under-stated and sophisticated than you might imagine. There is romance but less superficial and flirtatious than a regular rom-com. This is based on a true story of Kumail ( Kumail Nanjiani), a Pakistani stand-up comic and cab driver and all American, white Emily (Zoe Kazan). Kumail is expected, by his parents, to have an arranged marriage. Although Kumail wants to decide by himself for himself, he is nevertheless nervous about discussing the truth with his parents. The ensuing relationship with Emily has some twists and turns. Eventually Kumail disappears from Emily's life until Emily becomes seriously ill and is put into an induced coma. Emily's friend informs him and he then spends much time at the hospital where he begins to forge an interesting relationship with her parents. The director, Judd Apetow, keeps his audience wondering about various outcomes. This film is far superior to a regular rom-com.