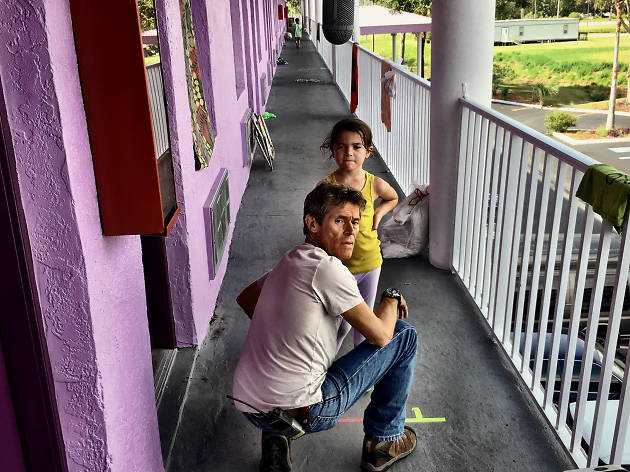 Time Out says
Indie wunderkind Sean Baker continues his celebration of communities on the margins, in a movie that vibrates with compassion and energy.
Sometimes a movie needs only a place – a real one, sharply observed – and a community you might see down at the supermarket to cast a spell. That was definitely the case with director Sean Baker's 2015 breakthrough, 'Tangerine', shot on iPhones and vibrating with the sass of LA's trans-hooker scene.
'The Florida Project', his mighty and empathetic latest, is another drama hewn from earthy resources. It's set at the Magic Castle, a ratty motel on the outskirts of Orlando's Disney World. The little kids who gleefully run around these halls and swampy backfields don't seem to notice the disparity between their pastel-coloured surroundings and the hard-luck life they're living. Nor do they appreciate the dangerous choices that their single mums (including a revelatory Bria Vinaite) stare down on a daily basis, simply to make the rent.
Into this riot of choreographed noise and non-professional performances comes veteran showstopper Willem Dafoe, who ties the movie together under his troubled brow as the motel's harried manager, Bobby. Dafoe is known for his tortured roles ('Platoon', 'The Last Temptation of Christ'), but this creation – a delicate blend of protector, fusspot and survivor is his richest, most lovable piece of work. He stands by the Coke machine, compassion pouring out of him, and the film takes on a saintly, worried grandeur.
Details
Release details
Rated:
15
Release date:
Friday November 10 2017
Duration:
115 mins
Cast and crew
Director:
Sean Baker
Screenwriter:
Sean Baker, Chris Bergoch
Cast:
Brooklynn Prince
Bria Vinaite
Willem Dafoe

Average User Rating
3.2 / 5
Rating Breakdown
5 star:

1

4 star:

2

3 star:

0

2 star:

1

1 star:

1
Playing catch-up here as this movie from writer/director Sean Baker has been around since last year but still lingers on in some of the capital's screen venues.
I must first declare a strong bias. One of my favourite quotes from W. C. Fields, a revered cinematic hero of mine is; 'Children should neither be seen or heard from - ever again.'
Rabid enthusiasm has greeted the film from many more cerebral critics with a few dissenting voices.
This cinemagoer can't actually work out what on earth the whole thing is about - grinding poverty in Trump's America, children's capacity to have fun in unlikely circumstances, total lack of anything resembling a brain in lower-echelon US society, or whatever?
The scene is set in a seedy low-rent motel in the environs of Disney World in Florida's Orlando, with a low-life clientele supplemented by accidental and unfortunate tourists.
Centre stage is a gang of semi-feral children, running riot through the area while their pot-smoking, layabout, petty-thieving, trick-turning elders go about their tedious business.
There's sometimes a grain of wheat in the chaff - in this case the performance of Willem Dafoe as 'Bobby' the motel's harassed and almost saintly tolerant manager- and given a well-deserved Oscar nomination for Best Supporting Actor.
Dafoe's character is about the only one in the entire movie showing any hint of intelligence and normal humanity. In reality, even this pillar of understanding would have committed mass infanticide within seconds of the start.
A load of irritating trailer trash.
l found this film depressing and soulless.Down and out woman and child (both obnoxious) make no effort to better themselves but just keep digging their own holes before falling into it.The scenes are unrelenting,short and downbeat again and again.The narrative is simplistic.It is hard to watch..Massive redeeming feature is the cinematography.l have never seem Florida captured in all it's beauty of weather and landscapes allied to the vulgarity of retail Americana.It is a visual feast and highly evocative and atmospheric.William Dafoe is always highly watchable.The film is lacking is compassion and humanity and has too much one way traffic of human self inflicted hardship..2.5 stars
I saw this film at the LFF. Sean Baker was there in a Q&A and said his aim was to show another struggling America especially around housing. A good aim, but a massive fail. Some critics have fatuously compared TFP to Ken Loach. But unlike Loach, Andrea Arnold or Clio Barnard, who all include characters with dignity, Baker shows adults as clueless with kids running around ferally. A bit like implying 'these are your stupid Trump voters', rather than pointing at reasons for system failure as Loach (or Bernie Sanders, who also attracted millions of votes from America's poor) would do. Shameless would be a better comparison as Dafoe plays a similar lone voice when all around him is chaos. Most of this film consists of wisecracking kids with (unrealistically) no idea of school, and the motels painted in lurid colors is an annoying gimmick. Don't waste the price of a ticket on this one.