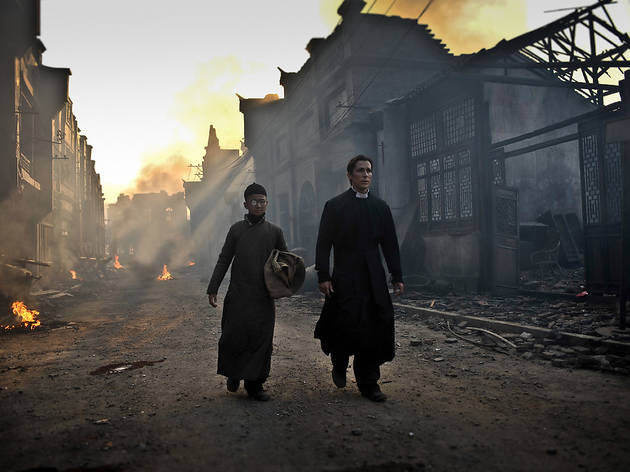 In 1937 the Japanese army occupied the then Chinese capital Nanking, massacring up to 300,000 people and raping as many as 20,000 women. That the atrocity is a scar on the Chinese consciousness is signified by the appearance of two big-budget film dramas in the past three years: in 'City of Life and Death' Lu Chuan went for black-and-white realism to render the scale of the terror; here, Zhang Yimou mostly sidelines the horrors to construct a fable about the flowering of compassion amid abject inhumanity. The presence of 'Batman' star Christian Bale also signals Yimou's attempt to reach a global audience, yet in the end his well-intentioned calculations prove counter-productive.
For one thing, the central dramatic situation takes a bit of swallowing, since it's hard to believe that in the midst of the chaos of invasion a bunch of convent-school girls would be left all alone in the walled enclave of an imposing Catholic church – as travelling mortician Bale discovers when he pitches up to bury their recently deceased priest. His transformation from mercenary freelance to selfless Samaritan is predictable, Bale's fine performance notwithstanding, while the arrival of a gaggle of local prostitutes adds further contrivance – ushering in swishy lingerie, doomed romance and oodles of moral ambiguity. The point about redefining notions of heroism does come through, yet tracking the nascent conscience of the white guy is surely the wrong story to tell in the circumstances, and Zhang's flamboyant camera choreography and diva-ish flounces of melodrama are vivid but misplaced.
Release details
| | |
| --- | --- |
| Rated: | 15 |
| Release date: | Friday August 3 2012 |
| Duration: | 136 mins |
Cast and crew
Director:
Zhang Yimou
Screenwriter:
Liu Heng
Cast:
Christian Bale
Ni Ni
Xinyi Zhang
Tianyuan Huang
Xiting Han

Average User Rating
0.1 / 5
Rating Breakdown
5 star:

0

4 star:

0

3 star:

0

2 star:

0

1 star:

1
Watched this in Hong Kong months back and hated it. Was a time when Zhang Yimou was interesting, but now he has become some kind of national treasure and sell out. It seems to make a blockbuster in China you either need Kung Fu, costumes or a dig at the Japanese. The story is far fetched and maniuplative. Hardly feel for some of the victims because of their utter stupidity. And the whole time I watched Christian Bale being given pretty much free reign here as Zhang has no idea how to direct a foreign actor, I was waiting for him to transform into the Batman or John Connor and kick some a*s*, but of course neither showed up. Some absolutely ridiculous moments were humorous, only because they were so unintended, was the only enjoyable part of this pile of steaming schmaltz.