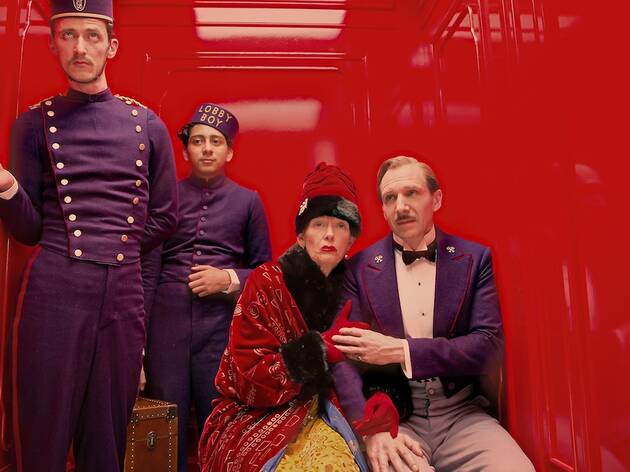 Time Out says
While other filmmakers get their hands dirty in kitchen sinks, Wes Anderson surely slips his into luxury cashmere mittens. His films overflow with intricate detail and make no pretence of existing in a world other than their own, just-about-earthbound parallel universe. So the five-star premises of his energetic new comedy 'The Grand Budapest Hotel' – a wedding-cake-like, pastel-coloured establishment situated somewhere in 1930s Mitteleuropa and peopled by eccentrics and lunatics – feel like business as usual. What's different, though, is that the film's shaggy-dog, sort-of-whodunit yarn offers laughs and energy that make this Anderson's most fun film since 'Rushmore'.
Where 'Moonrise Kingdom' had heart, 'The Grand Budapest Hotel' has pace and a winning manic streak. It also gives Ralph Fiennes a rare comic role as Monsieur Gustave, a concierge who wavers brilliantly between thug and gentleman aesthete. From Gustave's mouth pours a head-spinning cocktail of politeness and filth as he becomes embroiled in the murder investigation and inheritance tussles that follow the death of one of his most loyal guests, the elderly Madame D (Tilda Swinton, barely recognisable beneath a carapace of make-up). At Gustave's side is his loyal apprentice, Zero Moustafa (newcomer Tony Revolori with a drawn-on pencil moustache), who decades later (now played by F Murray Abraham) recounts events over dinner to a writer played by Jude Law.
The rest of Anderson's cast is sprawling and starry. Blink and you might miss Bill Murray, Owen Wilson, Jason Schwartzman and others in tiny roles. A bruising Adrien Brody and a Rottweiler-like Willem Dafoe represent a violent new European order – one of them is kitted out all in black, no less. In its own indirect and loopy fashion, is this Anderson's most political film? It tips its hat to 1930s history in the way Hitchcock tipped his viewfinder to the same decade's current affairs with 'The Lady Vanishes' (both films share a hotel, a train and an old woman at the centre of a mischievous mystery).
Like the ship of 'The Life Aquatic' or the townhouse of 'The Royal Tenenbaums', 'The Grand Budapest Hotel' comes with its own ready-made theatre and uniformed cast. From here, Anderson breaks out with verve on to trains, ski runs and cobbled streets to spin a wickedly funny tale that celebrates the final glory days of a dying world order. It's all given a bombastic lift by an Alexandre Desplat score which crescendos in organs and drums. Full of Anderson's visual signatures – cameras that swerve, quick zooms, speedy montages – it's familiar in style, refreshing in tone and one of Anderson's very best films.
Details
Release details
Rated:
15
Release date:
Friday March 7 2014
Duration:
100 mins
Cast and crew
Director:
Wes Anderson
Screenwriter:
Wes Anderson
Cast:
Ralph Fiennes
Saoirse Ronan
F Murray Abraham
Tilda Swinton
Tony Revolori
Adrien Brody

Find a cinema
1 cinema showing 'The Grand Budapest Hotel'
Average User Rating
4.2 / 5
Rating Breakdown
5 star:

13

4 star:

4

3 star:

2

2 star:

2

1 star:

1
Disappointing. Expected so much more after The Life Aquatic, but this was just a pretentious mishmash of ideas and camp over-acting.
This film is as beautifully packaged, sumptuously inviting and deliciously addictive as one of the beautiful pâttisserie from the films bakery- Mendl. And I felt I was devouring it, rather than watching it. Each individual scene is beautifully constructed, the audience is submerged in a demi-monde of outrageous colour and flamboyant style.
It roars along at a Keaton-esque pace of comic brilliance. The louche character of Gustave H. is superb and Ralph Fiennes' timing is astounding. The whole ensemble cast are brilliant, especially the new talent (Tony Revolori) playing Zero.
I cannot remember leaving a cinema recently so thoroughly entertained and light-hearted. Loved it!
(If you think it pretentious, it is probably because you were looking for something that wasn't there, darling.)
I like the way how the director tells the story!!
The film is beautifully told, and wonderfully staged. The difference between the grand old days and the dilapidated present is completely believable, while Anderson's writing is delivered exceptionally well by the cast. Slightly jarring is the amount of almost cameo like appearances by the likes of Owen Wilson, Bill Murray et al, who while charming and non-invasive don't have time to sell you on the role they play rather than the fact that they're there. Other than that, an excellent and silly story that is hugely enjoyable and engaging.
Funny. Grim. Sexual. Picturesque.
Liked the settings and costumes, acting ok as well. But, film totally disappointing and could not wait to leave the cinema.
A luvly quirky tale. The best I've seen by Wes Anderson. Ralph Fiennes shines, as does

Tony Revolori as Zero the lobby boy (watch out for him in the future). Many other stars in this movie do well but non more so than Willem Dafoe as an outstandingly comedic thug.
Liked it so much. I paid to see it again.

A hugely enjoyable, skilfully-made film. A visual feast, and some great acting performances, particularly from Ralph Fiennes. Great plot too. Go and see it and have fun - I did!
Mildly amusing. But this is no "great work", "timeless piece", or "masterpiece".
.
To put its release date in context, The Grand Budapest Hotel's been released immediately after the Oscars and Golden Globes. If this film really were of 4 star quality, it would have been released at least a couple months before the awards so it were nominated. No film studio's going to hold off making a few bucks, with all the publicity an award would give the film, by waiting another year for a film to be nominated.
.
Admittedly, it's better than a lot of other things released this week, but that's not saying much. Once seen at the cinema, you won't be waiting for this to come out on DVD.
.
Wes Anderson has the right vision of future