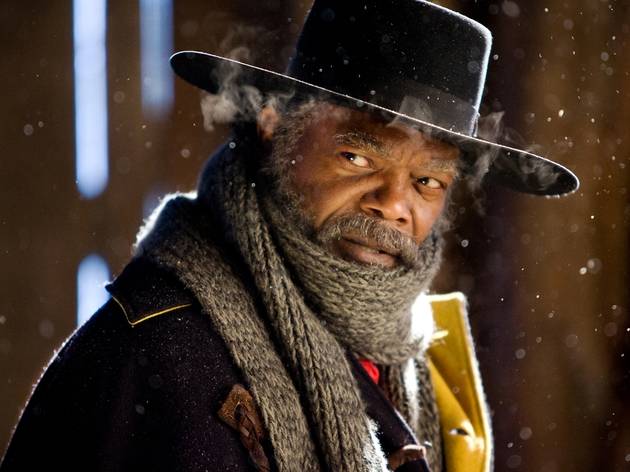 Time Out says
Quentin Tarantino's 168-minute whodunnit western mixes Agatha Christie with John Carpenter
No matter how Quentin Tarantino arms his characters – with katana swords ('Kill Bill'), shotguns ('Pulp Fiction') or baseball bats ('Inglourious Basterds') – their chief weapons are words. That's just how Tarantino rolls, and even as 'The Hateful Eight' starts off in the wintry trappings of a post-Civil War western, we're soon essentially in a series of rooms: a stagecoach, then Minnie's Haberdashery, a drafty Wyoming outpost where spit will fly as gloriously foul-mouthed arguments break out.
This is Tarantino's most pleasingly claustrophobic film since 'Reservoir Dogs' and has a parlour-whodunnit theatrical intimacy to it. There's zero need for it to have been shot in sumptuous 70mm. Let's call that the gimmick it is and move on to the smart talkers he's assembled for our amusement. Bounty hunter John Ruth (Kurt Russell, summoning his A-grade John Wayne drawl) escorts a wild-eyed prisoner, Daisy Domergue (Jennifer Jason Leigh, doing wonders with very little), to the gallows and a huge payday. But a fearsome blizzard approaches, and after Ruth allows old war acquaintance Major Marquis Warren (Samuel L Jackson) and ex-Confederate sheriff Chris Mannix (Walton Goggins) to ride along to the relative safety of a remote outpost, there's a strong hint that an escape plan is afoot.
Before it unleashes its violent wallop of a second half, 'The Hateful Eight' simmers along like pots of coffee being brewed onscreen. Composer Ennio Morricone's seesawing score – his first new Western work in decades – sometimes brings to mind Tarantino fave Sergio Leone. But the real ancestor to the film is John Carpenter's 1982 'The Thing', another thriller percolating with close-quarters paranoia and chat. It doesn't quite work altogether: serious conversational detours into racial injustice feel a little too on the nose (as do the periodic, unnecessary punches to Leigh's bloodied face). But it's as pure an expression of Quentin Tarantino's voice as he's ever mustered, easy to savour, even as the taste leaves a hint of nasty bitterness.
Details
Release details
Rated:
18
Release date:
Friday January 8 2016
Duration:
168 mins
Cast and crew
Director:
Quentin Tarantino
Screenwriter:
Quentin Tarantino
Cast:
Channing Tatum
Samuel L. Jackson
Kurt Russell
Jennifer Jason Leigh

Average User Rating
2.9 / 5
Rating Breakdown
5 star:

1

4 star:

6

3 star:

4

2 star:

4

1 star:

3
I thought I was going to love this as I really enjoyed the first 3/4 of Django Unchained until the bombastic cartoon finale. Boy was I disappointed! Sexist, misogynistic, over violent and bordering on bad taste, this was a pretentious self indulgent wet dream from Tarantino who is getting worse and worse as a filmmaker as time goes by. I loved Pulp Fiction but this was just a chore to sit through. The only decent thing in it was the scenery and Kurt Russell. Overlong, lame and a real dud from QT.
Very Tarantino... A slow but very clever film with all the usual effects of blood and gore. Very amusing and beautifully done.
I went into this expecting to be bored, having read numerous negative reviews - however I'm pleased to say that I was consistently entertained. The setting, dialogue and characters really draw you in, with an absolutely outstanding performance from Samuel L Jackson and a hilarious and fairly disturbing monologue towards the latter end of the film which I personally found a real highlight.
Don't expect an all out action film, it's more of a pensive, brooding film, although you'll get your fill of action towards the end. If you are easily offended, steer clear.

So it's Tarantino's worst film. No question about that, but it's still a Tarantino - so not unspeakably awful.
Not very cinematic though - there could easily be a stage version, and it would be shorter, which would be good.
There was a cheat in the middle though - in a "whodunnit" genre you really shouldn't introduce completely new information to suddenly and magically move the story in an unexpected direction.
Even apart from the mid-film cheat it just wasn't as slick and clever as his stuff usually is. It has all his usual shock tactics and is certain to offend lots of people, so it's not totally without merit.
I was going to give it 2 stars, but I think it (just) deserves the third. Go see it, just don't get your hopes too high.
Tarantino claims that he's making just ten films altogether, and then he's done. Finito. The idea being that this will preserve his legacy by avoiding the waning talents he anticipates being brought about by old age. That means, because he counts the two volumes of Kill Bill as one movie, the cunning basterd, that The Hateful Eight his eighth film. Hence the title, which is also a bit of a shoutout to The Magnificent Seven and Fellini.
With Tarantino being so preoccupied with numbers (ever since marketing the first volume of Kill Bill as 'The Fourth Film by Quentin Tarantino') it's more tempting to rank his films than perhaps any other filmmaker. Where will The Hateful Eight rank for you? For me it's no Reservoir Dogs, though it's perhaps most similar to that film. It's no Kill Bill, or at least it's no volume one. It's no Inglourious Basterds or Django Unchained. Though while it compares unfavourably with those efforts for me, I'd say it sits comfortably among the rest (and it's a darn sight better than the abysmal Death Proof, that's for sure).
The Hateful Eight feels a little looser than the best of Tarantino. It's not as taut, not as snappy, and its narrative is very, very straightforward. It's definitely a film of two halves, so the intermission was a nice touch, especially in-theatre where it allowed for the audience to catch up on everything that had happened beforehand and share their anticipation for the conclusion. As you'd expect , the characters are extremely colourful - Tim Roth and Walton Goggins are standouts, and it was great to see Tim Roth having this much fun, which seems to have been exclusively Christoph Waltz territory in the past couple Tarantino movies.
I definitely enjoyed The Hateful Eight, but I do hope the next two Tarantino movies - if he sticks to his guns and makes them his last - are a little better. the next may well be another Western, as he's claimed you need to make three to be considered 'a true Western director'.
For the first time I am disappoint by Quentin Tarantino. I am a big fan and I love all his 8 movies. But the Hateful Eight is not as good as the others.
- First it's to long (2h30 with the break in the middle !?!?)
- The first half (1h15 just show the characters climbing the mountain in a diligence to reach the refuge)
- The second is more interesting than the first but still something missing ...
- In final very simple story without surprise

- Thankfully all the actors are really good !!

The most boring film I have ever seen. Nothing happens at all in it. There is no action just talking. If you want somewhere to go and keep warm and have a nap I would highly recommend it. If I could give it no stars I would unfortunately I can't. The 1 star is undeserved.