The Killing of a Sacred Deer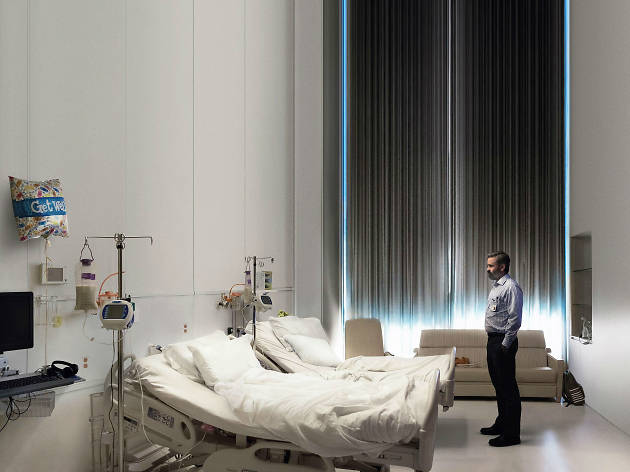 Colin Farrell and Nicole Kidman shine in a blackly funny horror from 'The Lobster' director Yorgos Lanthimos
Welcome to the deep freeze. This first American movie by the absurdist Greek director Yorgos Lanthimos ('The Lobster', 'Dogtooth') sees him throw the full weight of classical tragedy at a suburban family. Colin Farrell is Steven, a successful surgeon who once made a fatal mistake on the operating table that comes back to haunt him, his wife (Nicole Kidman) and their kids in horrible, bloody fashion.
If that sounds like a simple revenge story, there's nothing simple about the way Lanthimos sneakily peels back the layers of this horror-inflected tale, stalking corridors and rooms with the gliding, artful precision of Stanley Kubrick. He uncovers information slowly, and for a long time we're wondering: who is that young man (Barry Keoghan, deeply creepy), who Steven regularly meets after work and who later talks of 'that critical moment we both knew would come'. He's talking about a moment when Steven's son (Sunny Suljic) finds his legs no longer work. The same then happens to his daughter (Raffey Cassidy), meaning they both now pull themselves around the family home like seals. If Steven doesn't soon take responsibility for his actions – in the most horrific way possible – the whole family is going under.
Lanthimos's story is inspired by the ancient Greek legend of King Agamemnon, who accidentally killed a sacred deer and was ordered to sacrifice his daughter as punishment. The film doesn't have the arch comic distance of 'The Lobster', but there's still some dark comedy in the way the characters interact with each other in Lanthimos's trademark heightened style (to which Farrell and Kidman both adapt impeccably). Even everyday encounters turn strange – like one character asking to look at another's armpit hair during a meal. Check out the sex scenes between Farrell and Kidman; they're like performance art, with one position they call 'the anaesthetic'.
The film's first shot is a close-up of a heart beating mid-surgery, but there's precious little warm blood pumping through this beautifully crafted but clinical film. The dominant mood is dread, and violence becomes inevitable. As storytelling, it's pristine: it moves like a reptile playing the long game. But its cruelty is tough to bear.
Release details
Rated:
15
Release date:
Friday November 3 2017
Duration:
121 mins
Cast and crew
Director:
Yorgos Lanthimos
Screenwriter:
Yorgos Lanthimos, Efthymis Filippou
Cast:
Nicole Kidman
Colin Farrell
Bill Camp
Barry Keoghan

Average User Rating
3.3 / 5
Rating Breakdown
5 star:

1

4 star:

1

3 star:

1

2 star:

0

1 star:

1
Interesting but flawed modern take on the Greek myth of filicide that makes for difficult as well as darkly comic and at times verging on ludicrous viewing - but it would have benefited from losing 25 minutes or so through re-editing. The movie is a difficult guest that over-stays its welcome. Comment has to be made of Barry Keoghan who plays a teenage boy with total believability and really captures the enigmatic mystery of the role - not bad considering he is 25 in real life. Worth watching but enjoyable is not on the agenda...
What to do on a cold wet Sunday afternoon in London? Well ... NOT see this film for starters.
This is the worst film I've seen in 2017, by a long, long stretch. Not only is the story challenging, the dialogue/script is dreadful: Laboured, heavy, boring, and unrealistic. Nowhere on this planet do people talk like they do in this film. How can Kidman be on a 'career high' when she appears in this rubbish? Everyone and everything in this movie seems mis-placed. It would have been a better idea to take the financing in dollar notes to a bank and let it sit there, and watch it. That would have been more interesting.

I would have bolted after 30 minutes, save for the fact I saw this catastrophe at Curzon Soho, and I kept thinking that it was bound to get so much better, as it was on at a Curzon. I should have put the 30 minutes down to experience and left then. Tosh. One (generous) star - and that's for the dollar notes that financed it.

It might be a national affront to call a promising Greek director a "Young Turk", but after demonstrating his talent earlier with "Dogtooth" and "The Lobster", Yorgos Lanthimos has well and truly arrived.
The director takes a piece of Greek mythology - Agamemnon's accidental killing of a sacred deer and the revenge of the gods - and transfers it to modern America where successful cardiologist Steven Murphy (Colin Farrell), now sober but previously a big tippler, had mistakenly killed a patient on the operating table.
The victim's son Martin (superbly creepy performance by Barry Keoghan) seeks him out and, here the supernatural kicks in, the surgeon is told that unless he kills one of his wife or two children, they will all die.
Events take a horrific turn in this black movie although we are are warned that it isn't going to be an easy ride right from the opening sequence of live open heart surgery.
Classy performances from Nicole Kidman (Steven's wife) and Bill Camp as his friend and anaesthetist although the so-called "friend" demands a sexual favour from Kidman for information about the fatal operation.
Events become even more horrific as the curse begins to take effect so steel yourself before taking your seat for this compulsive and impeccably paced movie.
Lanthimos is creating a niche for himself as a master of the weird and spine-chilling.