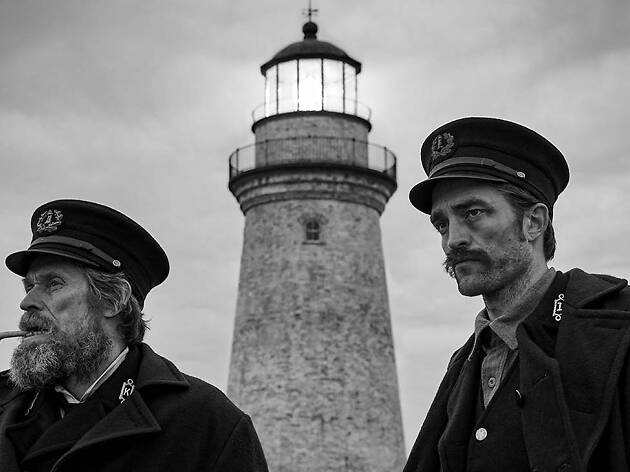 Time Out says
Robert Eggers' latest film is a swirling descent into madness that takes the breath away.
You can almost taste the salt on your lips in the new psychological horror from Robert Eggers ('The Witch') that will leave even the sturdiest of sea legs shaking. It's a two-handed chamber piece about a pair of lighthouse keepers living on a remote island off the New England coast at the turn of the 20th century and it's lit up by mesmerising performances from Robert Pattinson and Willem Dafoe.
Dafoe is Tom Wake, an old sea dog with a clay pipe jutting from his thick beard and the chief 'wickie' of the lighthouse. He's an amalgam of salty clichés (which the script wittily acknowledges, including his peg-leg), and loves gin, sea shanties, and cooking lobster. Pattinson plays ex-logger Ephraim Winslow, recently arrived from Canada. He's the strong and silent type who seems to have a skeleton or two in his closet.
Both are men's men – the quarrelsome, petty, tobacco-chomping variety. Dafoe and Pattinson deliver Max and Robert Eggers' script with incredible pathos, sounding like characters who have slipped from the pages of Melville's 'Moby Dick'. The dialogue is packed with the sort of insults worthy of Malcolm Tucker, and they lash like a hailstorm.
Dafoe has a long-established reputation but, for many, Pattinson remains that guy from 'Twilight', despite sterling work with the likes of David Cronenberg, James Gray and Claire Denis. Those films showcased his talents, but Eggers draws something new from the actor. Pattinson's performance will make you sit up in your seat.
Meanwhile, life on the island isn't going well. Wake barks orders constantly, putting down Winslow at every opportunity. To find relief, Winslow heads to the outside store-shed, a small sculpture of a buxom mermaid in one hand, and in the other… well, you get the picture. Soon things start to take a bizarre turn, as Wake insists on taking the nightly 'dread watch' and becomes tetchy when Winslow asks to see the lighthouse's lamp. What comes next, set to a mind-spinning score and sound design from Mark Korven, almost defies belief.
The desolate, lonely environment of the island is captured beautifully in squid-ink blacks and storm-cloud greys, all shot in a boxy 4:3 ratio. There's a vintage horror feel, both embracing conventions of the genre and defying them. Sometimes you'll wonder if you're watching a horror film at all. 'The Lighthouse' leaves you dazed, terrified and elated, and it signals Eggers as one of the most exciting directors working today.
Details
Release details
Rated:
15
Release date:
Friday January 31 2020
Duration:
102 mins
Cast and crew
Director:
Robert Eggers
Screenwriter:
Robert Eggers, Max Eggers
Cast:
Willem Dafoe
Robert Pattinson

Average User Rating
3.3 / 5
Rating Breakdown
5 star:

1

4 star:

0

3 star:

1

2 star:

1

1 star:

0
Incredible. Make a sub-Lynchian fable peppered with a very small dose of Kubrick, completely unoriginal but very picturesque and not one reviewer has the balls to say it isn't very good! Defoe's hammiest performance! At 110 minutes it felt more like 160.
Although "endure" rather than "enjoy" is probably the best description of this adventurous movie, all shot in monochrome and partly in 35mm (squarish frame) photography.
Firstly, it is a great credit to the modern film industry that a no-holds-barred arthouse-style film has been widely accepted, applauded and found outlets in many unexpected multiplex chains, more usually churning out brainless fodder.
Willem Dafoe (always superb) and Robert Pattinson are a pair of lighthouse keepers in the late 19th century Canadian east coast.
The Dafoe character spouts pseudo-Shakespearean mumbo-jumbo while his junior partner appears to have taken on the four-week isolated job to escape something or other.
The pair bicker and drink strictly forbidden liquor, doing the routine and boring jobs required.
Gradually the movie darkens and dream sequences or hallucinations accelerate, some of which are horrific, violent and explicitly erotic.
All this mayhem is framed by bruising cinematography. The sea broils, the waves crash into the lighthouse rock, the wind howls at ear-splitting volume and the ill-fated pair head towards an unknown conclusion.
Not a film for the faint-hearted, so take care…
Hard to rate in many ways - a shape-shifting shaggy dog story, like a dream or 'bad' dream or 'wet' dream, hoary and horny, stunning and mesmerising, brooding and funny, gloomy and hallucinatory, its simplistic format belies near-frustrating enigmatic mystery. To release this claustrophobic, box-framed, Shakespearean-infused fantasy into the world takes total courage as a film-maker. For that alone - full marks.