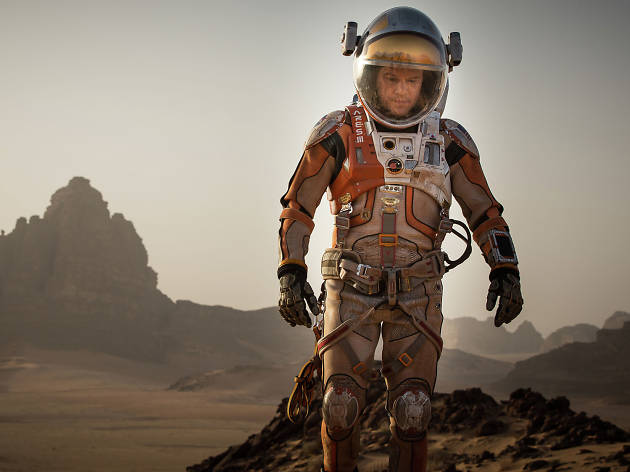 Time Out says
Matt Damon is on good form as an astronaut stranded on Mars in Ridley Scott's fun space drama
Showing a signature flair missing since 'Gladiator' (2000), Ridley Scott returns to mainstream mastery with 'The Martian', a space misadventure turned survivor's tale. Similarities to 'Apollo 13' and the more recent 'Gravity' will be obvious to anyone who's ever rocketed into zero-g thrills, but that's not to say that Scott - who does well by Andy Weir's science-heavy 2011 novel (smartly streamlined by screenwriter Drew Goddard) - doesn't bring his own spin. A scary storm on Mars swarms the Ares 3 crew in a blizzard of frozen dust reminiscent of the inhospitable planet from 'Alien' (1979). After an emergency evacuation strands Matt Damon's presumed-dead astronaut Mark Watney on his own, his initial wandering of the vacant 'hab' outpost plays like any number of Scott's moody sci-fi classics, from 'Blade Runner' to 'Prometheus'.
But differently, 'The Martian' has spunk in store: 'I'm not going to die,' Watney says in his video diary, and we actually hear a heavy-metal power chord as this chatterbox of a botanist gets to work manufacturing water from hydrogen, creating a greenhouse-enclosed potato farm (fertilised by the disappeared crew's waste packets) and putting his noodle to contacting Mission Control. Bringing optimism, nerdiness and a touch of crazy to his character's solo ordeal - at one point, scraggly Watney calls himself a 'space pirate' - Damon is the key to the movie's exuberance. This is his 'Cast Away' and it's hard to imagine another star commanding the role with such boyish, brainy confidence.
The rest of the film, though, about Watney's rescue, suffers slightly in comparison. Sometimes it plays rivetingly, via Jeff Daniels's Nasa administrator eyeballing the bottom line and weighing the costs of a public-relations disaster; sometimes, it plays in a discordant, 'Armageddon'-ish comic register, as when klutzy astrophysicist Donald Glover slips on his spilled coffee. (Meanwhile Kristen Wiig's role is brief enough to be a skit on 'Saturday Night Live'.) But mainly, 'The Martian' strikes an invigorating note of let's-work-the-problem cool and saluting a little insubordination as Jessica Chastain's guilt-ridden orbiting commander decides to go rogue in an explosive finale. A movie about intellect triumphing over fear (and an all-disco playlist that Watney must contend with), it gets the mind racing.
Details
Release details
Release date:
Wednesday September 30 2015
Duration:
0 mins
Cast and crew
Director:
Ridley Scott
Screenwriter:
Drew Goddard
Cast:
Kate Mara
Jessica Chastain
Kristen Wiig
Matt Damon
Jeff Daniels

Rating Breakdown
5 star:

7

4 star:

11

3 star:

6

2 star:

1

1 star:

0
It was ok, but it wasn't gripping enough. It's hard to dislike Matt Damon in any film but I didn't believe in the story because he didn't physically change even though he was supposed to be on increasing food rations. He could at least have the decency to starve himself half to death for our entertainment! You never really felt he was in real jeopardy until the end.

A bit late to the party on this one (aren't I always!) l but this is such a fantastic way to portray SCIENCE! What a fantastic film! The book was fantastic so I'd put the film for ages because it is just never the same but I should never have doubted Ridley Scott and his skills!
Watney (the main protagonist) seems a lot less isolated in the film compared to the text because of the more frequent touches back to Earth or to the crew but honestly, this made it less agonising whilst watching! There was still the perfect butt-clenching, tense moments but it was not as constant as it was in the text and this helped to move the story along a lot quicker in the film. It did not seem to drag which so often can happen with sci-of movies (in my opinion- I am not so hot on science so often this can seem boring to me).
You really go on a full journey (well, yeah..) with Watney and is a great film if you are keen on science, space or just survival and character development!
A must see. Ridley Scott does it again. A bit of geekiness, a bit of drama, a bit of humor and a lot of Damon. Great entertainment.
Thanks to Matt Damon ad Ridley Scott for brightening a pretty dreary Sunday afternoon. Grey skies and the whole family wanting something to do, called for some serious DVD action. It was our 15 year old son that made this our film choice , and I am rather glad he did.
I preferred it to Gravity , but feel Apollo 13 had the edge on to for suspense. What both films lacked though was a sense of fun and Matt Damon delivered that in spades. Loved the disco music soundtrack too.
On the couch this afternoon we had three generations - and we all enjoyed this film.
Don't see it as a classic, but don't hesitate to recommend it if you have an afternoon or evening that needs rescuing.
Not a sci-fi fan I found a lot of the NASA/ techi explanations are bit of a yawn. However Matt Damon is just excellent in the lead , he plays the role with intelligence, a sense of humour, and he actually made me believe all the nonsense. Four stars for the film - Five for Matt.
Shut the mouth up! Matt Damon why can't you eat with the mouth closed? I'm sure no one else got bothered but unfortunately for me I focused on it and was only fearing his next meal... Ok I might be OCD but beware!
I`m clearly in the minority on this one as I didn`t enjoy it. It`s well made but failed to engage me and to hold my attention.
This is one of those movies that will be remembered for years and years.
In the same line as epic movies like Armageddon, Apollo 13 or more recently Gravity this is definitely a must see and if you are going see it go all in, 3D, IMAX and any extras you can find because it will be worthy!
A must see. Ridley Scott does it again. A bit of geekiness, a bit of drama, a bit of humor and a lot of Damon. Great entertainment.
Ridley Scott back to his absolute best. Stunning cinematography, with Wadi Rum in Jordan doubling up as Mars, solid performance from Matt Damon and a surprising but awesome soundtrack featuring disco tunes including Starman by Bowie! Genuis. Loved it!