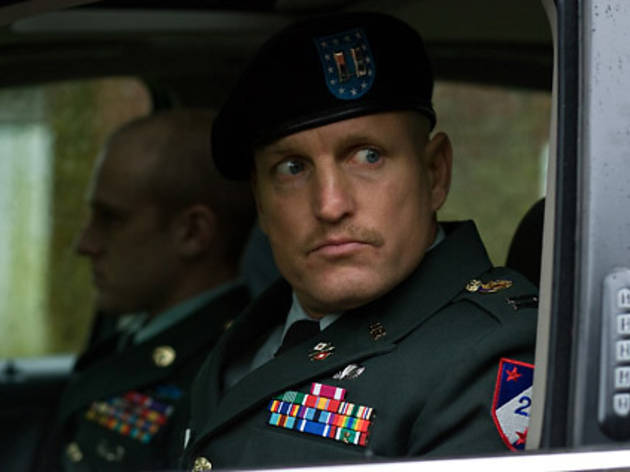 Take a look at the promotional info for 'The Messenger' and you'll learn that it's the story of US Staff Sergeant Will Mongomery (Ben Foster), an Iraq veteran assigned to the Casualty Notification office who ends up getting too close to one of the widows he visits. And you'd be forgiven for assuming it was another of those high-concept romantic melodramas which Hollywood churns out nowadays: forbidden passion, proletarian angst, the sexy side of post-traumatic stress. But while that synopsis is essentially accurate, it barely scratches the surface of this unpredictable, episodic, deeply resonant character piece. Will isn't a fashionably traumatised hero but a disturbed, isolated man in the throes of a total personality breakdown. Samantha Morton's Olivia is no horny housewife but an authentically washed-out white-trash survivor.

Release details
| | |
| --- | --- |
| Rated: | 15 |
| Release date: | Friday June 17 2011 |
| Duration: | 113 mins |
Cast and crew
Director:
Oren Moverman
Cast:
Ben Foster
Jena Malone
Woody Harrelson

Average User Rating
3.1 / 5
Rating Breakdown
5 star:

0

4 star:

1

3 star:

1

2 star:

0

1 star:

0
I couldn't agree more with Phil Ince. For T.H. to dismiss Morton's character as 'white trash' is a disgrace and a peculiar (and sad) statement on how U.K. denizens and reviewers are obsessed with so-called class in this country. If she must be labelled, call her working class --but so what?? Harrelson was terrific but Foster was a one-note, very weak link (excuse all the mixed metaphor, it's late!) who close to sinks the film. Interesting, but I was hoping for better. (and how many Americans have died in Afghanistan? (seemingly more than a few within easy driving distance of their mid-western base...Does the math add up? ...
I felt Ben Foster was a weak link here but Woody Harrelson and Samantha Morton are magnificent in very different ways. Harrelson plays his part as a 'complete' man, almost without doubt but who reproaches himself for his lack of combat experience whilst we see - which his character cannot value - the hardship of the war on him by the civilians he must face. Samantha Morton plays a gentle, fair, capable woman with great self-possession and kindness. The reviewer above belittles the character and her status by calling her "white trash survivor"; is a kneejerking racist cliche evidence of thought in the review? It isn't. I don't think Forster shows me anything other than selfishness which is redeemed. Maybe that's the point but he is little more than mannerisms to me. A hard film at times and rewarding. I can't give it 5 stars because of the compromise the film makes in the central character but Harrelson and Morton give it breadth and depth.