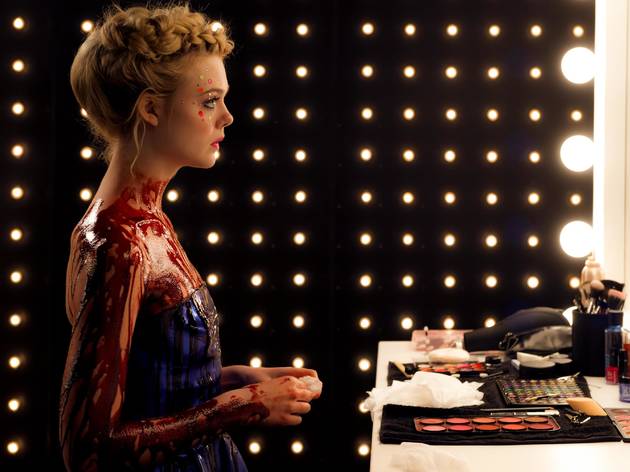 'Drive' director Nicolas Winding Refn's latest is a horror story set in the LA fashion scene
We know from 'Only God Forgives' and 'Drive' that Danish filmmaker Nicolas Winding Refn likes to drench his stories in neon-soaked atmosphere and bypass real emotion in favour of actors floating through his films like zombified 'Thunderbirds' puppets. Now he has a subject to match his style: the Californian fashion world.

Jesse (Elle Fanning) is a fresh-faced teen ingenue on LA's fashion scene who signs to a top agent (Christina Hendricks) and is soon walking catwalks for a pretentious top designer (Alessandro Nivola). Her new friends, a make-up artist (Jena Malone) and two very slightly older other models either fancy her, envy her or want her dead.

Gorgeous, obvious, vapid, beautiful, a bit boring. You could say all those things about the fashion world, so perhaps it's only right that a film which tries to recreate the essence of that world in a hyper-stylised way feels exactly the same. Refn being Refn – a shock-merchant with a dab hand at beautiful, often mesmerising imagery – he goes way further than just adopting the look of fashion shoots for a whole movie (although you could probably find images from magazines to match almost every still of this movie). This is also a story of blood-thirsty narcissism, cannibalism and necrophilia. There are scenes of a model being forced to swallow a knife and a make-up artist having sex with a dead body. You don't get that in your average Armani ad.

The 'demon' of the title is also literal, and gives us the film's best sequence: an occult-looking symbol, it possesses Fanning's character at a point where her innocence tips over into self-love, kicking off the film's way-over-the-top but blackly comic climax. For all its visual wizardry and the soothing burr of Cliff Martinez's low-key score, it's hard to bear the film's long scenes of near-silence with only snatches of stilted dialogue and endless ponderous interactions between models. There's little humour, and strip away the styling and what it has to say about fashion has been said a thousand times before. But there's a mesmerising strangeness to Refn's vision that can't be denied, and Fanning does an especially good job of portraying innocence lost in the belly of the fashion beast.
Release details
Release date:
Friday July 8 2016
Duration:
110 mins
Cast and crew
Director:
Nicolas Winding Refn
Screenwriter:
Nicolas Winding Refn, Mary Laws, Polly Stenham
Cast:
Keanu Reeves
Jena Malone
Christina Hendricks
Elle Fanning

Average User Rating
3.6 / 5
Rating Breakdown
5 star:

1

4 star:

3

3 star:

4

2 star:

0

1 star:

0
Wow, I so enjoyed this! It really emphasized my opinion that film-makers should just slow down a bit and let the atmosphere of a film take control. The soundtrack and visuals did just that. It was scary and disturbing in part, but not overdone - there was less blood than in recent Tarantino films. But the truly disturbing bits should be taken metaphorically and not literally - unlike so many reviews I've seen (although not here on Time Out!) A highly original film, which is not easy to find these days.
The Neon Demon is a movie experience that I will never forget. From the minute it starts, I was glued to the screen and not once could I look away, even with the long silent moments, I was still hooked. The LA lights are something to drift away too.
Nicolas Winding Refn can be a love or hate thing with me. I loved "Drive" and "Bronson". I didn't like "Valhalla Rising" and "Only God Forgives" that much. He's got talent, I can see that and I know that he wants to make movies that only he wants to see, and not just for others. I think we all can agree that all of he's movies are shot so beautifully and if one of he's movies as the word "Neon" in the title, then you better you expect something glorious. Refn shines in The Neon Demon by adding this dream like fairy tale theme to the mix. There was so many times I had a "Suspiria" and a Michael Mann vibe to this (with the use of colors and the LA lights). This was such a step up from "Only God Forgives".
And here's why.
What "Only God Forgives" was trying to get across in it's symbolism was too simple that I pretty much got all of it. It got repetitive in terms of the visual imagery that the film constantly presents, but I feel that those scenes didn't have any glue to hold those previous scenes together. It was pretty much all icing but no cake. And while I got what Refn was doing with "Neon Demon" in terms of the fashion industry, but I still feel that there's more to it then that. Even through I don't 100% understand all of it, I still felt that I got more out of it than "OGF". Is it obvious of what it's getting across? With the fashion industry, yes, but with everything else, no. I think plenty of re-watches might help, as I do want to watch this again.
Elle Fanning was pretty fantastic as the beautiful but dangerous Jesse. But I thought Jena Malone steals the show, as she was brilliant. Her character dose the most unnerving things that you can't even imagine, but still manages to be attractive. Oh and I can't look at Keanu Reeves the same way again after this. He's good in this but...damn. Refn characters are not from this earth.
The opening sequence to this movie is just magnificent. It's everything that a movie should do to get you engaged. The staging was on point, the framing was flawless and Cliff Martinez amazing soundtrack blasting in your ears was just icing. It left a massive smile on my face.
Where do I even begin with the soundtrack in this movie. It's sexy, stylish with a bit of glitter and just pure magic. It's probably one of my favorite soundtracks of this year. Cliff Martinez is just a fantastic composer that always delivers that an excellent 80's vibe in he's music. Even topping his previous work which I didn't expect him to do.
There's some things in this that I did pick up on that I'm not sure if others have. The cannibalism in the movie is basically another way of looking at the industry of modeling, with models who actually do starve themselves to death just to get the perfect shape. Basically letting your body eat itself, which is cannibalism. I might be over thinking things, but I thought to throw it in there as a cool little thing to bring to the table.
Everyone in this film sounds so fake and shallow, and that's not even a complaint. Beauty from the outside but shallow and dead from the inside. It's all intentional.
It's not a perfect film. The story is flat and the dialogue is really bad in a few scenes. It can be quite stupid at times, but I'm glad it doesn't take itself too seriously.
This isn't for everyone, as I already have seen two sides to this. You either love it or hate it, and I can understand both reasons. Different strokes for different folks.
Overall rating: The Neon Demon is a disturbing and yet beautiful film that's very hard to recommend to people. While not my favorite of Refn, but it's pretty damn close, like third place. I honestly can see this having a cult following in the future. I really do.
Much more style than substance. Yes I suppose that is the point in a surreal satire of the LA fashion world - and there is much to admire here - especially the pulsing music and danceclub visuals - but there is also much that is tedious and self-indulgent. Kudos to Nicolas Winding Refn for doing his own thing - but this felt like a director losing his way.
A must-see for cinephiles. Since the film's showing at the Cannes film festival it has been dividing opinions. In my opinion, as an avid cinema goer I must confess that although hard to swallow, Refn's latest is one of the best films I've seen this year. The complex and beautifully shot opening scene sets the tone for the whole film: fashion, horror, irony and colouful compositions. This merciless exploration of the fashion world gives depth to the film's subject while the visuals and music hint at Italian 70's horror films, particularly Argento's 'Suspiria'. Also worth mentioning is Elle Fanning's brilliant acting. Overall the film felt very artistically personal, free and clever which in itself is already a great achievent in the film business.
Firstly the director is to be applauded for making that almost extinct genre,namely the art house film..Does he succeed....Hmmmm..There is no script and it shows.The scenes are made up as they went along and it got more jumbled and confused as the film progresses.Some scenes are overlong and just meander.The visual element (a must for the art house) is very strong.The acting is very ropy apart from Jena Malone. Elle Fanning is particularly poor.Interesting,intriguing,but at the same time tedious and irksome 3stars