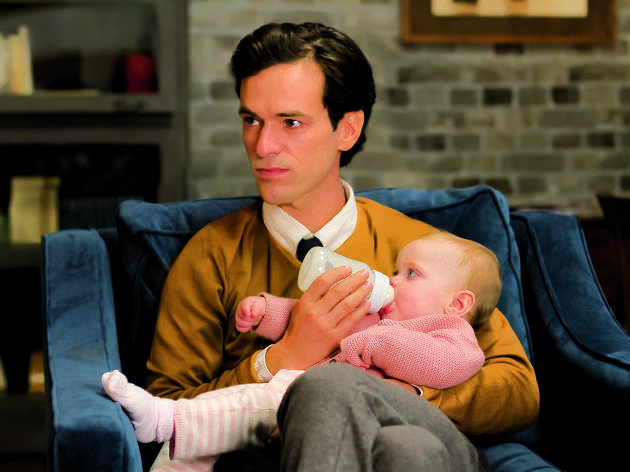 Romain Duris has legs to die for in this smart, insightful French comedy about a crossdressing dad
The French actor Romain Duris has two major assets playing a closet cross-dresser in 'The New Girlfriend': a performance of such loveliness it might just make your heart burst and legs Posh would trade in Becks for.

Duris plays young dad David, whose wife dies, leaving him to raise their baby daughter. Not long after her death, his wife's best friend Claire (Anaïs Demoustier) barges in on him dressed in a pretty floral number. Repulsed, Claire calls him a pervert, but slowly comes round to the idea of David as 'Virginia', even waxing his lower back. Virginia is their little secret, but with all the skulking, Claire's husband suspects she's having an affair. Is she falling in love with David? Or Virginia?

Directed by François Ozon, the film is loosely based on a 15-page story by Ruth Rendell and has a delicious chill of suspense running through it (I was half-expecting one of the characters to wind up with an axe in the back). What makes 'The New Girlfriend' special is that is has something to say about sexuality (feminine, masculine, gay, straight, and everything in between – it's complicated). Traditionally, movies have played cross-dressing for laughs (think about Robin Williams in 'Mrs Doubtfire'). Virginia, intensely vulnerable but full of self-confidence, is one-of-a-kind.
Release details
| | |
| --- | --- |
| Release date: | Friday May 22 2015 |
| Duration: | 105 mins |
Cast and crew
Director:
François Ozon
Screenwriter:
François Ozon
Cast:
Romain Duris
Anaïs Demoustier
Raphaël Personnaz

Rating Breakdown
5 star:

0

4 star:

0

3 star:

2

2 star:

0

1 star:

0
After the fairly good write-up from Time Out, and equally enthusiastic review on BBC, I was hoping for something more than this film came up with. That's not to say this film doesn't have a few twists, and isn't mildly amusing, but I wouldn't say this film is original, and I wouldn't say this film is worthy of 4 stars.
.
Like David G's film review (below this one), in places I thought the plot a bit silly. Yes, Romain Duris has great legs, but that's about the only thing I'd genuinely rave about this film. If this film had been made for TV and shown on BBC4, I'd say it was great viewing/scheduling. But London cinema prices being what they are, and time being what it is, I wished I'd seen something else that evening. Three stars.
A odd and bizarre film this one..His wife dies and he becomes transgender.His dead wife's best friend comforts him in his bereavement but ends up falling in love with just the female part of him.The French are the undoubted masters of making films about relationships and this is intriguing but at the same time a bit too silly to be fully taken into the film's premise.However it is still worth a look as the complexity of sexual desire and love in today's modern world,makes for some interesting viewing.3 stars