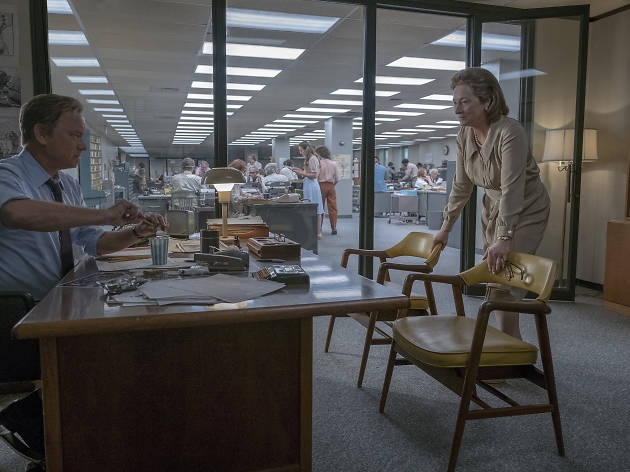 Steven Spielberg's answer to 'All The President's Men' stars a fascinatingly torn Meryl Streep but otherwise lacks bite.
'However,' Meryl Streep says, almost distractedly, a forefinger touching her temple – and that indecisive pause is the most exciting thing in the whole of 'The Post'. Streep plays Washington Post publisher Katharine Graham – in retrospect, a giant of journalism – and even with the weight of printing the Pentagon Papers (and defending press freedom) bearing down on her, the actor adds layers of dithering doubt and insecurity to her portrayal. It's a satisfying zig where others would have zagged and the first time Streep has given us a recognisable human being in a while. You'll be thrilled to see the exquisite wobbler of 'Sophie's Choice' back in action.
She deserves a movie that matches her level of complexity – maybe a pitch-black comedy in which the calculating Nixon administration is felled by Graham, a somewhat detached socialite who'd rather be hobnobbing with her fancy Beltway friends. (Graham grew into her confidence after these events.)
Dutifully organised via a clichéd script by Liz Hannah and Josh Singer, 'The Post' begins with Vietnam War choppers, a Creedence Clearwater Revival song (predictable) and the frowns of whistleblower Daniel Ellsberg (Matthew Rhys). Then it segues into idealistic barking by editor Ben Bradlee (Tom Hanks) and finally ends with the happily-ever-after falseness of the hulking presses churning to life.
Amazing as it is to say, director Steven Spielberg seems reticent to add any visual pizzazz to the film's deadline mania. The images have cinematographer Janusz Kaminski's typical blown-out glow – 'history in the making,' it screams – but too many of these sequences feel rote: bespectacled editors in shirtsleeves poring over documents while Bradlee's wife (a wasted Sarah Paulson) heroically serves sandwiches.
'Lincoln' and 'Bridge of Spies' positively vibrated with fine-grain procedural density; here the filmmaker plays it too cool. And yet, Spielberg is sensitive to Graham's exclusion, dwarfing her among the mansplainers until the tables turn and she's beamed at, adoringly, by a throng of female hippies who gather on the Supreme Court steps. Never mind if that actually happened; for a second, the movie comes alive.
Undeniably, 'The Post' feels timely, but there's a counter-argument to be made that, in our current era of fake news and easily swayed public opinion, it's actually a dinosaur of a film – and not 'Jurassic Park'. Thank God for the owners, it ultimately says, who sometimes do the right thing. That's a perfectly fine idea, but our times could use something sharper.
Release details
Rated:
12A
Release date:
Friday January 19 2018
Duration:
116 mins
Cast and crew
Director:
Steven Spielberg
Screenwriter:
Liz Hannah, Josh Singer
Cast:
Meryl Streep
Tom Hanks
Bob Odenkirk
Tracy Letts

Rating Breakdown
5 star:

1

4 star:

5

3 star:

1

2 star:

0

1 star:

0
This is a perfectly good film from Spielberg who has arguably presented a perkier portrait of the US press than 'Spotlight', buzzing with the kinetic energy of a 70s newsroom, as Alexandra L mentions a hymn to 70s press technology. There's some licence justified in service of a great story e,g. you get the Mario Savio anti-war speech ("There's a time when the operations of the machine become so odious you've got to make it stop" etc) transplanted from Berkeley to the East Coast. As Alexandra also says there's a Nixon / Trump echo (though Nixon had more in common with Reagan's anti-left McCarthyite crusade, only a clumsier operator & communicator than Ronnie).
Yes it's true that Katherine Graham is from a world of privilege, but the film well shows several times sexism from top to bottom in the 70s which is still not vanquished today, hence it's relevance, as well as courageous factual journalism. A very good performance by Streep - I have not always seen her merits but this and just watched her excellent performance in Doubt is convincing. Focussing on Graham and her milieux is a worthwhile alternative angle to focussing on the NY Times and Daniel Ellsberg, but please also see the excellent Oscar-Nominated documentary 'The Most Dangerous Man in America' to rectify this. It's well worth opening The Post as an entertaining and informative window on the Vietnam war era, relevant today. .
This a slow-burner of a movie and definitely worth watching, Spielberg tells a story with skill, but it also wouldn't be a Spielberg movie without a rather trite happy ending. Perhaps we need a little light in these dark times but ultimately I do prefer my movies with a bit more grey and ambiguity...