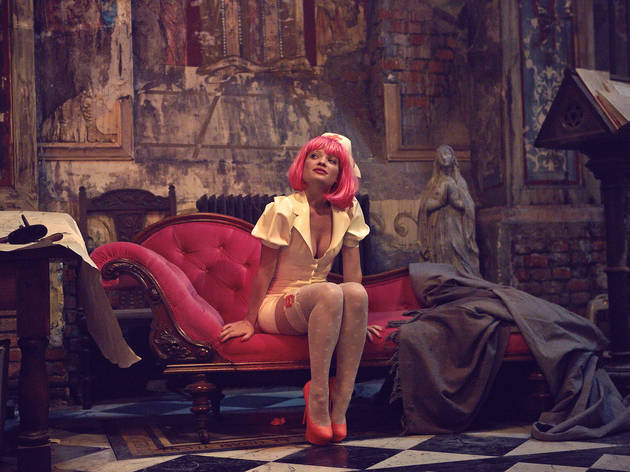 Terry Gilliam's 'The Zero Theorem' is a lo-fi, future-tech farce with an air of high-end cyber panto. The stars still come out for the director of 'Brazil', and a totally bald Christoph Waltz ('Django Unchained') features in every scene as Qohen Leth, an IT drone who's lost his soul and maybe his mind. He's working for a corporation called Mancom in a place and time that's undefined but looks and feels like a fading but neon European everytown in the near future.

When Leth is drafted to work on a notorious project to prove the zero theorem (basically, that everything equals nothing), he enters an even deeper isolation, working from a disused, burnt-out church that he calls home and further loosening his grip on reality. Leth is in contact only with an online therapist (Tilda Swinton, buck-toothed, bewigged and Scottish), a zany French woman (Mélanie Thierry) who works in the virtual sex industry and his boss's son (Lucas Hedges), who acts as his assistant. Elsewhere, Leth's manager at work is played by David Thewlis and Matt Damon pops up a few times as the big boss of Mancom, his hair dyed bright white and wearing a suit patterned like a zebra.

It's anarchic, sometimes amusing, intermittently tedious, with ideas about digital alienation and the corruption of technology that too often feel blunt and tired. If you take life literally or just lack patience for Gilliam's scatty, jumble sale sci-fi aesthetic, 'The Zero Theorem' could be a trial. It shares genes with 'Brazil' and 'Twelve Monkeys', but comparisons to those films do it no favours: it lacks the wit and continuous charm of the first and the scale and knotty ideas of the second. What it's most lacking is humour (there's a shopping centre called Occupy Mall Street: we need more of that) and a sense that it knows something we already don't. But it's hard to knock Gilliam's scattershot imagination, and Waltz anchors the madness in a solid, disturbed, but not too frenzied performance as Leth.
Release details
Rated:
15
Release date:
Friday March 14 2014
Duration:
107 mins
Cast and crew
Director:
Terry Gilliam
Screenwriter:
Pat Rushin
Cast:
Christoph Waltz
David Thewlis
Mélanie Thierry

Rating Breakdown
5 star:

1

4 star:

0

3 star:

1

2 star:

0

1 star:

0
A 'thinking outside the box' experience which is a visual feast. I was thoroughly entertained by Waltz's performance in particular but ALL the characters were good. With a film of this quality, it hardly matters if not all the concepts are easy to grasp. Highly recommended!
Terry Gilliam returns with another glimpse into a distopian future - with a few neon lights thrown in for good measure. As a fan of Mr. Gilliam, I went in with an idea of what to expect. the lead character Qohen Leth (An always reliable Christoph Waltz) has all the sensibilities of a Gilliam construct: the unsuspecting outsider forced into an inexplicable situation; someone trying to escape the monotonous surroundings of his existence; these are all there, for sure, but to some, it might be a "typical" Gilliam film displaying some of his usual traits, and sticking to close to familiar territory. These are probably just a few teething snags that haunt this latest opus from the ex-Python.
Underneath the distopia lies an enchanting love story between Waltz and Melanie Thierry - that being remenicent of 'Brazil's" John Pryce and Kim Griest: the opposing characteristics, and conflicting ideas on love; showing vulnerability, with an impairment on affection.
That aside within the spectrum of the Gilliam universe, there are some comedic moments delivered by David Thewlis; Tilda Swinton's cameo as a voice of reason for Qohen, with a demented Thatcher-esque persona; plus Matt Damon as a corporate bigwig - an instigator to abuse Qohen's intelligence - in suits to match his surroundings.
It's not classic Gilliam, but always watchable - like a unique curiosity. The Production is top-notch with (as always) fantastic sets, ambitious Cinematography from regular DP Nicola Pecorini, and an eclectic score, merging orchestral and electronics, from George Fenton.