Three Billboards Outside Ebbing, Missouri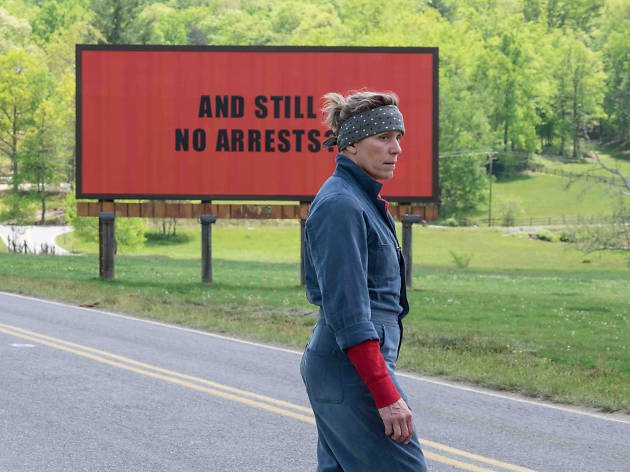 Time Out says
Frances McDormand and Sam Rockwell are on sparkling form in this hugely entertaining and original grief-and-revenge tale from the writer-director of 'In Bruges'
There aren't many writer-directors who could tell a story of small-town rape, murder, grief and guilt at the same time as taking you down all sorts of black-comic paths and having immense fun with the writing and acting along the way. But Martin McDonagh ('In Bruges', 'Seven Psychopaths') is one of them, and his bloody and ballsy third film, 'Three Billboards Outside Ebbing, Missouri', takes his work to a new level of versatility and surprise.
It's almost a year since Mildred Hayes (Frances McDormand, on absolutely roaring form) lost her teen daughter to an unknown rapist and murderer. She's angry, as well as distraught, and she pays for a series of disused billboards outside her town to carry huge posters asking why no one has been arrested yet. She points the finger at Chief Willoughby (Woody Harrelson), simply because he's the sheriff, and that makes her public enemy number one. Everyone takes against her, from her abusive and philandering former husband (John Hawkes) to a rash and racist hothead young cop, Dixon (Sam Rockwell, a blinding performance, brilliantly comic, but so much more). Even the priest sits her down for a chat. But she's having none of it: she just becomes more determined to fight anyone who gets in her way.
From there, 'Three Billboards' takes all sorts of unexpected turns, and what starts off looking like a story of a wronged mother fighting for justice becomes much more muddy, unusual and meandering. Sure, she's shaking things up, but is she going too far, and should Willoughby be taking all this heat? For one, he's dying. And even Dixon might not be the gutter snake he seems. McDonagh showed in 'In Bruges' and 'Seven Psychopaths' that he can flip in a second between laughs and violence, but there's a new layer of compassion here too. 'Three Billboards' plays like a country ballad that's full of improvised riffs on old themes: its verses head off in different directions, some violent and swearing, others reflective or funny. It's full of sharp dialogue and entertaining characters and fuelled by a wryly enlightened view of our world and how it can be at once cruel and caring. For a story built on such dark foundations, it's weirdly reassuring. It's also enormous fun.

Details
Release details
Release date:
Friday January 12 2018
Duration:
115 mins
Cast and crew
Director:
Martin McDonagh
Screenwriter:
Martin McDonagh
Cast:
Frances McDormand
Woody Harrelson
Sam Rockwell

Average User Rating
4.5 / 5
Rating Breakdown
5 star:

11

4 star:

4

3 star:

2

2 star:

0

1 star:

0
If you enjoyed the black comedy, violence and coarse language of "In Bruges" there's plenty more of that in another splendid Martin MDonagh movie which examines the tensions and prejudices boiling away under the surface of small-town America.
Frances McDormand (pictured) is magnificent as an angry mother whose daughter has been raped and murdered. Foul-mouthed and domineering she starts a one-woman crusade against the local police boss played superbly by Woody Harrelson.
She hires three billboards accusing the police of inadequate action over her daughter's case and this really starts the ball rolling.
And to further stoke up the action, the police chief, who is dying of pancreatic cancer, decides to kill himself rather than endure the final stages of the incurable condition. The townspeople's sympathy for her evaporates.
Many other funny, tragic, and sometimes both, sub-plots add to the intricacies of the story but it is McDormand's towering performance that dominates the film despite first-rate contributions from the supporting actors.
If ever a movie deserved to collect a hatful of awards, this one does. Absolutely brilliant!
good entering but reluctant to say its great 3 and half stars really
Written and directed by Martin McDonagh, this is a razor-sharp and black as tar comedy of grief, bitterness and anger and their consequences when given free rein. The script is wonderful, as is the acting, and the enigmatic ending excellently emphasises the importance of rational choice in human behaviour. Poignant too that the US invasion of Iraq and Afghanistan plays as a distant backdrop to the action. Humour throughout is used as an antidote to unbearable pain and trauma - which is very Irish - and during a confrontation with a priest there is a verbal demolition of the role of the Catholic Church which is totally unforgettable. No doubt an Oscar awaits for Frances McDormand, and very well deserved. A great supporting cast too. Go see.