Tina Fey interview: 'I am kind of in love with Kermit'
She was addictive as Liz Lemon in '30 Rock' and killed it with that Sarah Palin spoof – now Tina Fey is a puppet-hating Russian prison warden in 'Muppets Most Wanted'. The actor, writer and comic talks about her 'journey' to funny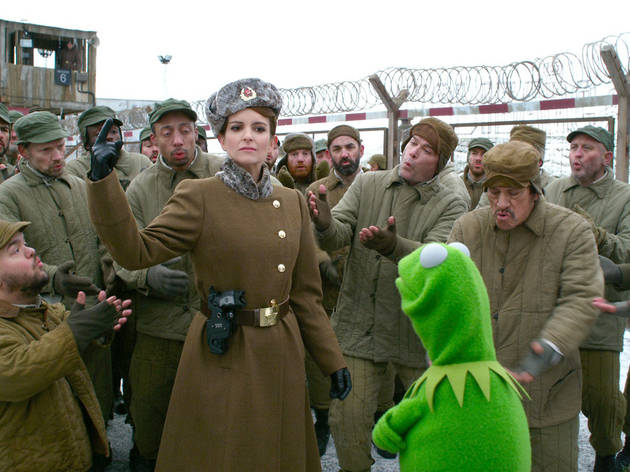 There is one common response to hearing Tina Fey's name. And it usually goes something like this: 'Oh my God! I love her! She's amazing. I really think we'd get on. Do you think we could be friends? I do. I really think we could be best friends.'
You see, the 43-year-old Fey is that most rare of famous folk: mind-meltingly successful, supernaturally funny, cool and talented enough to co-host the Golden Globes, and yet she's irrevocably one of us: an ordinary woman with an asymmetrical face who spends most of her time at home in New York looking after two young kids.
Still, her career has hardly been characterised by the ordinary. She made her name as the first female head writer on satirical US sketch show 'Saturday Night Live' (later returning to the show with
that
Sarah Palin impersonation) and then spoofed the format in cult comedy '30 Rock' with Alec Baldwin. She wrote the screenplay for '
Mean Girls
', and a clutch of film roles followed, including '
Baby Mama
' (where she played a headstrong, infertile businesswoman alongside long-term collaborator and fellow funnywoman Amy Poehler) and '
Date Night
' with Steve Carell – the reigning comedy king to her comedy queen. Whatever part she steps into, it tends to be a lovable one, leaving us unsure whether we're charmed by her, or just the hapless, sandwich-eating, wisecracking characters she writes for herself.
So who is the real Elizabeth Stamatina Fey? Her latest role, playing a Russian prison warden hellbent on incarcerating some of the world's most famous puppets in '
Muppets Most Wanted
', is hardly likely to offer any clues. So it's time to ask the lady herself…
Was there a moment growing up when you realised: God, I am just so funny?
'Funny is more of a journey. And a desperate attempt. It's not like growing up beautiful, where you can look in the mirror and be like, "I'm beautiful!" You mostly know that you want to be funny – you know that you have the desire.'
People fawn over you for being funny, but who makes you laugh?
'[Seth Rogen movie] "
This Is the End
" made me laugh last year. I was not expecting it to be quite my cup of tea, I was expecting it to be this stoner comedy. It's really, really, really funny. Jonah Hill's funny in it, Danny McBride is crazy funny in it, and James Franco…'
What about your kids? Did they inherit the funny gene?
'Our kids [Alice, eight and Penelope, two, with '30 Rock' collaborator Jeff Richmond] are both funny in different ways. They're inherently weirdos. The littler they are, the smaller the filter on their weirdness. The youngest – she's just pure id, she says whatever she wants. Like if I tell her no to something – "No, it's too late for cartoons, no more cookies today" – she will very sincerely try to choke me to death. She'll have her little tiny hands around my throat and I'll just be laughing.'
Being funny, especially as a woman, isn't always seen as a positive thing – you've been a target online for trolls. How do you deal with that?
'You just kind of don't; you just have to not feed that beast. Trying to change people's minds on women in comedy is just a waste of energy, when you could be in a writers' room actually making something.'
What's the worst thing anyone's ever said about you online?
'Oh my goodness, you don't ever seek it out any more. I mean just horribly foul, like, "I would or would not agree to anally rape her." Like the worst thing you can think of.'
Can you just forget about stuff like that?
'You can try to laugh it off but it's weird to know that there are people out there in the universe so mad about something.'
On to lighter things – and a desperately important question – which Muppet would you date?
'I am kind of in love with Kermit, I really am. But he's spoken for. So I'd have to think of which Muppets are single… Gonzo has his chicken wife – that would have been my next choice. So, I'm going to say Lew Zealand. I like the way he dresses.'
What was it like working with Ricky Gervais on the movie?
'I didn't, really – we had one day of overlap where we were on opposite sides of a giant prison yard. But I worked with him years ago and he's a nightmare. A terrible person… [laughs]. We're not in any scenes together. And that's in my contract.'
You got to lose your glasses for the role, but there's actually a real fetishisation of your specs. One newspaper even called you a 'four-eyed sex symbol'.
'People certainly have a thing about glasses. Liz Lemon [of '30 Rock'] wore them all the time and I wear them. The ones I wore on "30 Rock" were fake and for years I kept borrowing them – I'd take them home and go to the movies. I finally realised they were fake, they did not have my prescription in them… Yes, it's a fetishised object, but I don't feel like I have to wear them all the time any more. I try not to wear them if I'm wearing a gown… If I'm too dressed up with glasses, I tend to look like Tootsie.'
We still love Liz Lemon from '30 Rock' but some people thought you were being anti-feminist with the single fortysomething character. Why do you think it upset them?
'A lot of people really saw themselves in Liz Lemon, and it went in waves with people being happy with what she was modelling, and then unhappy. I always like to let characters be a little ugly and be wrong. I don't like it when things are too Pollyanna-ish and prescriptive. She was a very three-dimensional character and I stand by her. I stand by every idiot thing she ever did.'
'Muppets Most Wanted' opens in UK cinemas on Fri Mar 28.
Watch the 'Muppets Most Wanted' trailer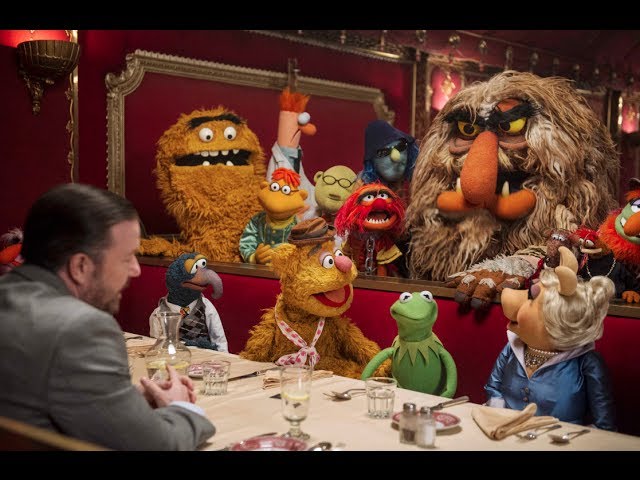 Read 'Muppets Most Wanted' review
'Muppets Most Wanted' misses the genial charm of 'The Muppets' stars Amy Adams and Jason Segel (the latter is also notably absent from the writing credits). Gervais is way too camera-aware and consistently out-acted by his furry co-stars. Still, it's easy to forgive and forget when there's another cracking one-liner in the wings – and Miss Piggy's costume changes are a show in themselves.
Read more
See the full 'Muppets Most Wanted' review