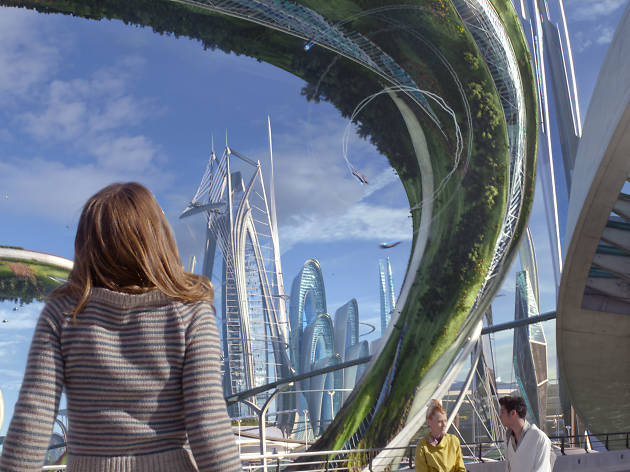 Follow the Yellow Brick Road to utopia in this peculiar, philosophically inclined Disney family adventure. Britt Robertson plays Casey Newton, a plucky suburban teenager with an uncanny knack for solving scientific problems. When she learns of the existence of Tomorrowland – a parallel dimension where humanity's greatest scientists, thinkers and artists have created a hermetically sealed 'perfect' world – she'll do anything to get there. Enter George Clooney's grumpy, crumpled inventor Frank, who has a dire warning for the 'real' world and for the ailing Eden over the rainbow.

'Tomorrowland' is singularly unafraid of weighty concepts, tackling climate change, our ongoing fascination with the apocalypse and the very Disney-ish idea of being 'special'. It does get dry (some scenes feel suspiciously like TED talks) and the script's fleeting efforts to unpick its dubious Ayn Rand-ish central ideology are completely undermined by a clunky, flat-as-a-pancake finale.

But when it puts down its copy of 'Political Philosophy for Dummies' and focuses on character and action, 'Tomorrowland' is a blast. 'The Incredibles' director Brad Bird could choreograph daring rocket escapes and soaring jet-pack flights with both eyes shut, while George Clooney and Britt Robertson have a thoroughly convincing knockabout chemistry – though both play second fiddle to blank-eyed British youngster Raffey Cassidy as a mysterious dimensional exile. The production design, too, is glorious: Tomorrowland itself, with its Buck Rogers fashion and skyscraper-high swimming pools, is a triumph of digital world-building.

How all this will play with its target family audience is unclear – young 'uns may get a bit fidgety during the talky bits – but there are ideas aplenty rattling around here, and some crackling action to tie it all together.
Release details
Release date:
Friday May 22 2015
Duration:
0 mins
Cast and crew
Director:
Brad Bird
Screenwriter:
Brad Bird, Damon Lindelof
Cast:
Britt Robertson
George Clooney
Judy Greer

Rating Breakdown
5 star:

0

4 star:

1

3 star:

0

2 star:

1

1 star:

0
Whilst there are some great moments and ideas in Tomorrowland, with futuristic gadgets and CGI scenery, this is ultimately a slightly bizarre kids film that won't really appeal to adults and turns from an action adventure in to a statement on the way we are treating the planet. Nice idea, but it didn't really work for me. The acting is not bad, especially the kids, but George Clooney and Hugh Laurie are both annoying and the story is a bit of a mess. Visually interesting but ultimately should be more entertaining given the concept.
The acting was great, the visuals amazing but some parts of the story were weird. Think too much about those parts and it'll lose you I'm confident our kids will be optimistic, imaginative pacifists if Disney continue putting strong humanitarians messages into their films - either that or acid loving hippies. Disney 1 - Current Cynical View of the World 0.