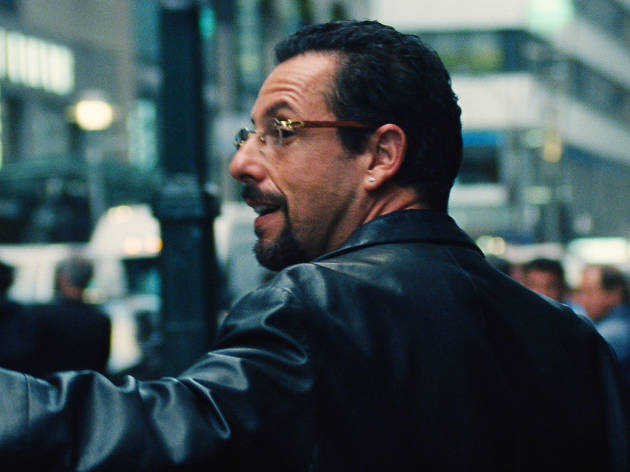 Time Out says
A never-better Adam Sandler juggles a gambling addiction, a jewelry shop, a foundering marriage and a potential windfall in an intense high-stakes triumph.
Josh and Benny Safdie, the indie filmmaking brothers whose New York City movies shudder with attitude, tell fast and grubby stories that harken back to the 1970s, when Sidney Lumet ruled sets. Their vigor is an instant rush: why creep a camera down a hallway when you can fling it behind equally unhinged characters? In 'Heaven Knows What', the Safdies turned uptown heroin junkies into wild, unkempt angels. Then, in 'Good Time', they gave Robert Pattinson all the confusion he could handle as a Pacino-like Queens hustler out of his depth. There's no nostalgia to these films, no cuteness, only the mania of urban survival, improvised on the fly with a side of trash talk.
'Uncut Gems', the Safdies' electrifying and abrasive latest drama, flirts with becoming a headache. (For some, it will feel like more than flirting.) But the film gets closer than the brothers ever have to developing a genuine affection for their various schemers, and that makes all the difference. Tenaciously, it follows a week in the 2012 life of a fly-by-the-seat-of-his-pants Diamond District dealer, Howard Ratner (Adam Sandler, channeling his obnoxiousness into something magically right, even moving). You may be overwhelmed by the Safdies's spiky sound design – filled with yelling, sports betting, the jewelry shop's constantly buzzing security door and an overcaffeinated, Tangerine Dream–like synth score – but Howard thrives in this chaos. It's his normal.
Beyond his bling salesmanship, Howard dreams of a big score, which arrives by messenger from Ethiopia: a gleaming chunk of opal-encrusted rock which he hopes to auction off for a fortune. (It's 'real old-school Middle-earth shit', he tells the hypnotized NBA star Kevin Garnett, playing himself with self-deprecating charm.) The various whereabouts of this stone will become a plot spine for 'Uncut Gems', but that's just an excuse to ping-pong Howard between a kaleidoscopic cross-section of sharply etched neurotics: pawnshop kibitzers, menacing debt collectors (led by a spookily intense Eric Bogosian), a semi-estranged wife (Idina Menzel, seeping fury from every pore) and a brassy mistress, also his shop's counter clerk, who may be falling in love with him (Julia Fox, making a stellar debut).
Gamblers at heart, the Safdies have a palpable love of gamesmanship, of arguments pushed to the brink, verbal beatdowns and courtside chatter. (Gifted cinematographer Darius Khondji, a master of reflections, gives 'Uncut Gems' a sheen that visually counterbalances.) Something else is going on here, too: a lovably pronounced American Jewishness in terms of tone and touchstones, from Billy Joel's showbizzy 'The Stranger', heard during a car ride back to Long Island, to a family's Passover seder rife with marital tensions and kids running around searching for the afikomen. This was the environment in which the Safdies grew up; their film isn't merely an outstanding portrait of a charming fate-tempter who goes a bit too far, but a kind of autobiography (as was their 2009 breakthrough, 'Daddy Longlegs'). It's made with so much love, care and enthusiasm – plus no small amount of risk – you thrill to think that they're just getting started.
Details
Release details
Rated:
15
Release date:
Friday January 10 2020
Duration:
135 mins
Cast and crew
Director:
Josh Safdie, Benny Safdie
Screenwriter:
Josh Safdie, Benny Safdie, Ronald Bronstein
Cast:
Adam Sandler
Eric Bogosian
Julia Fox
Idina Menzel
Kevin Garnett

Average User Rating
2.5 / 5
Rating Breakdown
5 star:

0

4 star:

1

3 star:

0

2 star:

0

1 star:

1
Another Netflix production hits the cinema circuit (but only briefly so it is eligible for Oscars and Baftas, etc) but unlike some of the streaming giant's earlier movies it has little to recommend it.
Adam Sandler plays a New York diamond trader who is sent a valuable uncut Ethiopian opal for auction. He is a gambling addict and hopes to sell the lump of rock to a basketball star (we know this because he's 7ft tall) and takes a valuable ring from the player as security.
After this, I began to lose any sense of what on earth was going on as the characters yelled and swore at ear-splitting volume and the Manhattan traffic added to the cacophony.
Everything they shouted was incomprehensible but then Noo Yoick Yiddish inflected or black hipster slang isn't my strong point.
I had to consult Wikipedia to find out what had been happening for over two hours. This movie lover is at a total loss as to why normally sane and sensible critics found any merit at all in this confused dog's breakfast…
So loud and brash that at times you will feel that it is giving you a headache - and so fast-paced that at times you will be not sure if you actually care, alongside a completely off-kilter soundtrack - but there are quiet moments too, and Sandler gives a bravura performance, book-ended by a surreal exploration of the universe as seen from inside a gemstone. Not quite like anything you will have seen before, but also not sure if I actually enjoyed it. It didn't stop long enough for that, until the end...a bit like life, really?