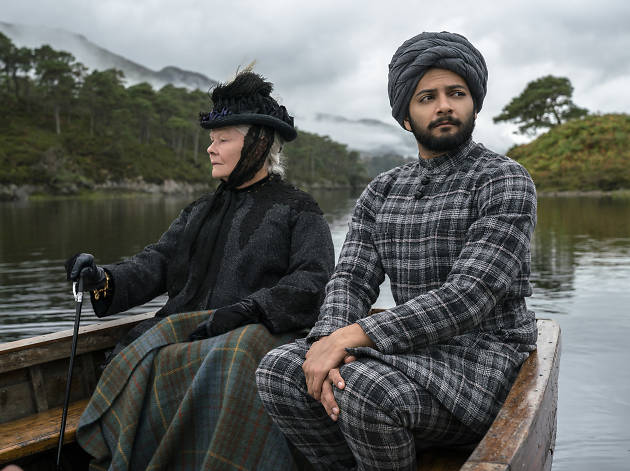 Time Out says
Judi Dench as Queen Victoria is the best thing about this ornate and safe comedy-drama about the monarch's unlikely friendship with an Indian servant
It's too good a story to let the truth get in the way of it: Queen Victoria (Judi Dench) is said to have struck up an intimate quasi-romantic friendship with a male Indian servant during the later years of her reign and to have made Abdul Karim (Ali Fazal) her personal munshi (teacher) in defiance of court whispers and opposition. With this softly entertaining, teasing dive into the tale, director Stephen Frears ('The Queen') and screenwriter Lee Hall ('Billy Elliot') serve up a lavish rendering of late-Victorian court life, with detours to India and Italy and plenty of bite-your-tongue implausibilities along the way. Some good one-liners ('Everything in Scotland is scratchy!') help to cancel out some clunkers: would Victoria really have uttered anything so modern as 'hurt my feelings'?
It's broad stuff, loaded with eye-grabbing design and locations and peppered with fun and fruity character turns at every remove (Eddie Izzard as the aggrieved future Edward VII, Michael Gambon as the PM, Simon Callow as Puccini). So thankfully Judi Dench provides much needed weight as the Queen, playing the same role as two decades ago in 'Mrs Brown'. But even Dench, while adeptly highlighting the vulnerabilities of age and the loneliness of power, can't distract from the soft treatment, which leaves little room for the harsh realities of prejudice which must have made this a more painful and ugly chapter for many involved than this film ever dares suggest. 'He's the brown John Brown,' is as far as the sniping goes.
Hall's script mildly pokes fun at courtly pomposity, while eventually treating the relationship between Victoria and Karim as a balanced friendship – when surely the truth was more difficult. It's pretty obvious where the power lies here, yet most complexities are sidelined. 'Victoria and Abdul' plays first as a gaudy fish-out-of-water ensemble comedy and only later settles into something gentler and mildly serious as Victoria begins to wane and the opposition to Karim grows. This is kid-gloves historical storytelling. It's sometimes amusing, and occasionally touching, but there's nothing here to scare the horses.

Details
Release details
Release date:
Friday September 15 2017
Duration:
106 mins
Cast and crew
Director:
Stephen Frears
Screenwriter:
Lee Hall
Cast:
Judi Dench
Ali Fazal
Michael Gambon

Average User Rating
3.1 / 5
Rating Breakdown
5 star:

0

4 star:

3

3 star:

3

2 star:

0

1 star:

1
I thoroughly enjoyed this classy period drama. Dame Judi as ever is A+ but Ali Fazal matched her & was very charismatic. It was funny & touching. A perfect way to spend a Sunday afternoon.
Ali Fazal as Karim and Judi Dench as Queen Victoria, make an unlikely pairing and yet this is actually what happened towards the end of her reign. Plucked from obscurity as an Indian clerk in India, Karim finds himself presenting a coin to her Majesty in England, in her palace. Despite being told not to, he does catch her eye, later kisses her feet and goes on to engage her in conversation. The Queen finds all this refreshing and him interesting after the pomp and dour atmosphere of her court.
The film is delightful. Nature, especially the Scottish countryside around Balmoral is breath-taking. The scenes are varied and hold the attention well. Worth seeing.
Although it's implausible in parts, this gentle retelling of a true story, the film is split into two parts. The first is comedic portraying the absurdities of the monarchy whilst addressing Abdul and his companion's adaptation to life in England. The second part concerns the inexorable rise of Abdul within Queen Victoria's court as well as the problems it caused.
The parts of Queen Victoria, her spoilt son Bertie and the royal physician, Dr Reid, were the strongest characters in the film. I felt that Abdul was two dimensional and it was difficult to understand what motivated his hunger for power and influence.
The filming locations taking in Agra, Florence, the Cairngorms and Osborne House were beautiful. This film deserves credit for publicising this episode of Queen Victoria's reign.
Having enjoyed "Mrs Brown" (though perhaps not as much a cinema/theatre luvvies), I was uncertain about V&Ab. My fellow audience gave much of a clue as to the age range/audience type at which this film's aimed: 60+, talking a bit too loudly among themselves as many were slightly deaf.
.

By no stretch is this the worst film I've seen this year, but by no stretch is it the best. The fact is, it's not very interesting. If you've seen Mrs Brown, then you understand all the 'downstairs' rivalries and hatreds, and equally those 'upstairs' among Victoria's family, politicians of the time, etc. Replace Brown with Abdul, and you've more or less got this film.

.
The script was poor, and tedious in places: Would an Indian servant of the late 19th century really say "You want me to dish the dirty?". This was a groan-worthy moment, in an entire script that seemed rustled up in a short lunch-hour.
.
Made-for-TV quality, possibly appropriate for BBC2, late one Sunday evening. One star.

Another tale about Victoria. It's pleasant, & entertaining, but all rather disappointing.
Judy Dench comes up with yet another sold performance, while Eddie Izzard does a respectable job as the "Prince of Wales", the rest of the cast are all a bit wooden, and rather predictable.The story itself is slim, and drifts towards Christmas panto. .