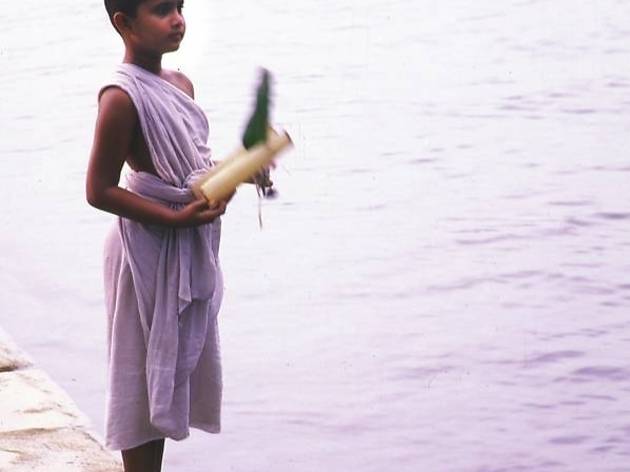 Benares/Varanasi, 1938. Following her husband's death, wilful seven-year-old Chuyia (Sarala) is abandoned, kicking and screaming, at a widows' ashram – and immediately silenced by the commanding Madhumati (Manorama, superbly menacing), mistress and madame of this impoverished, self-governing 'prison' of untouchables. Whether young, middle-aged or, like the cadaverous 'auntie', ancient, these widows are serving a virtual life sentence for innocent crimes against Hinduism's harshest dictates. Naturally cheerful Chuyia is sustained by a precious, if delusional, belief in imminent rescue. But even that is threatened when beautiful ally Kalyani (Lisa Ray) begins an affair with handsome Brahmin's son Narayan (John Abraham), leaving only devout Shakuntala (Seema Biswas, 'Bandit Queen') to offer friendship and hope in this living hell.

Made in Sri Lanka, this is the second version of the concluding part of Indian-born, Canadian-based Mehta's 'elements' trilogy – a resurrection of the 2002 Indian production burned down by Hindu fundamentalists. Sumptuously shot (by Giles Nuttgens), earnest but engaging, its outrage and campaigning zeal are sufficiently tempered to allow the expression of individual portraits. Nor does the lovers' eye-catching romance swamp what is, fundamentally, a microcosmic humanist study, replete with Ozu and Ray quotations. If its emotional and intellectual effects are sadly muted, blame its too-transient focus and unsettling clash of competing East-West styles and sensibilities.
Release details
| | |
| --- | --- |
| Rated: | 12A |
| Release date: | Friday June 1 2007 |
| Duration: | 114 mins |
Cast and crew
Director:
Deepa Mehta
Screenwriter:
Deepa Mehta
Cast:
Sarala
Lisa Ray
John Abraham
Seema Biswas

Average User Rating
3.1 / 5
Rating Breakdown
5 star:

1

4 star:

0

3 star:

0

2 star:

1

1 star:

0
I am disturbed and irritated by the glowing reviews for this film which I feel show both a lack of both cinematic and political judgment. Starting with the cinematic: this is a slickly made film with some nice albeit self conscious photography. But it is also very limited and stagey - based around a few rather artificial looking sets – and this made it seem rather dated. The actors are adequate (and sometimes good) but were chosen according to the exasperating convention that romantic leads can only be interesting if they are extremely good looking. Water takes this to an extreme degree: Lisa Rey and John Abraham are not just attractive, they are top fashion models turned actors and they both have those lean winnowy chiselled fashion plate looks that are both rare and rather bizarre in real life. Abraham spends the entire film with tousled gelled hair and designer stubble belying any attempt at historical accuracy. Even the sympathetic devout widow (Seema Biswas) is a former Miss Indian-Canadian. But my concerns about the casting are deeper than this: all the main cast had noticeably pale skins and Lisa Rey is mixed race (her mother is Polish) and looks it in every way. Like many former colonial countries, Indians can be intensely conscious of skin colour and often actively discriminate against people with darker skins. This film treats its themes in a very superficial and aetheticised way but is actually very naive about the really dirty race and gender politics. Even Slumdog Millionaire, a film open to plenty of challenges for accuracy, seemed like a masterpiece of realism and political daring by comparison. This overall lack of concern for accuracy affected every aspect of the film. I found myself constantly challenging the details: the way people spoke to each other, all the interrelations between men and women, especially the lovers, and people's motives. It failed to convince me, and that was a huge flaw in a film that claimed to have a political agenda. I am not in the least surprised to find that the director and most of the cast are Canadian- for all of its attempts at authenticity this did not feel like a film produced by someone truly rooted in the culture they are portraying.
sparkling watery brilliance after earth mira nair turns to water with a bolder theme and does full justice to the maltreatment of widows still prevalent in an institutionalised form in this realistic drama set in the ganges valley and shot beautifully with poetic fluidness in sri lanka ,after it was denied filming in benares where it was set origonally.the cast is superb headed by seema biswas with lisa ray and john enacting an anigmatic but tragic love affair and the evil is captured with true subtlety in the form of paedophiles and pimps who exploit the widows in an asharam for lust and greed .the 9 year old child widow chiriya, walks away with the final applause with a great performance as she is handled with fragile care by the excellent script and direction .the tragedy of cultural exploitation of the weaker sex was never brought to life in a more subtle and mature manner by an indian film-maker before ,and the sound track helps the evolution of a shocking story where the twist in the finale will take your breath away .unmissable and truly worthy of its oscar nomination .kudos to the entire team .the movie is set in british india and the brief appearance of the mahatama at the end is very symbolic yet relevant to this social awakening from a brilliant woman director .kudos
sparkling watery brilliance after earth mira nair turns to water with a bolder theme and does full justice to the maltreatment of widows still prevalent in an institutionalised form in this realistic drama set in the ganges valley and shot beautifully with poetic fluidness in sri lanka ,after it was denied filming in benares where it was set origonally.the cast is superb headed by seema biswas with lisa ray and john enacting an anigmatic but tragic love affair and the evil is captured with true subtlety in the form of paedophiles and pimps who exploit the widows in an asharam for lust and greed .the 9 year old child widow chiriya, walks away with the final applause with a great performance as she is handled with fragile care by the excellent script and direction .the tragedy of cultural exploitation of the weaker sex was never brought to life in a more subtle and mature manner by an indian film-maker before ,and the sound track helps the evolution of a shocking story where the twist in the finale will take your breath away .unmissable and truly worthy of its oscar nomination .kudos to the entire team .the movie is set in british india and the brief appearance of the mahatama at the end is very symbolic yet relevant to this social awakening from a brilliant woman director .kudos