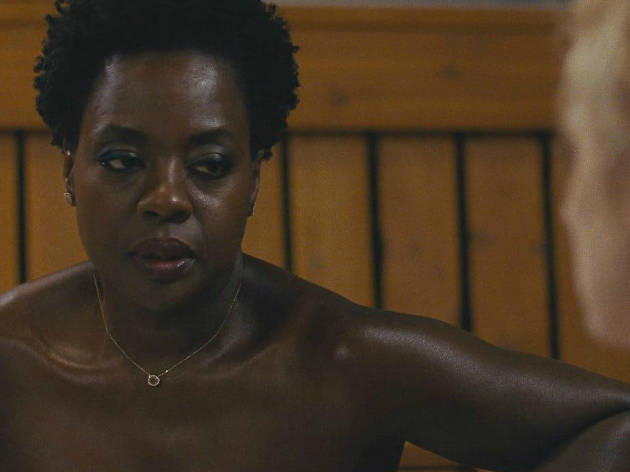 Oscar-winning '12 Years a Slave' director Steve McQueen pivots to an expertly plotted crime movie that's a showcase for tough women.
After such imposing movies as 'Hunger', 'Shame' and '12 Years a Slave' – those titles are punishing enough – you'd be forgiven for assuming British director Steve McQueen had a mean streak, if not toward his audiences, then his actors. Now comes 'Widows', which also has its fair share of suffering, mainly on the haunted face of Viola Davis. But McQueen has discovered something new. Should we call it fun? Let's not get carried away. Still, 'Widows', a supercharged Chicago-set caper of consummate skill, zooms along in a way that feels peppier than usual, McQueen brewing the action and ominous municipal intrigue like he was trying to outdo 'The Fugitive'. He comes frighteningly close.
Three women dominate the film, delivering it to a poise that 'Ocean's 8', a high-collared pretender, can only dream of. They're all the recent widows of a freshly deceased gang of high-stakes criminals, men who barely get any screen time. In their absence, Veronica (Davis) floats around her white-walled penthouse like a ghost, Linda (Michelle Rodriguez) gets her thrift store sold from under her, and Alice, an abused blonde trophy wife (Elizabeth Debicki, running away with the movie via skittish fragility and, later, pure moxie), is urged by her own mother to become an escort. As if economic freefall and grief weren't enough, their husbands' unfinished business shows up on their doorsteps, thuggishly demanding payment or else.
To watch them coalesce into a hard-nosed crew of heisters is the year's most purely pleasurable piece of transformation. McQueen, adapting a 1983 British TV miniseries with 'Gone Girl' screenwriter Gillian Flynn, peppers the flow with spikiness, mainly involving a vicious, unpredictable enforcer Get Out's Daniel Kaluuya), Colin Farrell's corrosive up-and-coming politician and his even-worse dad (Robert Duvall, explosive like he used to be). Cynthia Erivo brings much-needed warmth to things as a can-do hair-dresser turned getaway driver. It's a lot of plot for one sitting, but 'Widows' will remind you of how massively entertaining crime movies can be, especially when they're animated by the spirit of cool-headed capability, on and offscreen.
Release details
Rated:
15
Release date:
Friday November 9 2018
Duration:
130 mins
Cast and crew
Director:
Steve McQueen
Screenwriter:
Gillian Flynn, Steve McQueen
Cast:
Elizabeth Debicki
Liam Neeson
Michelle Rodriguez
Viola Davis
Colin Farrell
Robert Duvall
Cynthia Erivo

Average User Rating
3.3 / 5
Rating Breakdown
5 star:

0

4 star:

3

3 star:

3

2 star:

1

1 star:

0
Having already established an impressive reputation with films on the Irish troubles, sex addiction and the final days of the US slave trade, British director Steve McQueen turns his attention to a good, old-fashioned heist movie.
Well, perhaps not quite that old-fashioned, as the plot, set in modern-day Chicago, encompasses political corruption and race issues, in addition to its major focus on the caper theme, and boasts a fine cast including Robert Duvall, Colin Farrell, Liam Neeson and Viola Davis.
Loosely based on a British soapy-type '80s TV series, a gang of criminals die in a botched robbery and their wives, faced with no dollars from ill-gotten gains, undertake a caper of their own to keep food on the family tables.
All sorts of nasty characters emerge from the woodwork and McQueen keeps us guessing with some plot twists and turns, especially near the story's end.
The action stays tense and absorbing although there is little substance under the stylish cinematography.
All-in-all, a pleasant way to spend a couple of hours and to be thoroughly entertained; surprisingly the actual robbery comes unusually late in the action.
A heist movie it's not.....more an attempt to tackle social issues such as gender, equality, corruption, race, etc etc against the backdrop of a stale smash and grab plot, dreadfully slow and far far too long, puerile ending.....there isn't even any good music.....you can admire the cinematography but that's about all, cannot understand why this film gets good critic reviews, many of the audience spent more time on their phones than watching the film....
McQueen brings the British 80s TV series right up to date with a contemporary American mix of sexual and racial politics. It looks great, McQueen always the visual artist above all else, but as a piece of cinema it didn't work for me. There are just too may plot strands waiting to be tied up - this works on TV over several weeks, but at the cinema it felt laborious. Tries to do far too much with the 2 hours and 10 minutes, with the result that it feels like 2 hours and 10 minutes - never a good sign. At the cinema less is always more - and more is way too much.