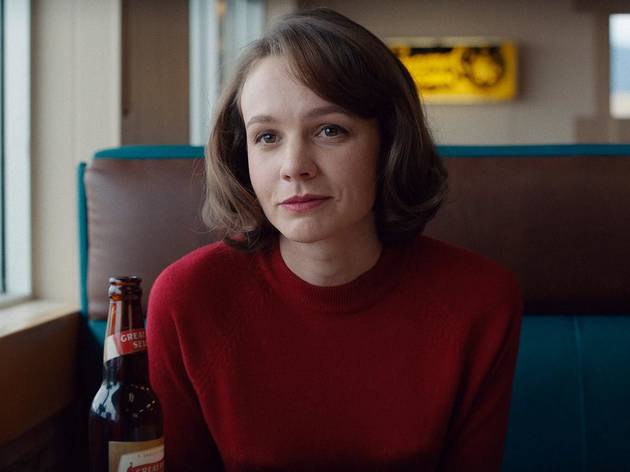 Paul Dano's directorial debut boasts a blazing Carey Mulligan as a frustrated woman snatching back her identity.
As an actor, Paul Dano is always up for the odd, the disconcerting, the complicated. Reassuringly, his first film as writer-director follows suit. 'Wildlife' is a finely detailed, darkly humorous, powder keg of a character study.
With co-writer Zoe Kazan, Dano has adapted the story from Richard Ford's novel. The book was published in 1990 but is set in 1960, where, in Montana, a picture-perfect young family begins to crack. Jerry (Jake Gyllenhaal), constantly moving his family as he goes from job to job, flees to fight fires in the mountains out of some misplaced masculinity, instead of dealing with the ones at home. While he's gone, his wife Jeanette (Carey Mulligan) snaps, leaving her young teenage son, Joe (Ed Oxenbould), through whose eyes much of this unfolds, to process the painful fallout.
Mulligan's characters have often been buttoned-up types, but the shackles are off here. For better or worse (let's go with both), Jeanette reclaims her younger, elemental self, regardless of what the neighbours – and even Joe – might think. She's a woman out of time, and Ford's story, written in 1990, still feels resonant.
If 'Wildlife' can feel like a play at times, its stifling confines and claustrophobic mood are deliberate. It definitely doesn't look like one – Diego Garcia's lush, nostalgic cinematography exudes romance, albeit of the doomed kind – and Dano avoids melodrama, drenching it in atmosphere. It's uncomfortable in all the right ways. You sweat it out with them all.
Release details
Rated:
12A
Release date:
Friday November 9 2018
Duration:
104 mins
Cast and crew
Director:
Paul Dano
Screenwriter:
Paul Dano, Zoe Kazan
Cast:
Jake Gyllenhaal
Carey Mulligan
Bill Camp
Ed Oxenbould

Rating Breakdown
5 star:

0

4 star:

1

3 star:

0

2 star:

0

1 star:

0
Very impressive directorial debut from Paul Dano - the movie has a consistent feel and lyrical tone that mark Dano as a director to watch. Oxenbould is great as the teenage son caught between a husband and wife whose relationship has burnt out. There is a wonderful 50s soundtrack - but it is the sound of the railway in the distant Montana landscape that is the real soundtrack of the movie...