You Don't Mess with the Zohan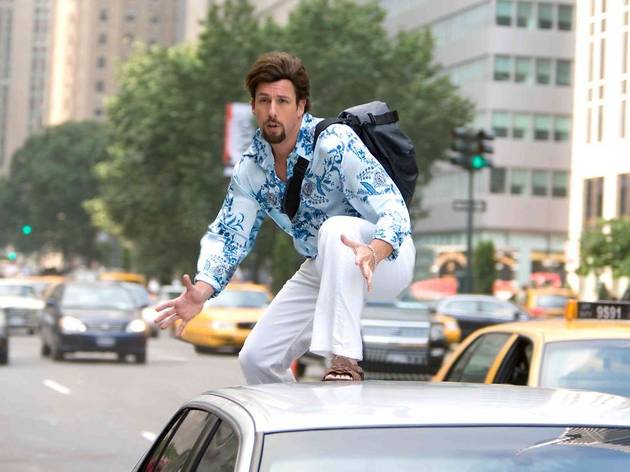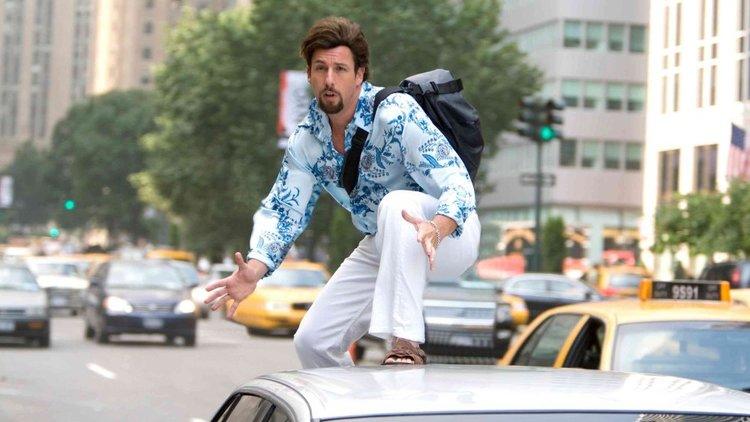 Combining – perhaps for the first time ever – hypersensitive geopolitics with Spandex groin-bulge jokes, this sees Adam Sandler as a swaggering, bubble-permed Mossad agent who struts around Tel Aviv in denim cut-offs and skin-tight Mariah Carey T-shirts, kicking Palestinian ass. Weary of this cycle of violence, he decides to fake his death and follow his dream of becoming a hairdresser in New York City. This undeniably captivating premise turns out to be another sloppily concocted and naggingly non-controversial pretext for Sandler to pelvic thrust his way though a succession of increasingly wacky fish-out-of-water situations, with the intricacies of the Israeli- Palestinian conflict dusted with sugar and served up as inane plot filler.

Sandler's Zohan is a garishly sketched melange of Ali G's gormless ladies man and Borat's wide-eyed naïf, and despite a screenplay co-written by current comedy sage Judd Apatow, he's such a jarringly two-dimensional creation that there's nowhere to send him beyond that sparklingly irreverent set-up. On the plus side, the film does have an amiably dreamlike approach to cultural stereotyping, for some reason plucking hummus, hacky sack and an unspecified orange liquid called 'Fizzy Bubblech' from the Israeli character profile to use at the centre of numerous recurring, though frequently uninspired, sight gags. John Turturro – whose scream is one of the most joyous sounds in cinema – picks up some of Sandler's slack as terrorist and kebab-shop franchisee The Phantom, but it's not enough to save this odd little mess.
Release details
Rated:
12A
Release date:
Friday August 15 2008
Duration:
113 mins
Cast and crew
Director:
Dennis Dugan
Screenwriter:
Adam Sandler, Judd Apatow, Robert Smigel
Cast:
Ido Mosseri
Emmanuelle Chriqui
John Turturro
Nick Swardson
Rob Schneider
Dave Matthews
Lainie Kazan
Adam Sandler