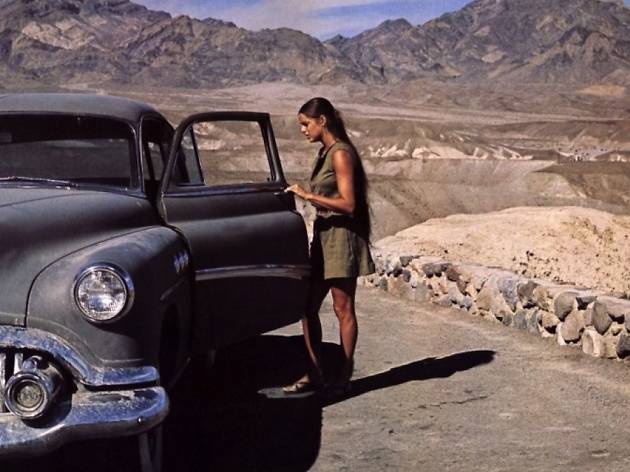 Michelangelo Antonioni's first American feature was a critical and commercial disaster on its release in 1970, but it's enjoyed something of a quiet renaissance in the years since. Both views have their merits: this is a visually sumptuous experience, steeped in period charm. At the same time it typifies the very worst excesses of hippie-era filmmaking: rampant indulgence, self-satisfied narcissism and truly dreadful performances.

Opening with a gripping, clamorous debate about the nature of violent protest, the film ultimately focuses on navel-gazing dullard Mark (non-actor Mark Frechette) who steals a private plane and heads out into the desert where he meets office girl on the lam Daria (Daria Halprin). The pair wander aimlessly, indulge in rambling non-sequitur conversations and inevitably end up rolling about in the dust.

Criticising an Antonioni film for being slow and insular risks missing the point, but there's a shallow emptiness to 'Zabriskie Point' that can't be forgiven. That said, the music is terrific, few directors ever shot barren landscapes better than Antonioni and the breathtaking, explosive, gravity-defying final five minutes achieve something close to perfection.
Release details
Release date:
Friday October 24 2014
Duration:
110 mins
Cast and crew
Director:
Michelangelo Antonioni
Screenwriter:
Tonino Guerra, Clare Peploe, Fred Gardner, Sam Shepard, Michelangelo Antonioni
Cast:
Kathleen Cleaver
Mark Frechette
Paul Fix
Rod Taylor
GD Spradlin
Daria Halprin

Average User Rating
1.9 / 5
Rating Breakdown
5 star:

0

4 star:

0

3 star:

1

2 star:

1

1 star:

0
The supposedly liberated and liberating vision of numerous naked couples writhing in the desert looks like a suburban bunch of clapped-out swingers as envisaged by Victoria Wood. And most tellingly, given that gay liberation was preparing to explode onto the socio-political scene, the couples are all heterosexual. Liberation my arse. And Rod Taylor's exploding house is revealed for the naff miniature it actually is if you check the clips of the finale posted on You Tube. DIre. But Mark Frechette was a gorgeous (and in real life doomed) cutie.
Uninvolving and dull. 2.5 stars.