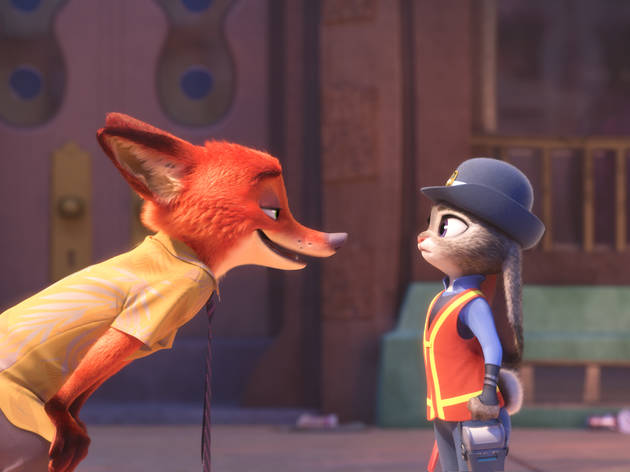 This clever and entertaining new Disney animation imagines animals running our towns and cities – including a bunny desperate to be a successful cop
Talking animals in a Disney film? Nothing new there. But this sparky animation takes the idea somewhere fresh and lively by giving us a distinctly human world (well, an American version of it), with cities, streets and ice-cream parlours populated by almost every mammal you can think of – apart from our own two-legged species. So, a moose reads the evening news, a buffalo (voiced by Idris Elba) runs the police force and a lion (J K Simmons) is mayor.
The cheek of it! Still, humans remain in charge. 'Zootropolis' is directed by Byron Howard ('Tangled') and Rich Moore ('Wreck-It Ralph'). Their film is zippy and funny but also layered with a let's-all-get-along message that feels more relevant and engaged than your average kids' movie (including feminist gags about not calling women animals 'cute').
Our main concern is a bunny of the female variety, Judy (Ginnifer Goodwin), who hails from simple rural rabbit stock but dreams of being a small cop in the big smoke – to her parents' horror. After Judy graduates from police school, she's lumbered with parking-meter duty. Luckily, her chance to shine comes when she hooks up with a crafty fox (Jason Bateman) and together they pick up the whiff of a corruption trail, taking the film into noirish 'Chinatown'-lite territory.
The world that 'Zootropolis' creates is intelligent and fascinatingly detailed – it feels more like a movie by Disney-owned Pixar than a straight Disney film. Its manic energy and never-ending supply of characterful animals will appeal to young viewers. But there are also some fantastic set-pieces for older audiences, including a brilliant scene with a very s-l-o-w bureaucratic sloth and a charming knock-off of the 'What have I ever done to make you treat me so disrespectfully' wedding scene from 'The Godfather'. Who needs humans?
Release details
Release date:
Friday March 25 2016
Duration:
108 mins
Cast and crew
Director:
Byron Howard, Rich Moore
Screenwriter:
Jared Bush, Phil Johnston
Average User Rating
4.3 / 5
Rating Breakdown
5 star:

5

4 star:

10

3 star:

1

2 star:

0

1 star:

0
I'm not crazy about the current Disney formula. In fairness, a huge amount of that has to do with nostalgia and what the Disney brand means to me: traditionally animated musical fairytales, for the most part. That's not Big Hero 6, or Frozen, or Wreck-It-Ralph, or Tangled - all of which I've enjoyed to varying degrees. That's definitely not Zootropolis (randomly retitled for UK audiences from the American Zootopia).
Pixar derailed the old Disney formula by shifting the paradigm of the entire animation industry, and maybe I should get over something that has been happening since 1995, but I haven't and here we are. Zootropolis is definitely up there with Big Hero 6 on the enjoyment scale - it's an amazingly well crafted bit of entertainment with fun characters, and on top of that it really has something to say - but it's not all that distinct from what's happening over at Dreamworks (How to Train Your Dragon, Kung-Fu Panda) or even Warner Bros (The Lego Movie). It's probably more similar to The (superior) Lego Movie than anything else. It's diverting for an hour and a half, but unlikely to be something I'll revisit in the future.
The fantastic world of Zootropolis is smart and fun. The story is original, daring and very amusing and carries some timely, relevant and heavy messages of hatefulness and fearmongering in a way which is accessible for any age and endearing with its cry for unity and embracing your dreams. What will set this animation apart from any other is the fact that it is contemporary and it can be thoroughly enjoyed by both adults and children alike - with references made to the Godfather in such a fantastic way! There are lots of fantastic characters, the sloths are comedy gold, and the details to the characters and the city itself is incredible. Very enjoyable and brimming with charisma and charm, I would definitely recommend this film.