Brian Eno and Karl Hyde – 'High Life' album review
Two musical heavyweights follow up their debut with a collection of deeper cuts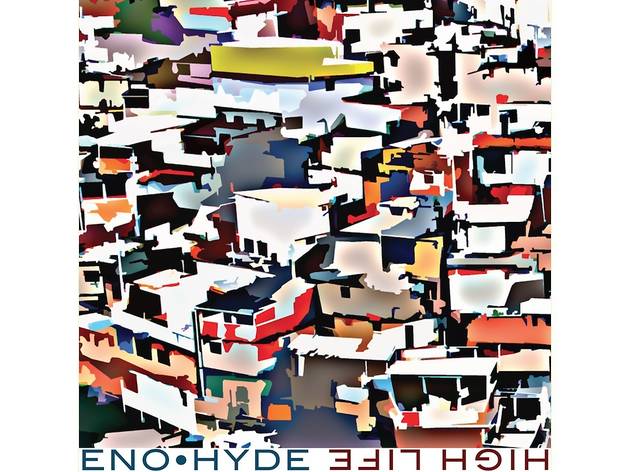 Brian Eno and Karl Hyde don't muck about. They released 'Someday World', their first album as a collaborative duo, in May, and now here's another just two months later: quite a 'how's that?' to Daft Punk, David Bowie and others who need a decade or two to flex their album muscles.
To be fair, both Hyde and Eno have been pretty prolific throughout their careers: the former with brilliant ravey techno-pop duo Underworld (they of 'Born Slippy' fame) and Eno with decades of illustrious recording history under his belt, including his Roxy Music years and helping to pioneer ambient electronica. That's not a bad collective CV by anyone's standards.
Whereas 'Someday World' was fairly single-minded in its pursuit of skewed, funky, avant-garde electronic-pop, 'High Life' feels like a very different record, albeit a similarly experimental one. The album was apparently inspired by various contemporary classical composers, such as Steve Reich and Phillip Glass, that use drones and repetitive phrasing in their work – definitely not as dry as it sounds on paper, we promise. Eno and Hyde use elements of these techniques to build walls of electronic melody, peppering them with angular funk, Afrobeat and even summoning the ghost of new wave on a few occasions. If that all sounds weird – it is, at times, but in an engaging and colourful way.
After the rolling, minimal journey of album opener 'Return' nods to the pop-focused, upbeat end of Eno's solo work, the album fully announces itself with the Afrobeat-influenced, Talking Heads punk-funk of 'DBF', before the pace lightens again with the floating minimalism of 'Time to Waste'. Then it's time for the joyous 'Lilac', undoubtedly the album's strongest track: a slow-burning, rhythmical odyssey, shimmering with sunny life throughout all of its nine-and-a-half minutes.
There is something that needs to be said: one track here, 'Moulded Life', is really bad. It sounds like some cobbled-together studio noodling from the late '90s, when mixing breakbeats with euphoric female vocals and fuzzy bass riffs seemed cool and progressive. The result is a song like Propellerheads soundtracking a nightclub scene in the next 'Blade' film – and nobody wants that. But final track 'Cells and Bells' redeems things with its beautifully bizarre atmosphere, sounding like an underwater funeral led by a sea shanty choir.
So soon after the duo's first album, it's tempting to view 'High Life' as 'Someday World: Part Two', but that's misleading: what we've got here is something less immediate, an experimental work with pop leanings. Bear that in mind, and 'High Life' will stand plenty of repeat listens – barring a couple of duff tracks. Four out of six ain't bad, right?
What do you think of 'High Life'? Let us know in the comments box below or tweet us at @TimeOutMusic.


Buy this album on Amazon | Buy this album on iTunes

Sponsored listing
Proud Camden
Enfolded within Camden Market, this building may have been a horse hospital at one point in its lifetime, but it certainly ain't an animal refuge any more. The cobbled floors remain, as do the stables, but they've been spruced up and turned into booths. The roof terrace has also been revamped with bright colours and twee bunting. The main space is usually decked with artwork on the walls and also has a stage for live bands. There's a cabaret room on the other side of the venue and, of course, a bar serving up the usual tipples.  Club nights here usually feature indie-electro, synth-pop, R&B, hip hop and funk. 
Venue says: "From Drizzy to Dizzee, we play you the best in hip hop, trap and grime every Wednesday at Proud Camden."