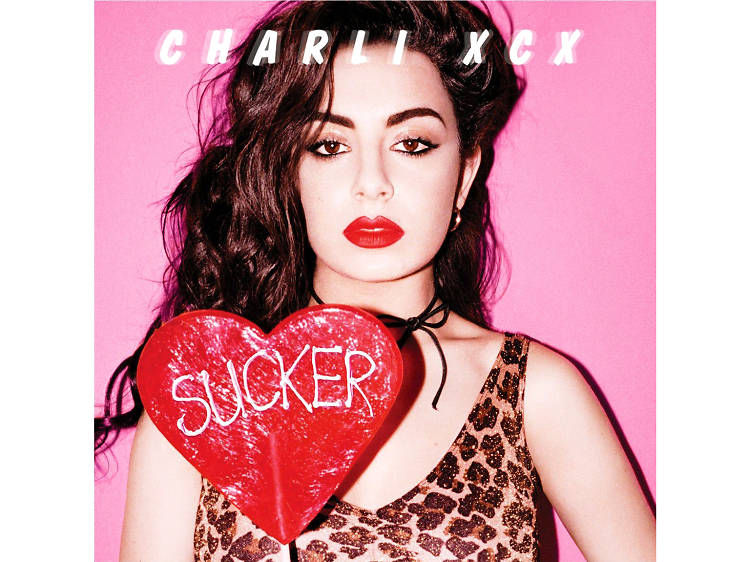 Charli XCX – 'Sucker'
Most pop stars don't begin their breakthrough second album by yelling: 'Fuck you, sucker!' Then again, Charli XCX isn't like most pop stars. Still only 22, Hertfordshire-raised Charli has been plugging away since 2008, when she started posting songs on MySpace and singing at dodgy raves in east London. She signed to a major label two years later, but only hardcore pop fans paid any attention until 'I Love It', the dance banger she wrote and gave to Swedish duo Icona Pop, became a Number One hit in 2013. Last year Charli finally gatecrashed the mainstream by singing 'Let's get drunk on the mini bar!' on Iggy Azalea's pop-rap smash 'Fancy', then followed it with an irresistible hit single of her own, 'Boom Clap'.
'Sucker' sounds like an album made by someone you'd want to raid the mini bar with. From the guitar riffs and rebellion of 'Break the Rules' to the rock swagger and teenage longing of 'Hanging Around', on which Charli comes off like a Home Counties Joan Jett, it's packed with a bratty attitude that's worryingly addictive. Duetting with Charli on the super-catchy 'Doing It', Rita Ora seems cool for the first time ever. The ex-boyfriend Charli elbows aside on 'Breaking Up' isn't quite so fortunate. 'You have an ugly tattoo and fucking cheap perfume,' she tells him with brutal insouciance.
But Charli's giddy lyrics aren't always as shallow as they seem. 'Body of My Own' is a glorious, Cyndi Lauper-style pro-masturbation anthem, while 'Gold Coins' works as both a celebration and a pisstake of the decadent celebrity lifestyle. 'My platinum troubles, I'll drown them in pink champagne,' she sings on the first verse, tongue hovering close to cheek. Meanwhile, the swooning '60s girl-group pop of 'Need Ur Luv' shows Charli can also pull off a reasonably straightforward love song.
Even if you spent your own adolescence in a library, drinking tea rather than tequila, this brilliant album will bring out your inner teenage badass. In a word: XCX-cellent.