Chrissie Hynde – 'Stockholm' album review
The Pretenders leader still has a magical voice and an unshakeable gift for songcraft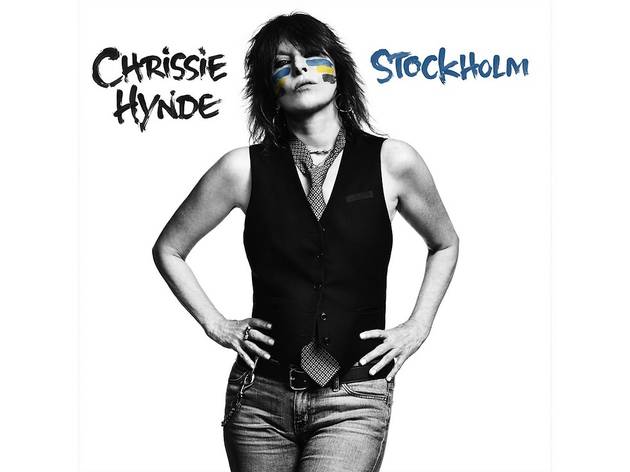 At 62, and having long been adopted as a British national treasure, Chrissie Hynde must be a prime candidate for a call from the advertising department of M&S Womenswear. So it's good to see her, on the cover of 'Stockholm', still looking every inch the anti-establishment rocker: a man's waistcoat and tie sans shirt, under-eye khol and over-eye fringe, three dirty great smudges of warpaint across her cheekbones.
In one way, Hynde has changed tack: 'Stockholm' is the solo album she swore she'd never make. But she's been the only constant member of The Pretenders since the guitarist and bassist died of drug overdoses in '82 and '83, cutting short a run of blinding post-punk-meets-highbrow pop classics including the Number One 'Brass In Pocket'. Co-written and produced by Bjorn Yttling of Swedish indie-pop trio Peter, Bjorn And John, with cameos from Neil Young and tennis legend-cum-guitarist John McEnroe (insert 'you cannot be serious joke' here), this is the most collaborative she's gotten since.
Cover image aside, you'll be disappointed if you're after urgent statements. In fact 'Stockholm' appears to have been forged in an atmosphere of absolute insouciance: a friend hooked Hynde up with Yttling in a coffee bar in Cleveland. She told him she had no notes, no ideas, and hadn't played guitar for a while. He played her something he'd whistled into his phone while walking down the street. She'd been referring to 'Down the Wrong Way' as 'the Neil Young song' in the studio for months before it occurred to her that she could maybe just
call
her former touring partner and ask him to guest on it (cue a Crazy Horse chugger with great rumbling plains of electric guitar).
But Hynde's just a natural, isn't she? Precision-guided melodies, interesting and intensely felt lyrics, a genius for phrasing – they're simply in the toolbag. Written in 20 minutes flat with The Caesars' Joakim Åhlund, 'Adding the Blue' uses the clever conceit of a portrait painter deserted by their sitter. Shimmering opener 'You Or No-One' is exuberant with the exclusion-of-all-else-ness of new love. The strutting and sneering 'Dark Sunglasses' skewers a similar rich-kid-slumming-it target to Pulp's 'Common People': 'yeah, you had a go at sleeping in a van, but you couldn't let it go too far'.
The voice is still a sultry, sex-filled, magically wavering thing to which autotune would be pure anathema. On 'Like in the Movies' it aches and swoons. On 'Tourniquet (Cynthia Anne)', it pulses like blood through a constricted vein. 'Pin me down oh so tight by my phantom wrists,' she sings on this ghostly lullaby, beneath a fine rain of Spanish-style guitar and a xylophone melody that circles like a child's mobile in an empty nursery.
Once she got going, Hynde had a clear aim for this record: 'to make a power pop album you could dance to – Abba meets John Lennon'. A few dud tracks pull her considerably short of that ambition. But at best, Hynde can land a pop song with the speed, skill and apparent nonchalance of a knife-thrower. On the second listen, you realise 'Stockholm' has lodged pretty deep.
What do you think of 'Stockholm'? Let us know in the comments box below or tweet us at @TimeOutMusic.


Buy this album on Amazon | Buy this album on iTunes

Snap up exclusive discounts in London
Time Out's handpicked deals — hurry, they won't be around for long...