Courtney Barnett – 'The Double EP: A Sea Of Split Peas' album review
The Melbourne singer-songwriter establishes herself with a sweet, stylish debut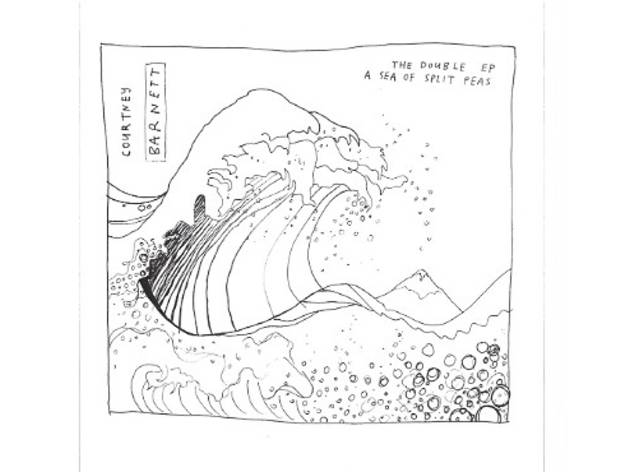 'I masturbated to the songs you wrote' – that was the first lyric of the first track on the first release by Melbourne-based singer songwriter Courtney Barnett, the 'I've Got A Friend Called Emily Ferris' EP released in April last year. It embodies the 25-year-old's honest and often witty lyricism: an blend of enigmatic Dylanesque storytelling with Jarvis Cocker's heady chutzpah, set to dreamy, '60s-sounding melodies and psychedelic guitar.

That track, 'Lance Jr', also appears on the singer's debut album 'The Double EP: A Sea Of Split Peas' – a collection comprising the six-song 'Emily Ferris' EP and a further six brand spanking new songs (also available separately as an EP called 'How to Carve a Carrot Into a Rose'). Barnett's voice is both syrupy sweet and steeped in dry humour, and the album flits effortlessly between the melancholy ('Anonymous Club' or 'Out of the Woodwork', a hypnotic slice of haze with a silky piano melody trickling around Barnett's vocals) and the downright hilarious – all delivered against a backdrop of woozy psychedelia.

The results are impressive. 'We drifted to a party cool, the people went to arty school, they made their paints from mixing acid wash and lemonade,' Barnett sing-speaks in 'History Eraser', rambling breathlessly like a child trying to relay an exciting story, the Aussie twang in her voice constantly rearing its head. In fact, 'A Sea Of Split Peas' is full of great stories, made better by the boldness of their delivery. Most notable is 'Avant Gardener': a psych-folk sunny afternoon of a tune narrated by an unemployed stoner, trying her hand at a spot of suburban gardening and suffering a panic attack before planting her first seed. Drifting, lazy, and quintessentially stylish, it's just one of several tracks on this full-length debut that cement Courtney Barnett as a remarkable new talent.
Sponsored listing
Wigmore Hall
Built in 1901 as the display hall for the German company Bechstein Pianos, the Wigmore Hall was seized as enemy property in WWI and sold at auction for a fraction of its value. These days, boasting perfect acoustics, art nouveau decor and an excellent basement restaurant, the 'Wiggy' is one of the world's top chamber music venues and currently hosts around 400 events a year. Programming leans on the classical and Romantic periods. The Monday lunchtime recitals, broadcast live on BBC Radio 3, are excellent value, as are the Sunday morning coffee concerts. Musical luminaries who have performed at the Wigmore Hall include Sergey Prokofiev, Shura Cherkassky, Paul Hindemith, Andrés Segovia, Benjamin Britten and Francis Poulenc. Tours of the auditorium, with its famous Art Nouveau mural, and other parts of the building take place during the Open House London event in September.
Venue says: "Booking now for Sep-Dec 2017! Intimate concerts featuring internationally acclaimed classical musicians. Tickets from £15 or less."